Welcome to our April 2012 quarterly newsletter in which we bring you news and updates of Urban Synergy, mentees and volunteers from the first three months of the year.
January to March has flown by and has seen various events and activities take place. As ever, we continually strive to ensure young people are benefiting from the mentoring and events that we arrange for them. It's great to see the feedback coming from these young people which helps us to plan and shape further activities.
We've also welcomed some new mentors and role models who are enabling us to continue providing young people with ideas and inspiration for developing themselves into successful individuals.
Through Q2 and beyond we also have more exciting activities and initiatives taking place which are outlined below. For those who would like to find out more about these, please Contact Us
Please do keep in touch with Urban Synergy throughout the Spring and we look forward to welcoming you to our future events.
Urban Synergy Team
Urban Synergy Welcomes…new mentors
New mentors who after completing CRB checks received intensive training in mentoring young people at the end of 2011. These new mentors have also taken part in a mentor safeguarding session and have this year been paired with new mentees. Interestingly a large number of the young people who are currently looking for a mentor to work with them are boys, so for the men reading this please do spread the word amongst friends who might be in a position to take on this volunteer role with us as we are very keen to have a large number of male role models working with Urban Synergy.
…..and new Cohort Leaders
To help guide the new mentors in their important and potentially life-changing new roles, Urban Synergy would also like to welcome three new Cohort Leaders to the Urban Synergy team. Michelle McInnis, Bonus Pastor Catholic College will take on this role along with Mark McKie, NEET Youth Worker and Michael Griffiths from Forest Hill School . We'd like to thank Michelle, Mark and Michael for taking on these positions and wish them all the best as they start this journey together.
Mentee Q&A Evenings
In January and March, Urban Synergy hosted two question & answer sessions for mentees. The first, in January was held at Bonus Pastor School in Downham and the second took place at Conisborough College. These events are particularly key to our mentoring success, as they provide the opportunity for young people who have been referred to Urban Synergy to find out more about the mentoring programme along with their parents or guardians. They are able to meet our team and ask questions about how Urban Synergy works. It also provides a great chance for those involved from US to meet young people and their families and understand more about why they may need support from Urban Synergy.
Sedgehill Role Model Seminar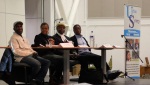 A cold day in February, which turned into a very snowy evening was the date for our first Role Model Seminar of 2012 at Sedgehill School. Despite the weather turnout was excellent. The event was led by Sue Watson and Lesley-Anne Miller, who's successful format of presentations and speed mentoring has ensured that these Role Model Seminars are becoming increasingly popular amongst young people in the South East London area.
Speakers at this seminar ranged from newer Urban Synergy supporters including: ex-professional rugby player, Serge Betsen and ITV news presenter, Charlene White to long-time volunteers, Courtenay Griffiths QC and Dr Monica Thompson, Consultant Clinical Psychologist.
Urban Synergy teams up with Cossal Estate Peckham Youth Club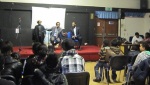 Also in February, Charmaine Charles, Cohort Leader arranged for Urban Synergy role models to attend 'Inspire', an event held by Groundwork at the Cossal Estate Youth Club in Peckham. As well as her work at Urban Synergy, Charmaine volunteers weekly at the youth club and through this connection was able to present the 2 speakers. Barrister Garry Greene and Michael Isola, Oxford University graduate and an Asset Analyst from Goldman Sachs were brought up in Peckham and attended local state schools. Both spoke about their careers and what led them to the success they have achieved. Feedback from the young attendees was encouraging with comments that they wanted to work much harder at school, and that 'normal' children from different backgrounds are able to achive great things if they put their mind to it.
Mobile Apps for Good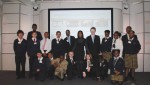 Urban Synergy founder Leila Thomas has continued the challenge set at the suggestion of Bob Schukai, Global Head of Mobile at Thomson Reuters by mentoring pupils from St Matthew's Academy in the Mobile Apps for Good programme, which began last year and will continue until June. As a technology professional at Thomson Reuters, Leila uses her knowledge and expertise to mentor pupils on a weekly basis on product concept, solution design, marketing techniques. The pupils, selected by teachers at the academy will complete the programme by taking part in an exciting Dragons' Den style competition in July 2012. The winner will actually have their mobile application developed for use on the Android mobile platform.
Coming soon…..new Urban Synergy Film
A new short film to promote what Urban Synergy does and the young people it works with successfully, is in the process of being shot. It will be available to view on the website in May, with a premiere at Urban Synergy's upcoming fundraiser at Cargo on 20 May.
Success at Team London Awards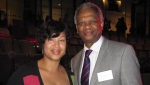 Charmaine Charles was honoured in March at the Team London Awards – hosted by Mayor, Boris Johnson, for her role as a volunteer for Peckham Youth Club. Charmaine became one of the first group of volunteers to receive one of the awards as part of the Team London programme initatiated by the Mayor to make volunteering easier to do and to find out about. The winners were presented with their awards by Mr Johnson and Richard Taylor, father of Damilola Taylor who tragically died in as a result of knife crime in London.
Q2 UPCOMING EVENTS
Urban Synergy 2012 Professionals Auction
Fundraiser event taking place at Cargo, 83 Rivington Street, Shoreditch EC2V. The event is supported by Thomson Reuters, PA Consulting and Brunswick and takes place from 6-12pm with comedy, entertainment, dancing and an auction with fantastic prizes. Tickets are available at www.urbansynergy.com and cost £8 in advance or £10 on the door.
Urban Synergy sponsorship pack
With the help of Urban Synergy's new Directors, the sponsorship pack was launched recently. It provides information for corporates and businesses that may be interested in supporting the charity in the various ways. The sponsorship pack will also be available on the website.
Upcoming Role Model Seminars
Further information will be available on the website about the date of these next Role Model Seminars. We look forward to welcoming many more young people to hear from our fantastic range of role models at these venues:
Prendergast Ladywell Fields Secondary School Spring – date TBC
Addey and Stanhope Secondary School – date TBC
Five-a-side football to raise funds for US
Register with EDF Energy five- a- side football tournament to raise funds for Urban Synergy – use the Contact Us to get more information
Black tie fund raiser
Urban Synergy plans to hold a second fund raiser later in the year. This will be a black tie event….watch this space for more information on the website and in the next newsletter.