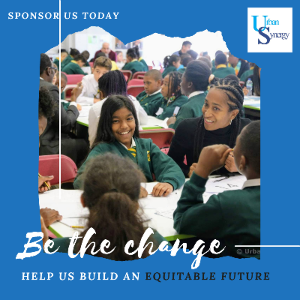 The way we see it, talent is everywhere, opportunities are not.
Urban Synergy is a youth empowerment charity, on a mission to inspire, guide and ignite the ambitions of young people.
Our approach focuses on early intervention, to build confidence and show young people what's possible. That's why we connect them with aspirational - yet relatable - role models and mentors, as well as industry leading companies.
Understanding that every young person, their circumstance, and their dreams are unique, we tailor our school programmes, mentoring and work experience opportunities to help them reach their individual potential.
With the collaboration of our valued partners, we are building an equitable world where everyone, regardless of their background, is empowered to write their own future.