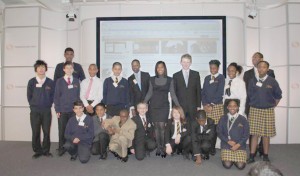 At the suggestion of Bob Schukai, Global Head of Mobile in Thomson Reuters and an International Ambassador for East London's TechHub, Urban Synergy founder Leila Thomas has furthered the charity's support of young people by mentoring pupils from St Matthews Academy the Mobile Apps For Good programme which aims to make technology both fun and enterprising.
As a technology professional with Thomson Reuters, Leila uses her knowledge and expertise mentoring pupils on a weekly basis on product concept, solution design, marketing techniques and generally just being there consistently to offer guidance and advice wherever possible. The pupils were selected by teachers at St Matthew's Academy and will continue to work on their Mobile Apps until July 2012 when they will take part in an exciting Dragons' Den style competition. Pupils will have the opportunity to share the applications they have developed, with the winner actually having their technology developed for use on the Android mobile platform.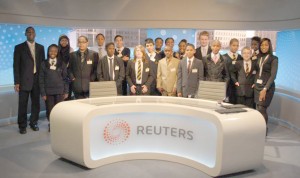 Taking mentoring a step further, on Monday 12th December 2012 Leila invited over 40 of her assigned budding Mobile App entrepreneurs into Thomson Reuters Canary Wharf to showcase their technology to her colleagues for encouragement and constructive feedback in a relaxing and welcoming environment. In addition, it was an opportunity to have some fun, learn and become more comfortable presenting in a large corporate environment.
All the pupils continue to make fantastic progress with their Mobile Apps and enjoyed the experience of presenting to technology professionals at Thomson Reuters. This was good timing because two days later they were on BBC news!
Thanks to everybody at Thomson Reuters for making the event a success and helping to leave the young impressionable minds on a confident and positive high!