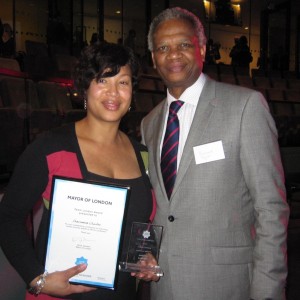 We are delighted to announce that Charmaine Charles, Cohort Leader and Company Secretary of Urban Synergy is one of the very first groups of volunteers across the capital to be recognised by Mayor of London, Boris Johnson as a Team London Award winner.
Team London is a programme for all Londoners initiated by Boris Johnson to make volunteering easier to do and easier to find out about. On Thursday 1 March 2012, the first awards were held at City Hall. The winners, including Charmaine were presented with awards by Mr Johnson and Richard Taylor, father of Damilola Taylor who tragically lost his life as a result of knife crime in London.
Charmaine has been a volunteer youth worker at Peckham Youth Club for over five years with Groundwork. It was for this role on Peckham's Cossal Estate that Charmaine won the category of 'Increasing Youth Opportunities: Excellence in Volunteering'.
Thrilled to receive her award, Charmaine said: "I get a huge amount from the time I put into working with young people through Groundwork. I enjoy being able to present young people with opportunities and activities by using my network of contacts, for example organising for Urban Synergy professional role mentors to speak at a youth club event recently. My motivation at Groundwork and Urban Synergy is that I may be able to change at least one person's life for the better."
[quote]Receiving a nomination and now actually being a Team London winner is fantastic. It was like being at the Oscars! However not quite the same, as the stars last Thursday were those who volunteer in many different ways for their communities; all with the common goal of bringing about positive change. My own award was possible because of the appreciation of my manager at Groundwork as well as my colleagues, and of course the young people that I have been working with.[/quote]
Groundwork's Manager added: "Charmaine has left positive footprints on the lives of young people with multiple support needs. She has built strong positive relationships with them which she has used to broaden their horizons".