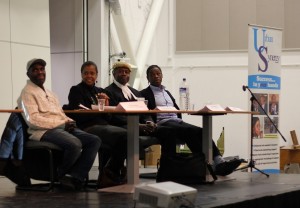 Urban Synergy, the mentoring resource pool today launches its 2012 series of Role Model Seminars. The first event is being held at Sedgehill School, the largest school in Lewisham, the London borough where Urban Synergy was founded and where it continues to providing mentoring and other support to young people. The event was organised by Lesley-Anne Miller and Sue Watson and was also hosted by Sue Watson and Darae Palmer, MTV presenter.
Following the success of previous Urban Synergy Role Model Seminars, professionals from the City to sport and the arts will share their secrets for achieving career and personal success with the 200 young people who will attend. The panel of speakers includes:
Charlene White – ITN Journalist and Presenter
Daniel Taylor – CEO Metro Design Consultants
Menelik Shabazz – Producer, Director and Independent Film maker
Dr. Monica Thompson – Consultant Clinical Psychologist
Serge Betsen – Professional rugby player
Courtenay Griffiths QC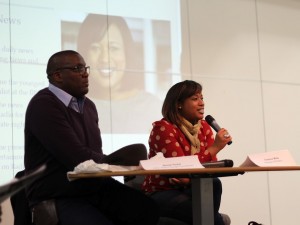 Charlene White spoke about the challenges of being a woman in a male dominated industry and also talked about how much she enjoyed her job despite the late night and weekend schedule that comes with it. Charlene also mentioned that she hoped women would be judged more on their ability rather than being judged on their clothing and looks.
Daniel Taylor, CEO of Metro Design Consultants an interior design company with a turnover of £20 million, spoke of leaving something that his family could inherit and of working hard so that he would not lose what he has achieved.
Menelik Shabazz, director of critically acclaimed productions such as 'Burning an illusion' and 'Catch a fire' and founder/editor of the Black Film maker magazine, spoke of 'thinking outside of the box. All of you have a diamond inside you. Don't be afraid to fail and be positive about what you want to do.' Menelik also spoke about a saying which says 'fortune favours the brave' which inspired him to make his first film. 'Confidence and belief is important' and his vision for the future was to keep working in films and the theatre and to 'keep driving change.'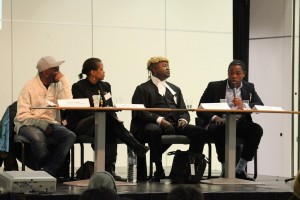 Dr. Monica Thompson, Consultant Clinical Psychologist, talked about doing the subjects that you enjoy and putting in the time to study while you can as it is extremely difficult to study and work at the same time. 'There are so many opportunities out there – make the most of them.'
Serge Betsen – Professional rugby player was born in Cameroon and moved to Paris when he was 9 years old. Serge is a French rugby union player and has also played for the London Wasps and also been part of the French team that have won x 2 Six Nations cups. Serge spoke about learning English at college to understand his Coach and talked about being 'passionate about my sport and working hard to achieve my dream.'
Courtenay Griffiths QC – Courtenay is a criminal barrister who also sits as a Judge in some courts. He was born in Jamaica and grew up in Coventry as the son of a Carpenter. Courtenay talked about being inspired by a barrister called Norman Manley who later became the Prime Minister of Jamaica he knew then at 11yrs old that he wanted to become a Barrister. Courtenay asked some of the young people if they could do his job? He asked if they were confident? Can you memorise your lines? Are you able to speak confidently in public? 'Then you could do my job.'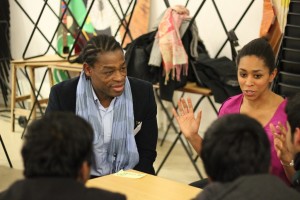 The audience consisted of young people, parents and other Urban Synergy role models who would be taking part in the speed mentoring session scheduled for the latter part of the evening. The speed mentoring role models consisted of a BA pilot, Ford engineers, barristers, doctors, media, musicians, producers, actors, also representatives from the technology industries. Some of the young people who attended commented on the event below;
Cameron, age 15yrs – ' The Urban Synergy role model seminar was great and inspirational'
Jonathan, age 14yrs – 'I learnt never to give up on your dream and stay focused. Serge Betsen inspired me, despite his disadvantages he rose to the challenge and achieved his dream. I will try my hardest to stay focused and associate myself with people who can help me succeed. I enjoyed meeting people from different professions.'
Emmanuel, age 14yrs -'The seminar was perfect, I didn't think it would be like that, it was great and amazing. I will be brave and talk much more than I even talk at home!'
Donovan, age 15yrs – 'Courtenay inspired me because I'm considering being a lawyer and he gave me a lot to think about. I will study harder and ask more questions.'
Hilary, age 15yrs – 'Dr. Monica Thompson inspired me because I would like to be a Psychologist one day and study how the mind works.'
Scott, age 15yrs – 'The pilot guy was inspirational and gave me very good advice.'
Rebecca, age 15yrs – 'I learnt that if you want to get somewhere in life as long as you work hard and are passionate about it, then you can achieve it. I will try hard in school and make sure that whatever I am doing I will put effort into it.'
Samuel, age 15yrs – 'I learnt you shouldn't think that you might do something but that you will do something. You need to invest time to get the best grades. The seminar was very inspiring and every pupil should get this opportunity.'
Sarah, age 14yrs – 'I learnt that I need to be passionate in order to achieve. If one door closes one more will open. If we look on the negative side we will not get anywhere. Courtenay inspired me because he gave inspiring stories that touched my heart and made me want to be a lawyer again. The seminar was amazing and I'm very glad that I had the opportunity to do this, many people haven't had this at their school. I enjoyed listening to people's answers and the encouraging words that they gave us. I intend to take in every bit of encouragement that I can. The session has really made me think and made me want to reconsider being a lawyer. Thank you very much!'
Sedgehill School is a specialist school for the performing arts and they have also established a sports foundation in partnership with Fulham Football Club. We would like to thank Sedgehill School for allowing Urban Synergy to host the role model seminar with thanks to;
Mr. Ken Mackenzie – Headteacher
Ms. Sue Willey – Deputy Head
Bex Hand – who promoted the event