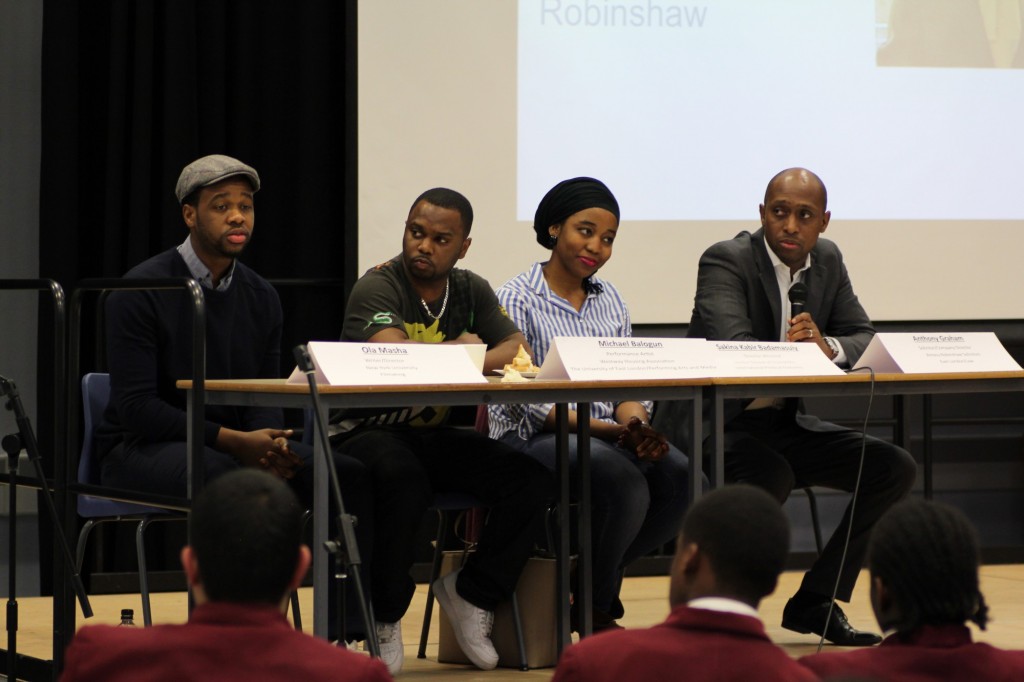 Nine recent graduates, from various walks of life including entertainment, finance, journalism and the law, converged on Conisborough College, in Lewisham, to inspire an audience of over forty people, made up of year 9 students and their parents.
The audience came away with inspiration, top tips and some actions to take to pursue their goals.
The panel consisted of:
Ola Masha, Writer/Director British Film Institute
Anthony Graham, Solicitor, Amosu Robinshaw
Sakina Kabir Badamsuiy, International Political Economy, LSE
Michael Balogun, Performing Arts and Media, University of East London, Housing Support Worker, Westway Housing Association
The event was co-hosted by Dianne Johnson, Programme Director, Urban Synergy.
What they learned
[quote]
"being determined to reach and achieve your goals" Henoch, 13
"To be successful in the future I need to work hard now." Kristoffer, 15
"whatever you want to do, if you work for it and believe in it you will achieve and also even if you didn't know what you want to do it doesn't matter, you just have to keep your options open." Maylis, 15
"There is more to life than secondary school" Meyesh, 16
"Education really does help in life" Jennifer, 16
"Success is in the mind if you want success you have to envision it and picture your success and your future." Veronica, 15
"work hard and try your hardest at all times." Akeem, 16
[/quote]
Top Tips
[quote]"every single day is an opportunity for inspiration"
"you should read anything, have a general thirst for knowledge"
"be proactive, make sure you balance, work, study and looking out for opportunities"
"look for mentors slightly older than you that can help you"
"listen, stand back and observe"
"take full advantage of the facilities the school is offering"
"be disciplined tackle course work straightaway"
"ask friends to assist you to make it interesting and fun, stay focussed and aim for A grades"
[/quote]