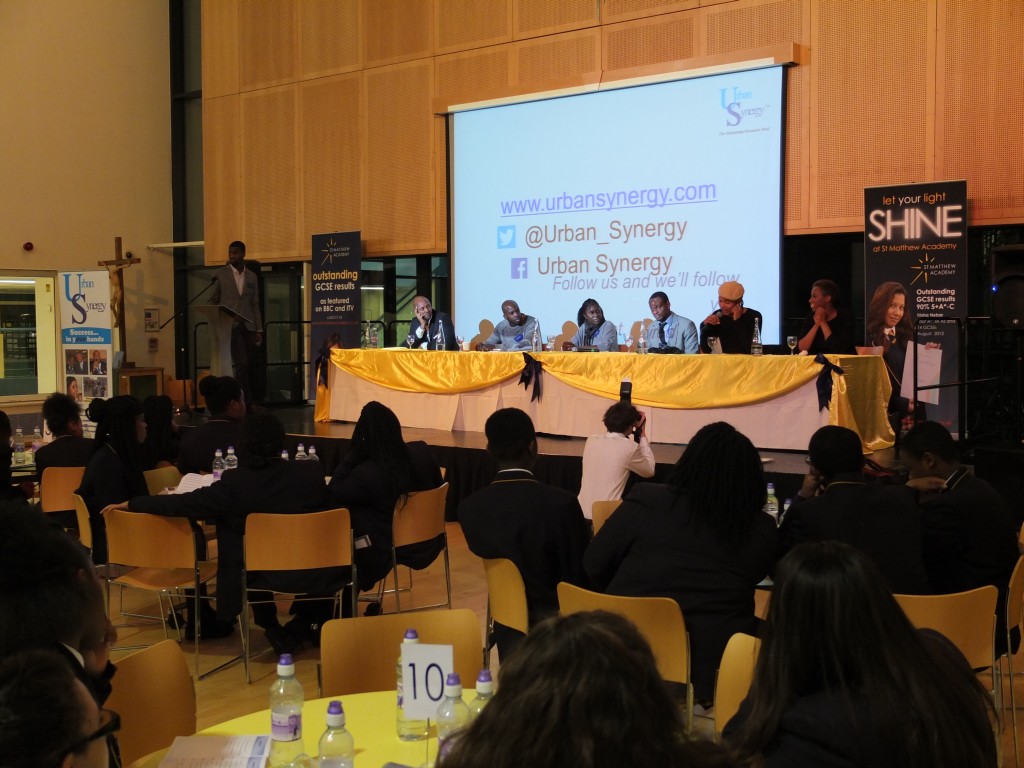 Urban Synergy held their second Role Model seminar for 2014 at St.Matthews School in Blackheath on Thursday 6th February. The seminar was hosted by Urban Synergy's Sue Watson and co-hosted by Urban Synergy's young Ambassador Sengova Kailondo. Sengova was originally a pupil at St. Matthews and talked about what he was doing now – finishing his law degree and completing his legal training before taking up a Corporate legal role in the city that he had been offered. Sengova provided some additional inspiration for the young people attending the seminar, which was well attended.
The guest panellists at the seminar consisted of;
Roy Ledgister – Criminal Barrister
Lanre Sulola – Chartered Accountant and Performance Poet
Karen Bell – Firefighter & Crew Manager
Martin Imafidon – Account Manager at Microsoft
Adrian Grant – Theatre Producer (for 'Thriller Live' and other productions)
Anu Omideyi – Criminal Barrister
As well as the guest panellists, the audience included a wide range of Urban Synergy role models from different industries who would also be taking part in the speed mentoring session afterwards together with the panellists. The panellists talked about their experiences and careers and showed that they also had other strings to their bows. As well as their day jobs they had other passions that they followed in their spare time, which were becoming as time consuming and successful as their day jobs!
Roy Ledgister, a Barrister with over 18 years of experience talked about having 'no excuses, work hard to get what you want. Know where you're going. You have to do what you enjoy – there's no point spending years climbing the ladder to find that it's leaning against the wrong wall. People close to you will tell you that you can't do the career that you want. Tell them that you are going to achieve your dreams.'
Lanre Sulola, a Chartered Accountant and also a Performance Poet in his spare time, mentioned some cryptic points that he later translated;
Muhammed Ali – Fight for yourself in tough situations. Lanre mentioned failing his accounting exams three times and nearly losing his job, which he eventually kept by fighting his corner and presenting a good case.
American football – Every yard counts in the game. 'Always go the extra yard, it can be the difference between success and failure.'
Abraham (from the Bible) having a child in old age when it didn't seem possible – 'Have faith in what you do, even if things are crumbling.'
Monkeys (taught to complete tasks) – 'Learn from your mistakes.' Don't repeat the negative things.
Karen Bell, a Firefighter and Crew Manager spoke about how much she enjoyed her job. Her parents told her she was going to be a Child Psychologist and she studied but decided to join the workforce and work in various jobs that were not fulfilling. People laughed when she talked of becoming a Firefighter because she was small, a female and ticked the ethnic minority box. Karen talked about 'perseverance, planning and adapting. If at first you don't succeed try and try again – nothing great comes easy. Fail to plan, plan to fail. Follow your dreams, nothing frightens me. I'm quite fearless and I have overcome my challenges.'
Martin Imafidon, Account Manager at Microsoft and also a CEO of his own entertainment company organising live music and poetry events, talked about his aspirations. He mentioned that he already had three promotions within his company despite being only 25 years old and would like to become a Director in the company. Martin talked about 'working hard, knowing your value and challenging yourself. Recognise the competition with those around you. Pick your friends and counsel wisely, it's also about how you manage to overcome any obstacles in life.'
Adrian Grant, a Theatre Producer spoke about waking up in the morning with a smile on his face because he is doing what he loves to do. Adrian talked about the need to be thick-skinned to survive in the entertainment industry and was told to get a normal job numerous times. 'If you're passionate about something don't let anyone tell you that you can't make it happen.' Adrian also talked about starting as a writer including writing a magazine about Michael Jackson, which led to him meeting Michael and eventually producing the musical 'Thriller Live.' 'Do what you believe in, at the same time it is just as important in life to have your health and a happy family around you.'
Anu Omideyi, a Criminal Barrister and also part-time songwriter and gospel singer (touring and performing) always wanted to sing but she also enjoyed arguing and debating and felt that becoming a Barrister would be a good career that reflected the things that she enjoyed doing. Anu provided provided the following tips;
Work hard, put in the hours.
Do what you love and what makes you happy.
It's never too late to learn anything.
Our own Sue Watson also provided some valuable advice to the audience. 'Choose your friends wisely, positive people and not energy zappers – negative people.'
Thank you to St.Matthews and all of the student organisers also Paula Macquieria and Luke Simmonds-Hedges.