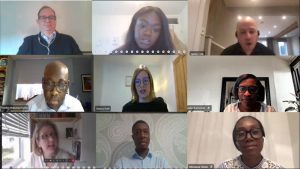 On Wednesday 20th January, 120 students from Haberdashers Aske's Knights Academy attended our Ready 4 Work e-Seminar with volunteers from Goldman Sachs, Refinitiv, EC1 Partners, PwC, Citi and Adobe. 
Year 12 students, preparing for their next steps, had the opportunity to connect with and question a diverse panel of professionals, as well as receiving career advice and guidance to support their transition from further education onto their professional path.
Students were split into online classrooms with role model panelists, working in a range of sectors including Banking and Capital Markets, Financial Crime, Law and Sport, sharing their personal professional pathways and decoding the world of work. 
Students were given 'top tips' by the host and panelists working in recruitment and talent. One Knights student told us, "I learned how to give a good first impression on future employers and that not knowing what you want to do in the future at this stage is perfectly fine." 
The second half of the event was led by HR and Recruitment specialists as well as a panel at varying stages of their career who provided a young employee perspective on being recruited and insight into their experiences, navigating through their career journey. 
The event was facilitated by Urban Synergy hosts with the aim of building confidence, broadening career horizons and aspirations by giving young people the opportunity to engage with panelists and raise their awareness of different professions. 
"The personal experiences shared by the panel members were very relatable" a student said, "and showed us success is not linear but rather has a lot of ups and downs."
Jamie Cole, Haberdashers head of yr 12 : "I know students would have greatly benefited from the experience Urban Synergy  has provided for them, allowing them to aspire to be what and who they want to be. They have been assisted in making decisions regarding their short and long term futures. Receiving first hand insight and tips from credible, relatable young professionals as well as experienced more senior individuals is so beneficial to my students"  
Leila Thomas, Urban Synergy CEO and Founder, said "We'd like to thank Haberdashers Aske's Knights Academy for working with us to deliver this inspirational e-seminar and a huge thank you to panelists who supported the event helping young people raise their aspirations and shape their future. The event proved a huge success and we remain committed in our aim to improve the outcomes of young people by delivering more e-Seminars."
We'd like to extend special thanks to Jamie Cole, Stephen Akinsanya and Nity Raj, who all have demanding day jobs, but took the time to Host two of the classrooms as Urban Synergy Volunteers.
For more information on this event and our programmes please contact Urban Synergy