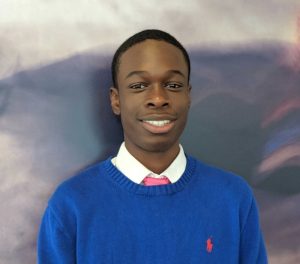 Be open to new things…don't be frightened to try.
Justin Adekunle was introduced to Urban Synergy when he was at secondary school. Justin said, "I liked Urban Synergy's ethos and the way they reached out to young people". He attended a workshop where he had to arrive wearing business attire, to find out more about the business world and then he was hooked! Justin said, "I was really impressed with the suggestion of networking and connecting with others, it was something I hadn't really thought about before."
Justin who currently attends The Ravensbourne School sixth form in Bromley, joined the e-Mentoring Programme in August of 2020. At first Justin was very nervous about being mentored, but Dele Johnson, a Lawyer, has become not only a mentor, but a source of advice to help him with life skills, and how to study toward his goal of becoming a lawyer.
As a result of being mentored by Dele, Justin was invited to do work experience at Thames Magistrates Court and Dele's office in half term. He was fascinated by how the courts worked and is planning more work experience there. He was able to watch court cases with Dele defending some of the accused and from this experience Justin said, "I have decided to become a lawyer, something I had never thought possible before meeting Dele and Urban Synergy."
The mentoring programme has given Justin the confidence to aim higher, before he was considering working in the leisure industry, but now he is VERY sure that he can and will become a lawyer.
Justin confirmed "Mentoring has been very positive for me and definitely pushed me to a different level of thinking". For example, when he mentioned to Dele he needed to read a book called 'The Origin of Species' by Charles Darwin for his English Literature test, Dele suggested he didn't only read it but fully researched the background to the story, Dele said "Get to know that book inside out". Justin did and gained an A grade for the test! He was delighted and realised the power of being proactive and going the extra mile to succeed.
This change to his thinking didn't just resonate at school, at home his family also noticed the improvement, with him more willing and to do tasks in a timely manner with conviction.
Justin's Top Tips
Be open to new things - don't be frightened to try.
Networking is REALLY important - be interested in others, learn more about what they do, don't limit your options.
Once on the programme believe in yourself, listen to your mentor, ask questions.
Sign up or find out more about the e-Mentoring Programme by following this link.