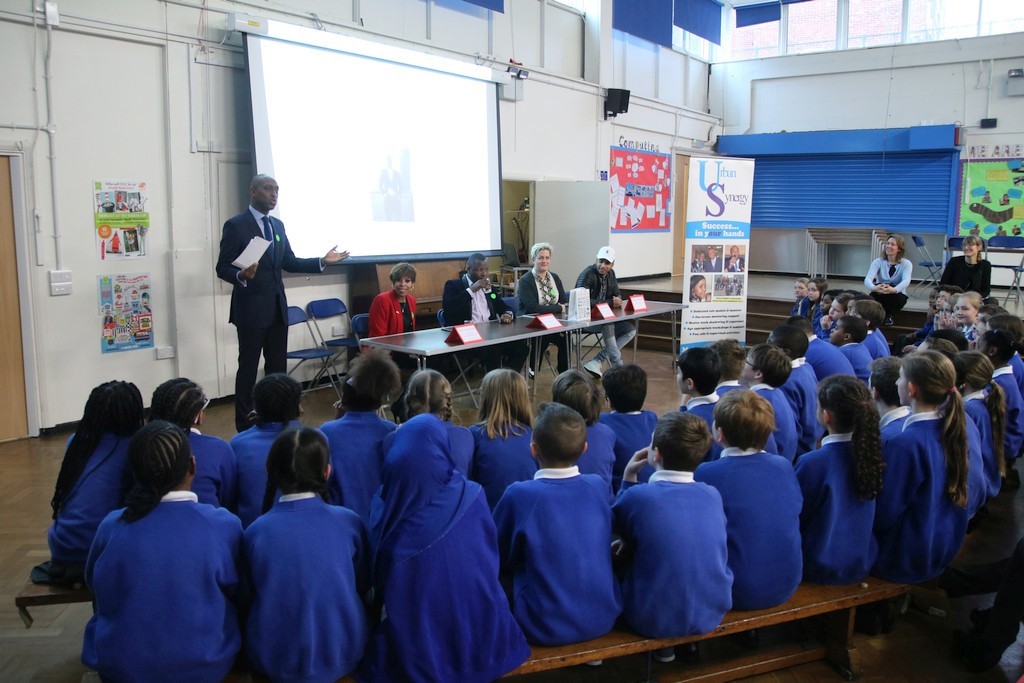 The Urban Synergy 'Top Tips to the Top' Role Model Seminar at Eliot Bank Primary School took place on Tuesday 1 March.
There was a genuine buzz of anticipation as the panel entered the hall prior to the Role Model Seminar. This was an important day for the students, as in addition to the seminar, this was National Offer Day, the day that students find out where they are to be placed for their secondary school education. We wish them well, regardless of which school they go to, confident that wherever they go they will have access to a good education.
The seminar consisted of the panel session, followed by an open Q&A and magic demonstration by TV Magician, Troy Von Scheibner.
The speed mentoring tables followed, where the students spoke with 14 different Role Models from industries including Children's Furniture Design, Legal and Economics and treated to the delights of mosaic art from Award winning public and mosaic artist Gary Drostle and chocolates from Chantal Coady.
A big thank you to all the Role Models who made it to the early seminar, plus the staff and pupils of Eliot Bank who made the event such a great success. We look forward to returning next year!
South London Press also sent a reporter to cover the event.
Panel Top Tips
Dawn Goring, Office Manager, Prime Minister's Office, 10 Downing Street
"Enjoy what you do"
"It is always important to be polite, to be kind and courteous"
"It is important to not make a mistake, but if you do own up to it"
Ebenezer Ademisoye, Company Founder and Consultant
"It is not how you start, dedication beats raw talent"
"Dream really big"
"Work hard and be passionate"
"Really enjoy yourself, life is for enjoying"
Chantal Coady, Chocolatier, Author, Business Woman, Rococo Chocolates
"Do something you like"
"You are not going to do just one job, you start off as one thing and end up as something else – be flexible and tenacious"
"Work hard, you can't expect things to land in your lap, you have to do the hard work."
Troy von Scheibner, Magician/Entertainer
"Education is important"
"Surround yourself with like minded positive people"
"Enjoy what you do"
"Ensure you are enthusiastic and have the right attitude"
"Dream big"
Closing Remarks – Patricia Bhela, Teacher
The mentors have truly inspired our children, helping them to believe that through hard work, a clear vision and perseverance, they can achieve anything. Watching their faces as you were talking with them was really fantastic". I feel it is really important for all children to know that they can make a difference and should follow their dreams. I liked that the mentors talked about enjoying what they did and through this enjoyment they found success. A common theme was that you don't get something for nothing; success is largely down to hard work.