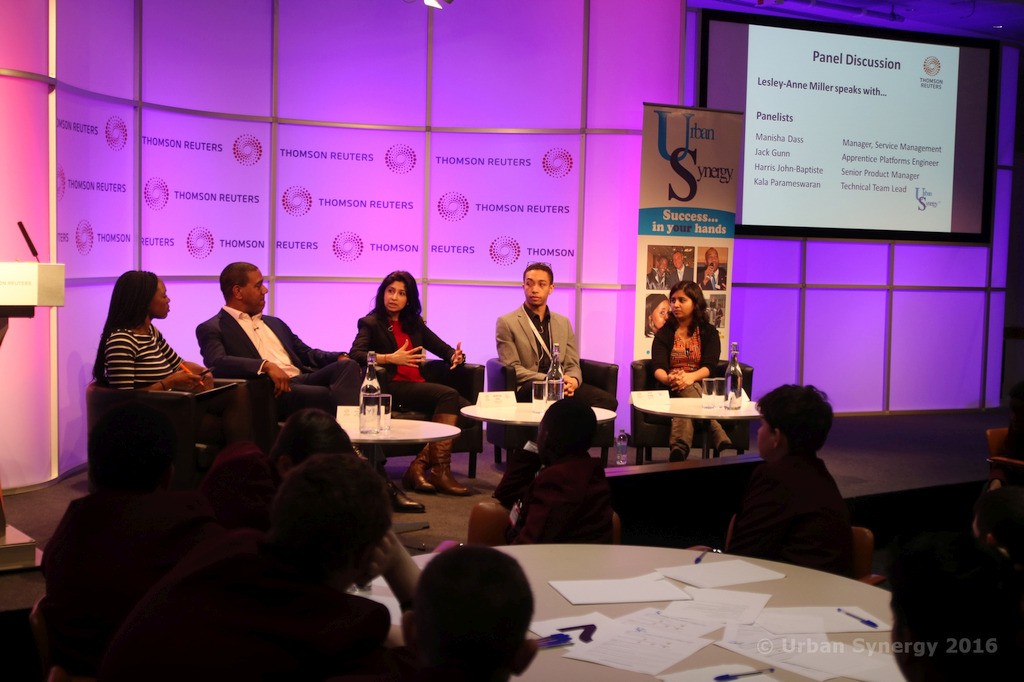 On Tuesday, 22nd March, Urban Synergy and Thomson Reuters collaborated to deliver a STEM focused Role Model Seminar to 100 year 7 and year 8 students from Conisborough College, Catford.
The seminar which focused on working in the rapidly growing STEM industries is the second of its kind. The especially tailored format created by Urban Synergy and Role Models provided by Thomson Reuters aimed to raise student aspirations by sharing information about their jobs and opening their work environment and building. There are currently three more seminars of this kind planned for 2016.
The seminar was opened by Elaine Thomas – Global Head of HR for Technology at Thomson Reuters, welcomed the Urban Synergy, the students, their teachers and Thomson Reuters Role Models. Elaine gave an overview of her thoughts on technology in today's world and her role at Thomson Reuters.
In the panel session facilitated by Lesley-Anne Miller, Client Liaison at Urban Synergy, our four panelists shared about the challenges they faced and overcame, what they like most about their jobs and the many opportunities available for young people interested in the STEM sector.
The Panelists and their top tips for the students were:
Manisha Dass, Service Management
"The more you learn the more you find your passion"
Jack Gunn, Apprentice Platforms Engineer
"Be open minded"
"Try loads of stuff"
"If you meet someone successful, try and find out their secrets"
"Stay curious"
Kala Parameswaram, Technical Team Lead
"Get involved, be curious"
Harris John-Baptiste, Senior Product Manager
"Follow your passion"
"Don't worry about having a clear idea of what you want to do"
"Be open minded, sociable and friendly"
"Your drive will make you successful, your belief in what you do will make you successful, your relationships with the people around you will make you successful"
Following the panel discussion, students got the opportunity to ask more questions during a speed mentoring session with over 20 Thomson Reuters staff who specialise in technology. The session provided students with an in-depth insight into the potential and opportunities available for a future in the technology field.
Feedback from Conisborough College
[quote cite="Keighly Coleman, Achievement Leader for Year 7″]Massive thank you to the role models. The student behaviour was fantastic. This morning was really important. I myself feel inspired, and hope you all go on to do great things[/quote] Karthigan, 13 – "I will practise more and try the best I can. Also I have to research more on science as I would like to be a doctor"
Karun, 12 – "to work hard and be the best that you can be that you can, put your best effort on work, don't let people push you around like – 'you can't do this'. 'If you are interested you should pursue this"
Younne, 11 – "I will work harder now and learn with pride"
Mitchell, 13 – "I should do something I enjoy and that makes me me happy, also that I should follow my passion and that it's ok if you don't know what you want to do at this age"
Mirlinda, 13 – " Harris John-Baptiste gave everyone tips on how to choose what we will do and explained very well what he does. He said be passionate about what you want to do and be open minded.
Leila Thomas, Founder of Urban Synergy and Technical Project Manager at Thomson Reuters was really pleased how the seminar came together in Canary Wharf.
[quote]Once again, the seminar was a success in that students were able to attend a seminar that was STEM focused with no other distractions. Also coming to Thomson Reuters, which in itself was a refreshing environment for the students gave them a feel for an environment that they may work in the future. Our thanks to all the staff at Thomson Reuters who gave their time to share career insights to the students. We are looking forward to the upcoming seminars and giving more students these rare opportunities,[/quote]