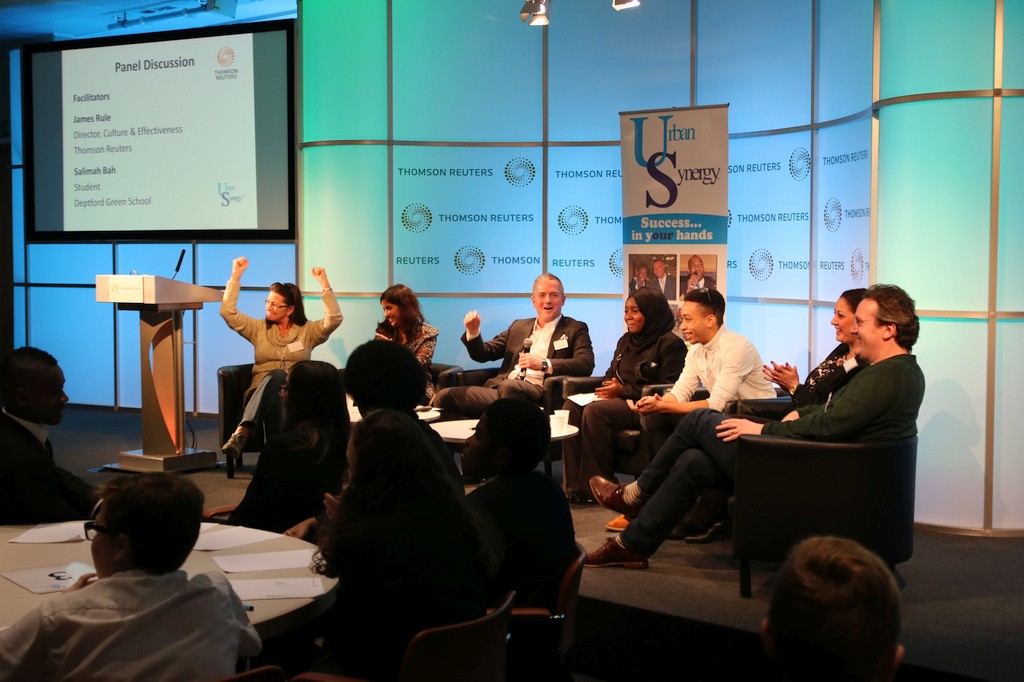 On 9th December 2015 Urban Synergy and Thomson Reuters collaborated to deliver a STEM Role Model Seminar to over 100 year 9 and 10 students from Deptford Green School.
Christine Ashton, Senior VP Technology  opened the seminar by saying that "Technology is everywhere, in everything that we do". She also said that more women are needed in technology and talked about her own career journey from creating programs to where she is today.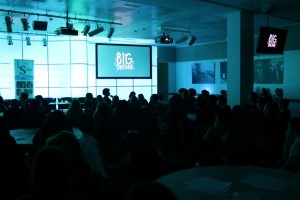 This was followed by a screening of Microsoft produced Big Dream, a short film following 7 young women breaking barriers and overcoming personal challenges to follow their passion in science, math, computing and engineering.
The seminar focused on women working in STEM industries and the panel talked about the challenges they faced and overcame, what they like most about their jobs and the many opportunities available for young people interested in the STEM sector.
The panelists were Sally Knight, IT Programme Manager, Jack Gunn, Apprentice Platforms Engineer, Kala Parameswaran, Technical Team Lead, John Lyons, VP, Data Center Operations and Kate Percival, Technical Lead. The seminar was facilitated by James Rule, Director of Culture and Effectiveness and Salimah Bah, a student from Deptford Green.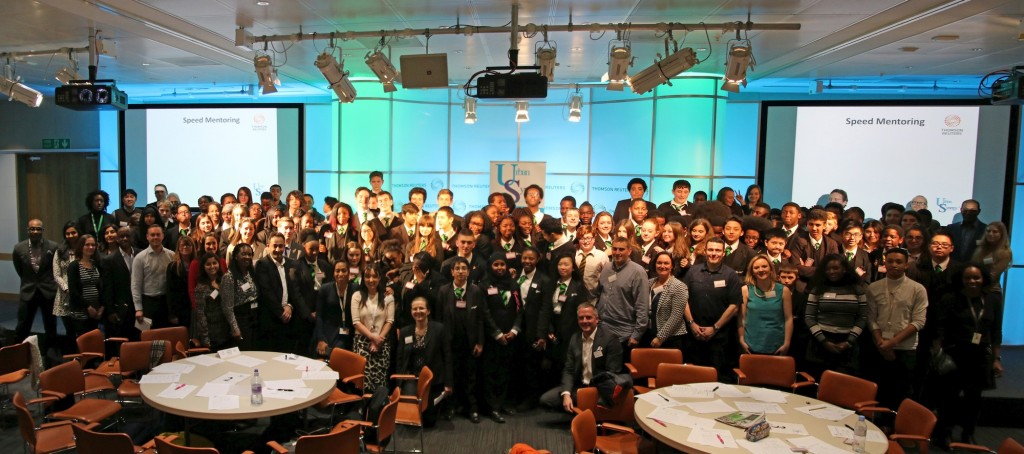 Following the panel discussion students got the opportunity to ask more questions during a speed mentoring session with over 25 Thomson Reuters staff..
[quote cite="Leila Thomas, founder Urban Synergy"]We think the seminar was a success in that students were able to attend a seminar that was STEM focused with no other distractions. Also coming to Thomson Reuters, which in itself was a refreshing environment for the students gave them a feel for an environment that they may work in the future.  Our thanks to all the staff at Thomson Reuters who gave their time to share career insights to the students.[/quote] [quote cite="Michael O'Keeffe"]The speakers were incredibly inspiring and engaged the students in a really positive way. Seeing women risen to such high positions in STEM careers really woke them up as to their full potential. Several of the students came to tell me how much they had enjoyed the day and everything they had got from it. Salimah Bah was delighted to ask questions to the panellists and did a fantastic job.[/quote] [quote cite="Celine Nembhard, Careers  at Deptford Green School"]Thank you so much for having our young people for the afternoon at Thomson Reuters and for your warm welcome.
It is great to see employers supporting local young people to gain an insight into the world of work and the very different routes that people take on their career journeys. It was particularly interesting to see that the panel and role models had such a variety of educational background. Apprenticeships are still not really understood or particularly valued as a valid alternative to university so it was much appreciated to have an apprentice on the panel. The emphasis on encouraging women into STEM careers got a lot of our girls thinking. The message regarding perseverance, comparing coding to sports and pushing and practising when things get difficult was an important one to take home[/quote]
Student feedback
"They showed me that nothing you want to do is impossible" – Janina 14 yrs
"To be successful in the future, I need to work now" – Millie 13 yrs
"I need to push myself really hard in the subjects I do, however I need to try different things" – Dorcas 13yrs
"What I do now affects my future" – Bolatito13 yrs
"I learnt that women should look into coding as an idea for a future career" – Jennifer 14yrs
"Opportunities don't come if you don't work hard for them. You have to put yourself out there" – Millie 14 yrs
"I learnt that technology is not just coding. There is more to it than I thought" – Fleur 13yrs
"I enjoyed the video that showed females trying to change the world with technology" – Chloe 13yrs
"I enjoyed speaking to Harris; he asked us what we wanted to be when we were older and related it to technology and the different things we can do in the future" – Keeleigh 14 yrs
"All of the role models inspired me because they all did very inspiring things" – Tyler 13 yrs
'I will apply computer science as one of my GCSEs and try my best to get the highest grade by studying a lot" – Kayan 14yrs
"In future I wish to study electronics and engineering" – Ming 13 yrs
"I learnt that technology is cool and there are lots of possibilities" – Araoluwo
"I enjoyed the video and the individual role models speaking because it was interesting and I learnt more about everyone's job" – Sophie 13 yrs
Urban Synergy are working in collaboration with Thomson Reuters to Develop the Talents of the Next Generation