During the summer months, Urban Synergy runs a series of Life Enrichment Programme of events for our mentees. The events are a combination of new experiences, days out, volunteering and practical workshops.
Indoor climbing wall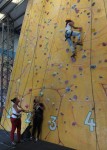 Our first event this year was at The Reach climbing wall in Woolwich. Mentees learnt the basics of rock climbing, and importance of safety and teamwork. Everyone climbed a series of challenging indoor climbing walls, then abseiled back to the ground with other team members controlling their descent. After a few climbs, the instructors placed a blindfold on the climber so they had to rely on the spoken instructions of their teammates to climb the wall.
Everyone enjoyed the session, and many learned to conquer their fear of heights from the expert tuition of The Reach's staff.
First Aid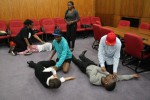 The First Aid course was presented by Norman Abbott from the London Ambulance Service. Mentees went through the Emergency Life Support Course and learnt a number of key skills that could save lives.
The course covered:
Safe approach to a collapsed/injured person
Recovery position
Recognition of absence of normal breathing
Cardio Pulmonary Resuscitation (CPR)
Signs & Symptoms of a Heart Attack
First aid for a Heart Attack
Severe Bleeding
First aid for Severe Bleeding
Burns & Scalds
First aid for burns & Scalds
Parliament Visit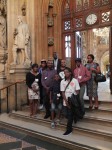 Our tour started in Portcullis House, the modern offices for many of the MPs. To get to the Palace of Westminster, we walked through an underground passage under the main road and emerged beneath Big Ben. The tour started at the Sovereign's Entrance where the Queen enters to open Parliament every year, or for other state occasions. We were then taken through the Royal Gallery, House of Lords, Central Lobby and finally the Commons.
The tour ended in the beautiful St Stephen's Chapel, site of the original Parliament, and Westminster Hall with it's beautiful medieval roof.
Pineapple Luncheon Club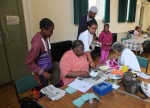 Our intergenerational volunteering event was once again at the Pineapple Luncheon Club in Anerley. Mentees arrived early and joined in with an exercise class before helping to serve lunch to the many members. After lunch, the group thanked everyone for the experience before Young Ambassador Gavin Kamara finished the day as a trainee bingo caller.
Thorpe Park
Saturday 16th August 2014 Urban Synergy ended their summer life enrichment programme events and took a group of mentees to Thorpe Park for a fun day out. Thank you to the Urban Synergy event organisers for making the event possible, to all the chaperones for assisting on the day and the mentees who attended the Urban Synergy events.
Two mentees were awarded iPod prizes for attending the most Urban Synergy Life Skill Enrichment activities demonstrating teamwork, punctuality and leading by example.