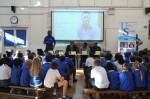 Following the success of our role model seminar at Gordonbrock Primary School last year, Urban Synergy Professional Role Models and volunteers visited Eliot Bank Primary School in Sydenham to engage with an audience of 60 students aged 10/11years of age.
Urban synergy Founder Leila Thomas says:
[quote]It's important for young people to be exposed to and meet inspirational role models from many professions and trades at an early age to broaden career horizons, keep aspirations high and motivate learning.
Primary school head teachers have seen the positive impact of our work and as result have requested for our seminars to be repeated[/quote]
The role models came from a variety of professions, these included:
Law
Medicine
Architecture
Filmmaking
Magazine Publishing
Information Technology
Education
Science
Engineering
Over an interactive and energetic two hours which included a panel session and a speed mentoring session, the audience came away with inspiration, top tips and some actions to take to pursue their goals.
The panel consisted of:
Dr Charlie Easmon, Your Excellent Health, Harley Street
David Neita, People's Poet, Consultant and Lawyer
Benjamin Hero, CEO, Public Speaker
Ola Masha, Film Director
Phinnah Chichi Ikeji, Editor-In-Chief, Ten2Teens Magazine
Role models from prestigious companies such as Thomson Reuters, RAM Technologists, Crown Prosecutions Service, Computer Science Corporation was also in attendance.
Hosted by Sue Watson, Management Consultant, Watson and Watson
Top Tips
"Learning is life-long, it is as much outside of school as well as inside of school"
"Learn about different cultures"
"You do have to work hard"
"Don't let any one limit your ambitions"
"You are beautiful, let no-one challenge that"
"You are special, you are here for a particular reason"
"Fall in love with your subjects. All of it is exciting"
"Respect your teachers"
"Learn to love to teach"
"You are special, you are beautiful and destined for greatness"
"Be hungry, be hopeful, be heartful"
"Drive to be the best in what you do, don't be put off by not seeing familiar faces"
"It is all about what you think about yourself"