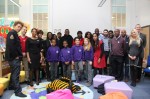 Urban Synergy Professional Role Models and volunteers visited Gordonbrock Primary School in Brockley to deliver another "Top tips to the top" Role Model Seminar with an audience of 75 students aged 10/11years of age.
The role models came from a variety of professions, these included:
Law
Government
Interior Design
Filmmaking
Performing Arts and Theatre Production
Magazine and Newpaper Publishing
Education
Engineering
Over an interactive and energetic two hours which included a panel session and a speed mentoring session, the audience came away with inspiration, top tips and some actions to take to pursue their goals.
The panel consisted of:
Adrian Grant, Writer and Producer, Thriller Live
Nicole Williams, Manging Director and Senior Counsel, Bank of New York Mellon
Angie Le Mar, TV/Radio, Writer and Comedienne
Sol Campbell, Ex – England and Arsenal Defender
Role models from prestigious organisations such as Thomson Reuters, Financial Times, 10 Downing Street were also in attendance.
Hosted by David Neita, People's Poet, Consultant and Lawyer and Stefan Harriott, Student
Top Tips
"You need rhinoceros skin, people always tell you no"
"If you have a dream or you have an idea, don't let anyone put you off"
"Invest in people, believe in yourself and make people believe in you"
"If you do something you love, time will go much quicker and you will do better"
"Enjoy what you do and make time to do it"
"You need to be educated and well rounded"
"Everyone needs to show their character"
"Work hard and enjoy life"
"Respect everybody"
"What the mind can conceive the man can achieve"
"Lots of different ways of finding or doing something you love"
"It's not just the person visible that can help, but also the ones that are invisible working behind the scenes"