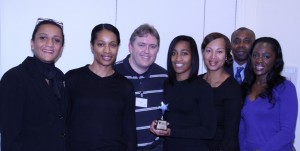 Urban Synergy is proud to announce that we won the BYA Personal Development Organisation of the Year award at the 4th Annual Black Youth Achievements Award Ceremony at Tabenacle, Ladbroke Grove, London on Saturday 10 November.
The BYA awards celebrate the personal accomplishments of young people and promote positive images of role models. Urban Synergy was nominated for The 'Personal Development Organisation of the Year' category recognises organisations that offer support, advice and guidance to young people in their personal, career and business lives. These organisations quite often provide the assistance needed to help someone make important decisions at crucial stages in their life and make all the difference in how that person progresses. BYA feel that it's important to recognise those who are carrying out this work, as they have a major positive impact on hundreds of individuals each year.
We want to take this opportunity to thank you for your continuous support to Urban Synergy, without your time or financial assistance we couldn't have done this without you.
Since 2007 we've helped thousands of young adults move beyond their barriers and make positive changes to their lives. Our program for the next three years is ever growing and your help and support is needed more than ever. Please help by spreading the message about the benefits Urban Synergy brings to our young adults.
Alone we can do so little but together we can do so much.
Leila Thomas
Founder – Urban Synergy