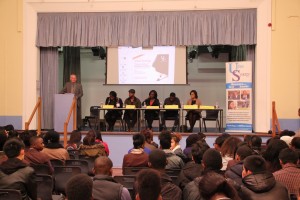 Urban Synergy hosted their last 'Think Further' Academic Role Model Seminar for 2012 at Addey & Stanhope School in New Cross, London on Monday 26th November at 6:30pm. Over 100 young people attended the seminar to listen to the panelists talk about their experiences at University and also about their first jobs.
The panel consisted of:
Efua Edusei, a Pharmaceutical Analyst who studied at the London School of Economics and University College London
Leila Greer-Stapleton, an Associate Solicitor who studied at Queen Mary University
Ola Masha a Writer/Director, who studied at New York University and has worked on projects with Spike Lee
Milford Teji-Kanu, studying Communication Studies at Bournemouth University
Martin Imafidon a Microsoft Specialist who studied at Westminster University
Stephanie Adu an Equity Sales Trader/Investment Banker who studied at Kings College London
The panelists talked about the importance of networking, volunteering to gain more experience in your chosen field and surrounding yourself with positive friends and influences to reach your goals. The panelists were joined by other Academic Role Models for the speed mentoring session afterwards where all of the role models moved from table to table in order for the young people to speak to them about courses studied at other Universities including Oxford University.
The students enjoyed the seminar and provided some feedback;
Emmanuel, aged 15yrs old
'This is a great way of helping young people and every school should look into this for their pupils. It is so amazing and I am grateful for this opportunity.'
Yeshim, aged 16yrs old
'I should definitely study something I'm passionate about and research in depth how to achieve my goals. The seminar was a huge help to me in deciding what I want to study.'
Dariyen, aged 15yrs old
'I learned that I should network and research what you want to do.'
Samira, aged 15yrs old
'It was very helpful and inspiring. It made me become aware of the 'real' world.'
Lueleen, aged 15yrs old
'I learned that to be successful in life you need to be determined, dedicated and work really hard to achieve the best grades. GCSEs are no joking matter, the better your results the more doors will be opened to you.'
Philisha, aged 16yrs old
'You need to work hard and go the extra mile in what you want to achieve. The seminar was really good because I gained a lot of advice and the event wasn't what I expected.'
Ayla, aged 15yrs old
'I will learn to be more confident and never let myself down or let anyone else put me down. I will believe in myself and aim for my dreams. The seminar was awesome and inspirational.'
Parent attending the seminar
'I think that every parent should have been here tonight. The speeches were fantastic and motivating, I really enjoyed being here this evening and I am going to share this with other parents.'