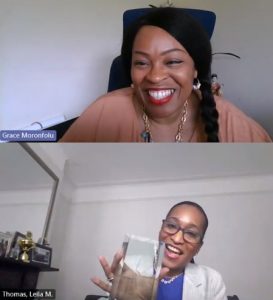 On Tuesday 23rd of March, Leila Thomas or CEO and founder was honoured to receive a 'Profile in Courage' award from the National Black Crown Prosecution Association, presented by Richard Taylor OBE and Grace Moronfolu MBE.
Her work in the schools and community started back in 2007, as she saw the pain in her community and the negative press of black young Caribbean boys and when she looked further the depiction of all black boys was disproportionately negative and Youth crime was at a record high. At the time her son was three and she wanted more for him.
Coming from a Caribbean household and a child of the Windrush generation, she knew lots of individuals who had forged the way themselves, making a positive impact in the workplace and in society at large. 
This formed her foundation for Urban Synergy to shine a beacon of light for young people , to see relatable role models, illuminating career pathways for them to follow.
Following the community call for action to showcase positive role models, we worked with young people to create our first 'Top Tips' Role Model Seminar in Lewisham borough. At the time Lewisham had the highest secondary school exclusion rates.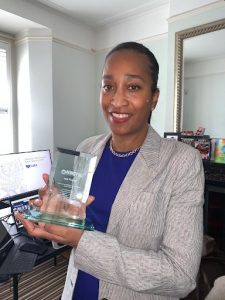 Since then we have supported over 10,000 young people and last year, during the Pandemic we reached more than 2,300 students in their classrooms and homes.  We also pivoted our mentoring programme online and connected more than 200 new career mentors to students helping them to transition from secondary school to further education or work. 
Our online offering has further developed to include virtual work experience, some of which is paid, and the pilot of our big school programme, helping primary school children transition to secondary. All of these interventions make a difference to the lives and outcomes of young people.
Over the last decade we have managed to galvanise the support of talented professionals and organisations that want to take action to address the systemic inequities that exist in the workplace, our communities and our schools.  
I am honoured to receive this award, as welcome recognition of the positive intervention that our programmes provide, for the most disadvantaged communities. But we couldn't do this alone, our Corporate Advisory Board (USCAB), Donors and the hundreds of Volunteer Role Models and Mentors, have taken action and enabled us to help young people reach their full potential. 
Working together we know we make a difference in the lives of the next generation, building a diverse, work-ready talent pipeline. Inspiring, guiding and connecting our young people.
I'd like to share my personal thanks to the Urban Synergy team, friends and family for all your support.