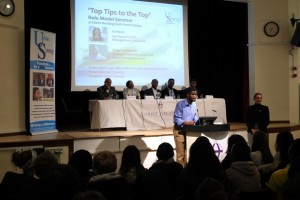 On Wednesday 14 November, Urban Synergy provided an amazing opportunity for the students of Christ the King Sixth Form College, to network and gain inspiration with a 'Meet the Professionals' evening.
The students first listened to a panel of six professionals who shared the story of their motivating journeys into the career they are in today. Following a panel Q&A the students then had the opportunity to speak to almost 20 professionals from a variety of industries.
Co-host Sengova Kailondo, a former student from Christ the King, kicked off the evening with his account of his path from education to working life, followed by members of the panel sharing their trials and tribulations. From barristers to doctors, and fire fighters to a member of the Ministry of Defence, the panel of professionals were rich in diversity and there was someone inspiring for everyone. Although these career fields were very different, all members of the panel echoed the same messages, to always work hard, never giving up, staying positive and much more!.
After listening to the panellists, the students scurried off to individual tables in order to have a more intimate discussion with the members of the panel as well as other inspiring Urban Synergy mentors. These discussions involved getting to know one another as well as some heated topics!
Overall, the evening was a great success! It was amazing seeing so many students being so enthusiastic when interacting with the mentors and sharing their hopes and dreams for the future. The "Meet the Professionals" evening was without a doubt just what the students of Christ the King needed during such a crucial stage of their educational lives.
Our thanks to the staff and students of Christ The King College who helped us plan and stage a successful evening. Also to all our wonderful Role Models who volunteer their time, and Taylor Dior who provided the above write-up of the event.
Feedback from students:
[quote]
Eleanor, aged 16yrs
"I learnt that if you are determined enough you can definitely succeed, regardless of your background"
Flora, aged 17yrs
"You need to have a vision to be successful"
Telma, aged 17yrs
"I will make sure my books are my new best friends and not question my ability of reaching my goals and aspirations. I learnt that to reach my goal in a specific career I don't need to just follow one path – I know that there are many paths that can take me there."
Doyin, aged 16yrs
"There are a lot more professions than I originally thought – I need to make a plan now! The seminar was a great opportunity, I would do again."
Jennifer, aged 16yrs
"Education matters in life, I have to pick myself up in order to reach my goals. I have learned a lot from here, it has taught me not to doubt myself in life and try my hardest to achieve my goals."
Taylor- Dior, aged 16yrs
"The Urban Synergy seminar should be mandatory for every pupil."
Jade, aged 16yrs
"I learned that dedication and commitment are the most important things to have if you want to be successful."
Moiskumar, aged 16yrs
"The seminar was very useful and has helped me to be motivated towards my goals."
Rochelle, aged 16yrs
"This opportunity should be open to everyone as it is very inspiring and makes you determined to be successful."
Ebun, aged 16yrs
"I learned that you don't have to have the best background to succeed in life."
Tommy, aged 16yrs
"I need to be more committed and dedicated in order to get where I want to go. I will become more serious about my education."
[/quote]