Climbing Wall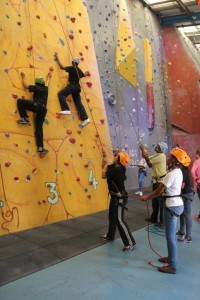 Urban Synergy runs a number of activities and workshops during the summer months as part of a Life Enrichment Programme. This year, the activities kicked off with an indoor climbing activity at The Reach, Woolwich. Mentees were joined by Urban Synergy organisers and mentors in a fun activity to learn climbing and team working. Everyone joined in to climb the challenging indoor walls and abseil back down to the ground. The instructors then produced blindfolds and each person had to climb the wall using only vocal instructions from their team below, it was quite a challenge!
Our thanks to everyone at The Reach Climbing Wall for making this such a fun and challenging activity.
First Aid Training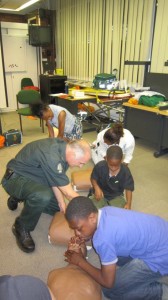 The Summer Events programme continued this week with First Aid Training given by Norman Abbott from the London Ambulance Service. Mentees went through the Emergency Life Support Course and learnt a number of key skills that could save lives.
The course covered:
Safe approach to a collapsed/injured person
Recovery position
Recognition of absence of normal breathing
Cardio Pulmonary Resuscitation (CPR)
Signs & Symptoms of a Heart Attack
First aid for a Heart Attack
Severe Bleeding
First aid for Severe Bleeding
Burns & Scalds
First aid for burns & Scalds
Our thanks once again to Norman Abbott, Community Resusitation Officer, London Ambulance Service NHS Trust who presented the course.
Personal Grooming Workshop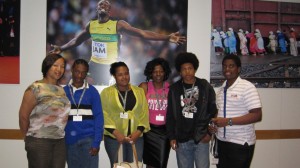 This workshop was presented by DJ Elayne Smith who covered a number of topics to help mentees learn the importance of person grooming, diet and body language.
Taking care of your body and skin
Healthy eating
Deportment: use of positive body language in different situations e.g. interview situation creating impressive first impression in the first few seconds of meeting and greeting someone by practicing interview situations.
Building confidence by the way you stand, walk, sit, your appearance, body language, eye contact
Taking care of overall appearance
Have high aspirations
Surround yourself by positive people
How to behave in an interview situation
Feedback from the mentees:
[quote]Thoroughly enjoyed the workshop I wanted it to go on longer, learnt how to build my confidence and keeping healthy, looking forward to the rest of Urban Synergy summer 2012 activities
I enjoyed learning about looking after myself and learning how to walk properly, the activity raised my self-esteem and taught me the importance of personal hygiene, self-image and keeping healthy.
The activity went well, I learnt how to act around people in an interview situation.[/quote]