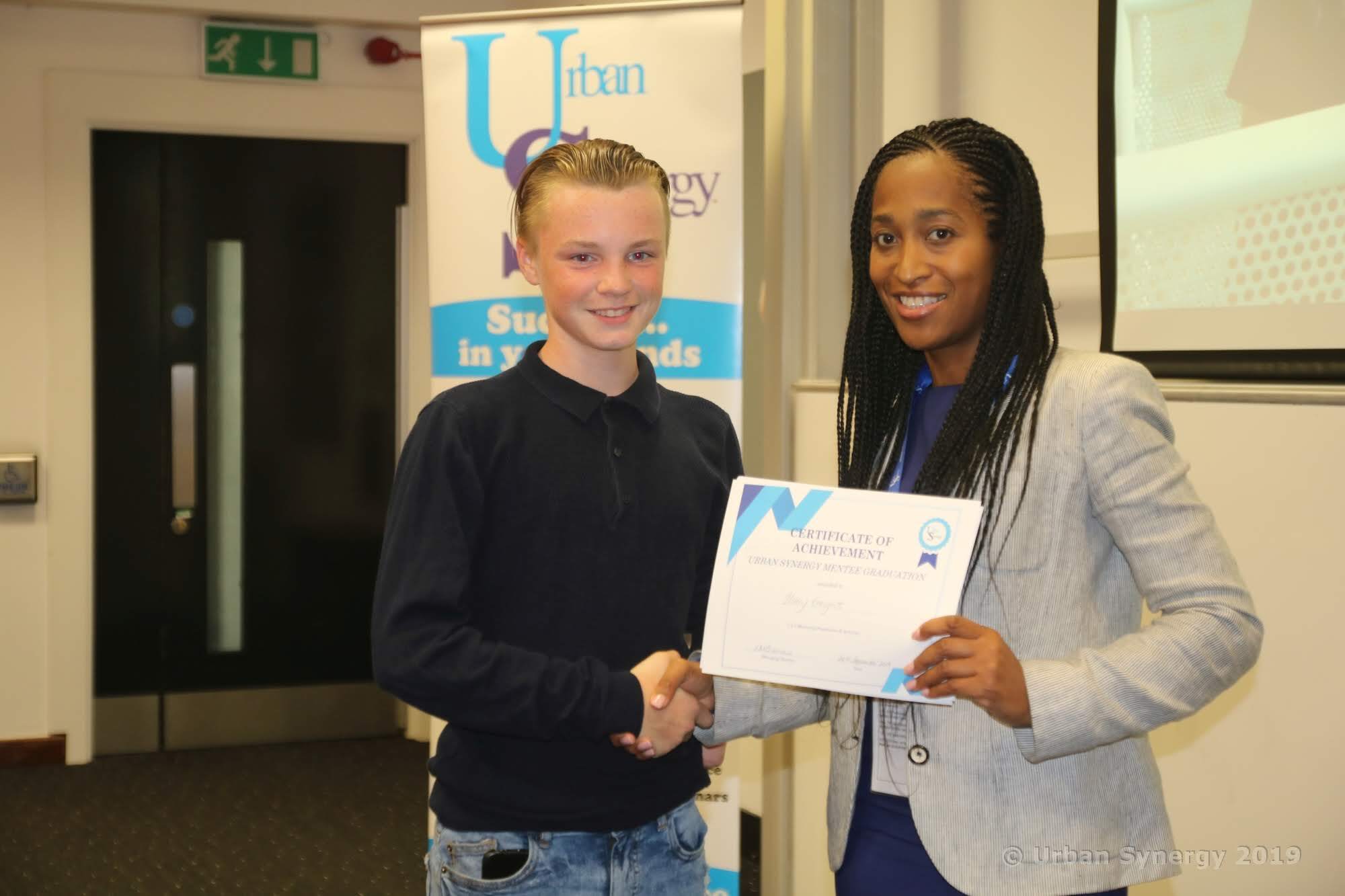 "My dream is to become the first one handed jockey. I want to make history and inspire not just people like me but everyone to get out there, try hard and fight for whatever their dreams may be and to never give up!" - Harry Enright
In September 2018, Harry Enright's school suggested he join the Urban Synergy 1-2-1 mentoring programme to be matched with a mentor for one academic year. Harry said that "at the time [he] was struggling to express [his] emotions to teachers, struggling with school work and not doing any homework". This impacted Harry highly, as he didn't feel like himself, and at times was left "feeling a bit depressed and lonely both in school and out".
Harry was assigned a mentor, Simon Raper, and they met weekly to discuss many things, including Harry's education, hobbies, work, and where he saw himself in the future. Urban Synergy organised events for the mentees on the programme that Harry participated in, learning First Aid, career pathways workshops, cooking classes, ice skating and a team lunch.
When Harry was 8/9 years old he started horse riding lessons at Sidcup and Footscray Riding School. Despite being the only one in the yard with a physical disability, Harry's teacher was brilliant, as "he wasn't worried and really helped me to gain confidence with my riding. I enjoyed lessons there for a while, but then decided to stop because I thought it wasn't for me".
Fast forward five years to when Harry joined Urban Synergy's 1-2-1 mentoring programme, it was during his sessions with Simon that he realised that his dream was to work in the horse racing industry. Harry didn't just want to become a Jockey, he wanted to be the first one armed jockey.
"With the help of Simon, Urban Synergy, and my parents we found a place called the British Racing School (BRS) and after going to their open day, I fell in love with the place and just knew this was where I wanted to be".
In January 2020 Harry was given the opportunity to spend a week at the BRS. At the end of the week's stay Harry had an interview and was offered a place at the school! However, because Harry was born without a left hand, there were health and safety concerns with how he could hold onto a race horse safely once he began to gallop.
With the help and support of Urban Synergy, Harry was able to fundraise the money needed for a prosthetic that would allow him to ride horses safely. Harry explains that "the prosthetic is made of silicon which slides on to my arm and there is a magnet at the end which attaches to the reins. A power circuit keeps it in place and if I fall off the circuit is broken, releasing the magnet so that I don't get caught up in the reins [and] dragged along".
Harry has gone from strength to strength, refusing to let anything stop him achieving his dreams. A true inspiration to all of us of the power of determination and self belief.