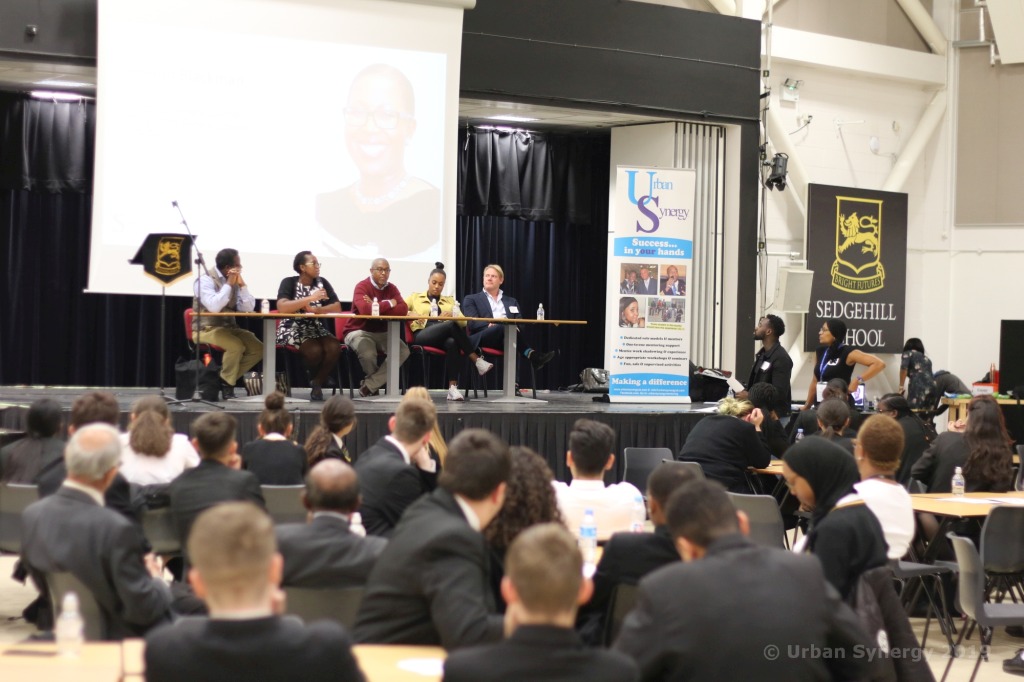 Urban Synergy were at Sedgehill School on Thursday 19th September to deliver another seminar to 160 students from Year 11 (aged 15-16 years.) The panel on the evening were:
Dr Charlie Easmon - YEHS (Your Excellent Health Service, No. 1 Harley Street)

Sharon Blackman - Director & General Counsel, Office of the General Counsel at Citigroup

Dr Donald Palmer - Associate Professor of Immunology, Royal Veterinary College

Carina White - Head of Business Affairs & Partnerships, Tongue Tied Media

Daniel Williams - Senior Vice President, Operational Risk Management at Citigroup
Other Urban Synergy role models sat with the students in the audience to listen to the panel.
Dr Charlie Easmon a surgeon who specialises in tropical medicine, travel medicine and public health said 'do not be jealous of anyone, just find your own path. Ambition is good, but be realistic about your own shortcomings. Be kind and give back as much if not more than you take. Grow well and develop always.'
Sharon Blackman, is a Barrister, New York Attorney and also EMEA Head of Foreign Exchange and Local Markets (FXLM) legal. She said 'when you find something that really engages your attention then you have no choice but to focus. Do not underestimate the role of luck in your future.'
Dr Donald Palmer is a Senior Lecturer in Immunology within the Comparative Biomedical Sciences Department of the Royal Veterinary College, London. Donald said 'you are all shaped by your experiences, so get as much experience as possible. Reading for me is very important, read you never stop learning. Teachers please praise your pupils. Enjoy life.'
Daniel Williams - Senior Vice President, Operational Risk Management at Citigroup (and also Sedgehill Alumni) talked about the apprenticeship route to a career and common sense approaches to some interview questions that employers might be looking for in their candidates. Daniel said 'be brave. When you work, work smart - think of ways you can do it better and quicker.'
Some of the students provided some feedback on the evening below on what actions they will take in the future and what they enjoyed about the seminar
'The role models really inspired me to do well and to follow my dreams, they gave me their honest opinions.'
'I will be resilient, I will work to my full potential and I will not be brought down by mistakes. I will take every opportunity that comes my way.'
'I will work hard, always pay attention and not mess things up!'
'One of the role models helped to show me how I could combine sports and law.'
'I enjoyed speaking with the individual role models and getting advice on different careers which opened up my options.'
'They inspired me to work hard.'