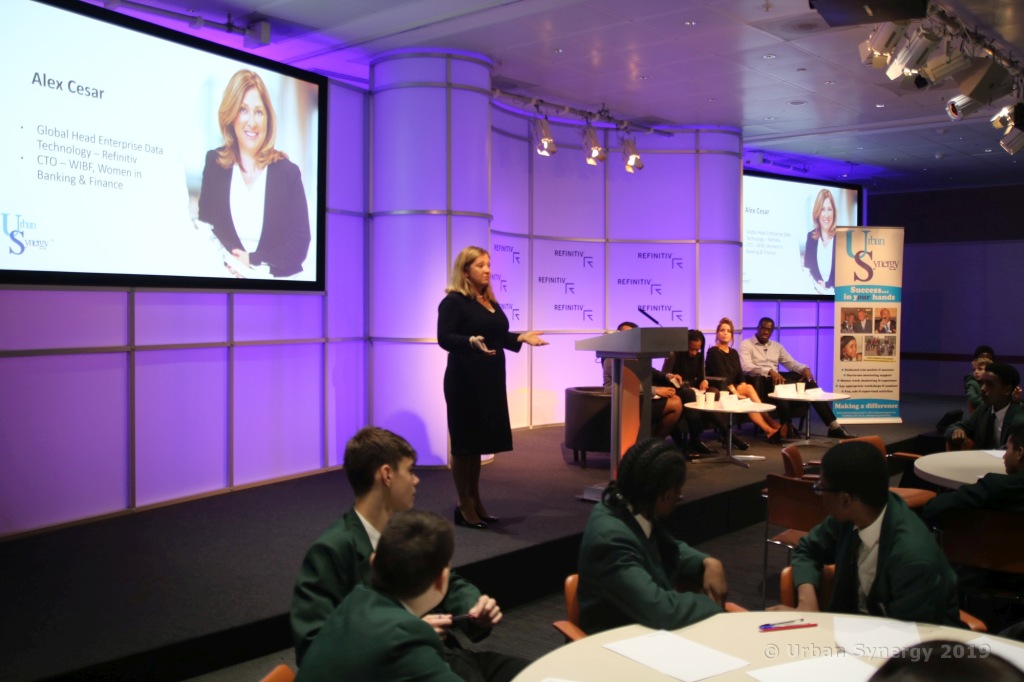 Urban Synergy were in Canary Wharf to deliver another Role Model Seminar hosted by Refinitiv. Over 65 year 9 pupils from John Roan secondary school in Greenwich, aged 13-14 years, attended the seminar.
Alex Cesar, Global Head Enterprise Data for Refinitiv and Chief Technical Officer for Women in Business and Finance addressed the audience. Alex, who has worked in various countries around the world during her career, spoke about her interest in technology and experience as an electronic engineer. Alex said 'You need to think about the opportunities out there. You need to think about what you like and what you're good at. Try hard doing the things you like and try even harder with the things you don't like.'
Alex Cesar introduced the keynote speaker, Darren Alloway: former Managing Director UBS AG & Urban Synergy Ambassador. Darren spoke about his interest in science and a medical career when he was at school/college and also his interest in basketball and how he managed to obtain a scholarship at college and how that path was different to his current career in Finance. Darren said 'if you get into a roadblock you can use your skills gained from some other area of your life.'
Dianne Johnson, Head of Programmes at Urban Synergy, interviewed the panel from Refinitiv while the rest of the Refinitv role models sat with the students. 
Tahmid Chowdhury: Customer Success Manager - Equities Trading
Tahmid, from a family of 9 siblings where he is the oldest boy, was asked how he came to work at Refinitiv through the graduate route and also what qualities helped him to obtain a permanent role. Tahmid said 'hard work is an obvious one, you have to show energy and desire. Be approachable and helpful, the good you do will come round to you the bad will stay with you. Have an appetite for learning. Always be curious, ask questions.'
Nicola Singh: Customer Compliance
Nicola was asked to talk about her route to Refinitiv and her job in customer compliance, she started in admin and worked her way up to her current role which allows her to travel and meet clients in different countries. Nicola also spoke about her hobbies, being a member of RADA and her love of acting where she has acted in some pantomimes. Nicola said 'the more you put in the more you will get out. Dreams do come true.'
Leila Thomas: Network Rationalisation Manager, Urban Synergy MD and John Roan Alumni
Leila was asked about her route to her current job and also what qualities were important while working with people from different roles and cultures. Leila said 'you have to be excellent at what you do, it builds trust. If you fail at something, fail fast and get over it.'
Student feedback
'This is an opportunity you don't get very often, I just want to thank you guys.'
John Roan Teacher
'It has been a big day today. Sometimes mistakes happen. Don't give up, keep going.'