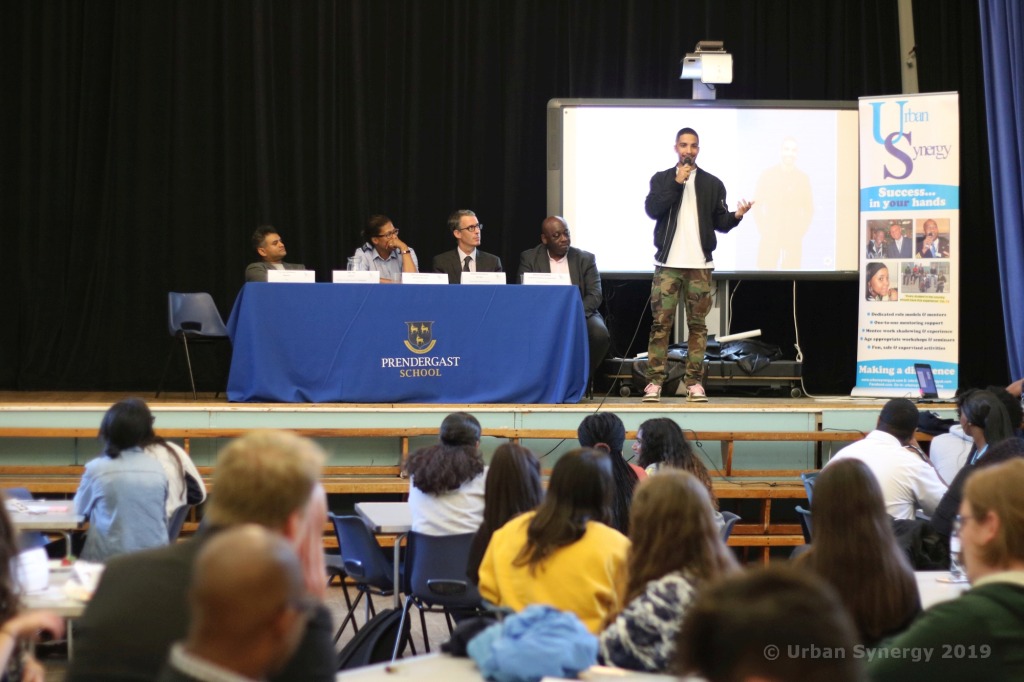 Urban Synergy were at Prendergast School for another Role Model Seminar, attended by their Sixth Form students.
The panel on the evening consisted of:
Bill Schomberg: Chief UK Economics Correspondent at Thomson Reuters

Stephen Akinsanya: Barrister, Great James Street Chambers

Shevonne Bramley: Weapons Technician at the Royal Air Force (RAF)

Nity Raj: Director of Brentford F.C. & F.C. Midtiylland

Troy Von Scheibner: TV Magician
The rest of the Urban Synergy role models sat on tables with the students. The Sixth Form students were aged 16/17 years old and were interested to see what the panel had to say.
Bill Schomberg provided some tips for future writers 'If you are interested in the news write in your school blogs, get work experience in local newspapers, get a feel for writing by writing for a local newspaper.'
Nity Raj said 'things move very quickly, you don't need to know now what you're going to do. A lot of things that make you successful in life are quite simple. 
'Be kind. Sometimes it's not about being the brightest it's about getting things done. The way you speak to yourself matters - you have to be your best friend.'
Shevonne Bramley said 'take every no as a maybe. It's all about being determined about what you can do. You can do anything it's just about your determination. The only one who knows how bright you are is you. Don't let anyone tell you what you can do.'
Troy Von Scheibner said 'you should always have a backup plan, just in case plan A doesn't come into fruition. You have to be your own biggest cheerleader. Be passionate about what you do. Be kind to everyone you meet.' 
Troy also performed a magic trick which astounded the audience.
One of the students spoke to the audience about the seminar and said 'everyone found it really helpful and a lot of fun.'
Prendergast's Sixth Form Head said 'What an inspirational start for the next two years.'
Neil Flanigan: World War Two RAF Veteran spoke to the audience and said 'Make the school proud of your presence today and take your place in the community.'
Some of the student feedback has been featured below;
'I should always believe in myself and hard work and determination is key.'
'You need to be your own best friend in terms of motivating and depending on yourself, instead of relying on other people.'
'I will work as hard as possible, connect with everyone as you never know who will give you the life changing opportunities.'