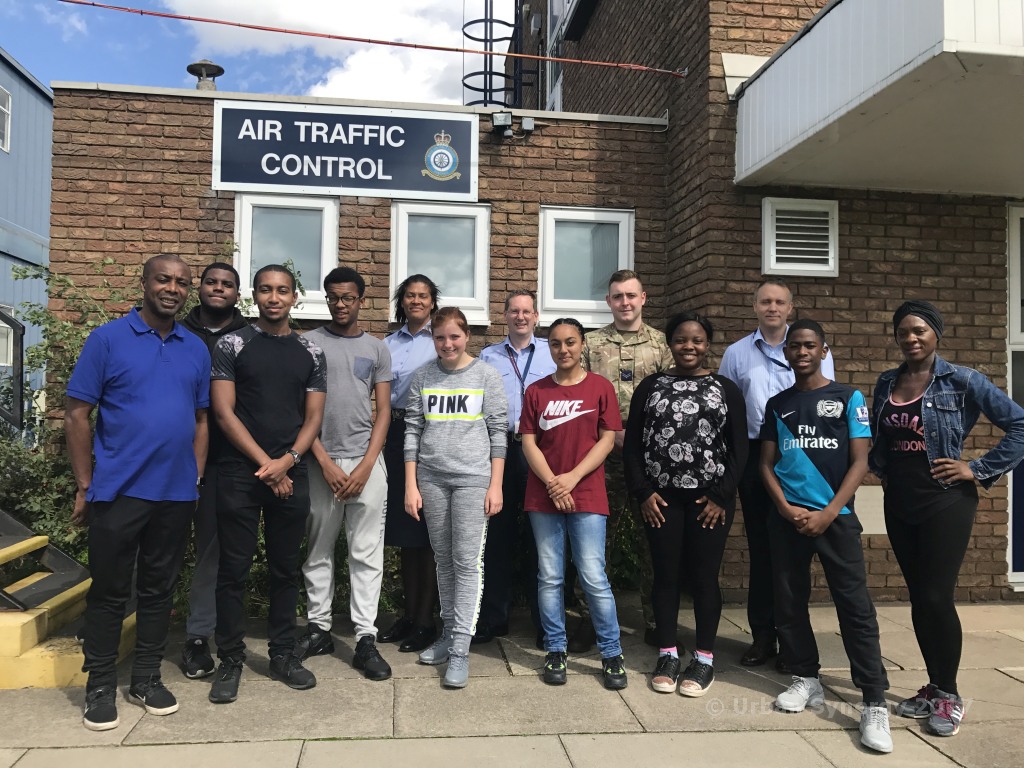 Urban Synergy were pleased to be invited to visit RAF Northolt with their mentees for a day of team building and other activities.
The base in South Ruislip, though considerably smaller than larger base Brize Norton has all of the exciting sights such as the runways and air traffic control tower.
After a warm welcome and introduction to the RAF from Sgt Shevonne Bramley from the Regional Engagement Team and her colleagues, the group headed to the gym area to change for the team building activities.
The day turned out to be sunny and mild, the perfect setting for activities which included low rope exercises and beam balances which all required a full team effort. Urban Synergy staff and mentees worked together seamlessly and were tired but elated after completing the activities successfully!
A much deserved break for a light was followed a drive through the campus with views of the ample staff accommodation which resembles its own village, the gym and the vast sporting facilities available to RAF personnel, including indoor climbing tower, boxing facilities, sports hall and outside exercise area. The final stop was the control tower and a guide to operations there including use of radar for air control. Control tower staff staff explained the equipment used for their work monitoring local airspace and shared details of their day to day duties and what a typical day might look like for them.
Our thanks to all the RAF Personnel that hosted our visit to Northolt. It was a great opportunity for our mentees to experience the importance of teamwork skills which they learnt during the team building exercise. We look forward to doing more of these development activities with our mentees during 2018Urban Synergy Founder, Leila Thomas
Mentee feedback
The day was informative and i enjoyed getting to know everyone. I will be able to pass this information onto others that were not able to see it first hand, Subina 19 years
I thought it was very interesting, I have done something like this before and I learnt more about the jobs available with the RAF and the opportunities to do a degree course, Elizabeth 18 years
I liked the activities the best as we all worked together as a team and did not give up. I liked learning about the different roles within the RAF ie sports, medicine, flying aircraft, Rae, 16 years
I enjoyed the team building and the skills required to perform them, Amari, 15 yrs
I thought the activities were fun and the learning about air traffic control, Dante
I learnt that you have to have a good spacial awareness to become an air traffic controller, Jovanne, 19 yrs