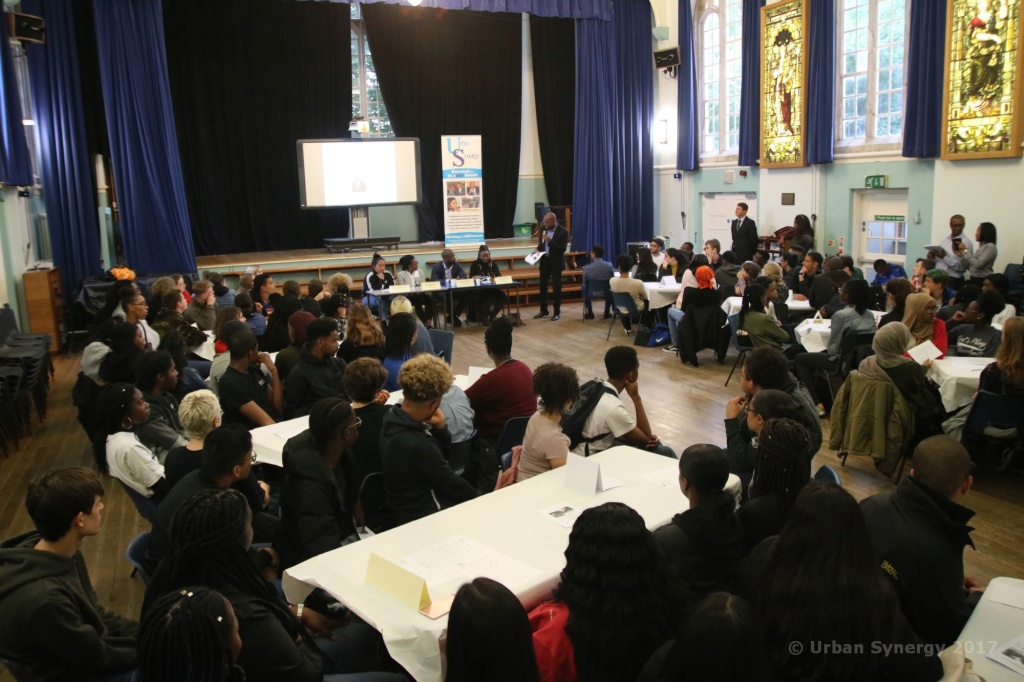 Urban Synergy held a 'Think Further' Academic Role Model Seminars at Prendergast Hilly Fields Sixth Form College on 7 September for over 100 sixth form students.
The inspirational seminar, which consisted of a panel session, followed by an open Q&A and speed mentoring was received enthusiastically by the students.
Earlier in the year the college had received Role Models from more than 20 industries who had come to the school care of Urban Synergy to showcase a variety of career pathways and give the students their career 'top tips'.
On this occasion it was the turn of an amazing array of undergraduates and graduates from the UK's foremost universities to share their experiences about this earlier stage in the journey post school to inspire the sixth form students, who themselves are at a stage where the role models were not too long ago and are eager to hear real stories as they themselves prepare for a not too distant future of career choices post sixth form.
The academic role model panelists were Taylor Dior-Rumble, Researcher/Journalist at the BBC, Chelsea Kwakye, student of Cambridge University, Michael Adesite, University of Warwick alumni and Senior Consultant at Ernst & Young and Esther Odejimi, University of Oxford student and founder of her own company, Opened Palm, who in turn shared details of their career journeys, from school to university to date, the highs and lows, challenges faced and what to realistically expect moving forward from sixth form to a new found independence.
After an open Q&A where students asked an array of open and interesting questions to the panel about what it takes to get to university and more, the event continued with the exhilarating 'speed mentoring session'. In addition to the panelists there were more academic role models from universities including Durham, Leeds, Nottingham, Birmingham, Southampton, Sheffield Hallam, Anglia Ruskin, Bristol, Wolverhampton plus LSE and the School of African and Oriental Studies already seated with the students and ready to participate in the speed mentoring which gave the students the opportunity to hear about their journeys up close. Here students meet each role model on rotation as the role models move from table to table after 5 minute intervals and gain valuable insight to their university of choice, schooling, ambitions post university and much more – even their hobbies and interests!
The seminar ended with a thank you from students and teachers and a group photo, which has become a mainstay of the seminars.
Fran Roberts, Teacher of Science and Head of Careers said:
"Thank you so much again for all that you do in organising the Role model Seminars, they are absolutely fantastic and the students get so much from them. I have had brilliant feedback today from the students around school that they really enjoyed it and it's been the best part of their week."
The panelists 'Top Tips' for the students were based on their personal experiences which they generously shared as follows:
Taylor Dior-Rumble, Journalist/Researcher, BBC
"Interning taught me a lot about myself"
"Please be yourself, there is only one you"
"Apprenticeships are the way forward, I am happy with the decisions I made for myself"
"Follow your passion. Do as much research as you can on what you like doing"
Chelsea Kwakye, History Student, Cambridge University
"Choose something you will be passionate about, do something you really want to do"
Michael Adesite, Management Consultant Ernst & Young
"Never allow people to determine what your final destination will be"
"If you want to grow, you have to get out of your comfort zone."
"The choices you make today will determine where you are in five or ten years"
"You have a big opportunity ahead of you, you have to use it"
Esther Odejimi, Founder Opened Palm, Graduate Oxford University
"You cannot let anyone define your journey"
"You either have to do something or you don't"
"If you don't want to embrace difficulty, you're not going to grow"
"Study something you enjoy and can take you on a myriad of paths"
Head of sixth form Tom Spreyer, said:
"The seminar was absolutely brilliant to see"
Tom also remarked that the parents would agree that the overall message was "exactly what you needed to hear"
Urban Synergy look forward to returning to Prendergast Hilly Fields College in 2018!