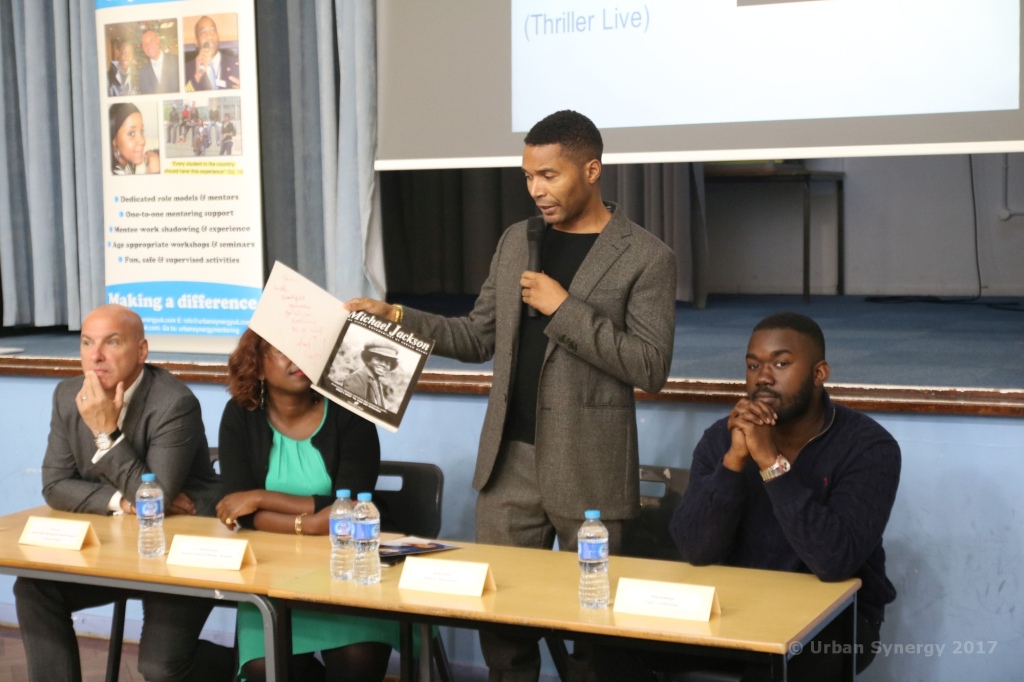 Urban Synergy held a 'Top Tips to the Top' Role Model Seminars at Addey and Stanhope School for over 70 students in years 9, 10 and 11.
The inspirational seminar, which consisted of a panel session, followed by an open Q&A and speed mentoring was received enthusiastically by the young students.
Introducing the event was Headteacher, Jan Shapiro, Headteacher, who told students, "This is a brilliant, brilliant opportunity… an opportunity to change your life".
The panelists, were Andy Loe, Head of IDN and Management Systems Support, Thomson Reuters, Raissa Uwineza, Business Community Manager, Workspace, and Adrian Grant, Producer, Thriller Live who shared with the students details of their career journeys, insights into their jobs and details of how they overcame any challenges along the way.
Following an open Q&A with an array of questions from the students to the panel, the event then continued with the exhilarating 'speed mentoring session' where role models, already seated with the students prepared to participate in the speed mentoring which gave the students the opportunity to hear from more industries including, Finance, Fashion, Consultancy, Government, Medical, Banking IT, Retail and more! The students met each role model on rotation, gaining valuable insight to a wide variety of professions. They were also able to discuss career goals and receive further 'top tips'. After 6 minutes role models moved to the next table.
The panel's 'Top Tips' to the students were full of encouragement and attainable for all the students:
Andy Loe, Head of IDN and Management Systems Support, Thomson Reuters said:
"Do your studying while you can"
"If you're struggling now, it's not too late to turn it around"
Raiszsa Uwineza, Business Community Manager, Workspace
"My story is different from everyone else's story, you are unique, there's no point copying anyone else"
"You have to believe in yourself, you have to believe in who you are"
"You have to make an effort, and put effort in everything you do"
"Find opportunities…people will give you a chance if you have ideas"
Adrian Grant, Producer Key Concerts (Thriller Live) said:
"Believe in yourself, because you have the key to what you want to become"
"If you fail at anything, the main thing is to keep going"
The seminars continue to play an important part in the Lewisham school calendar, reaching and inspiring a large number of students per event and open to all year groups.
Urban Synergy would like to thank all the Role Models and Addey and Stanhope for helping to make this event a success!