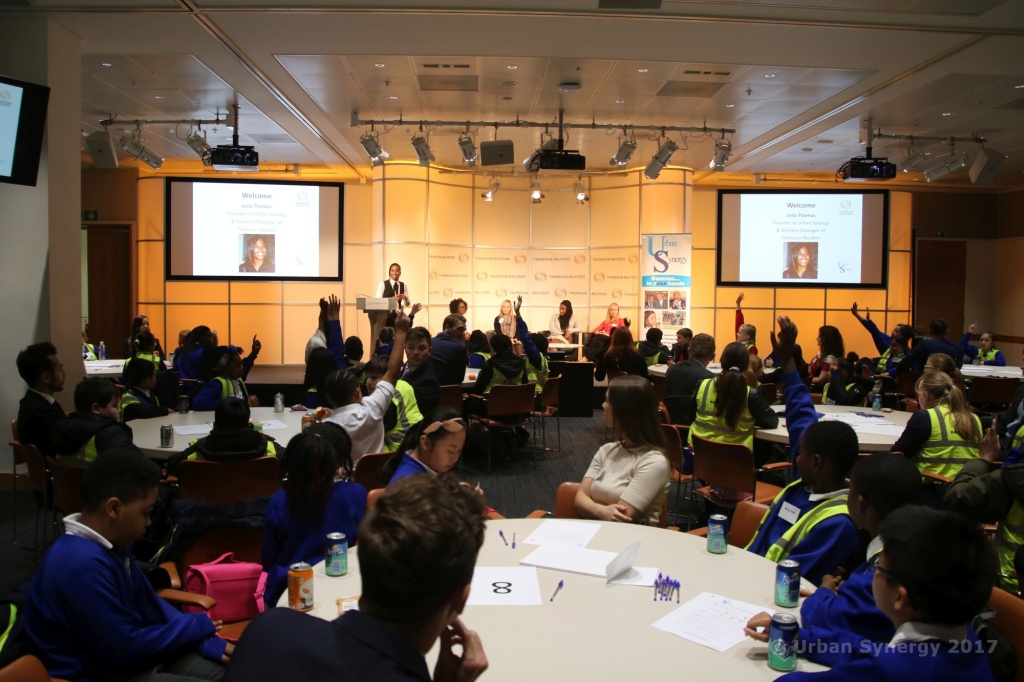 On Tuesday 19 September, more than 70 year 6 pupils from Rangefield Primary School in Bromley attended an inspirational Role Model Seminar at Thomson Reuters, Canary Wharf.
Thomson Reuters have been partnering with Urban Synergy (the award-winning, early intervention mentoring charity) to deliver a series of Inspirational Seminars for school children from the London Borough of Lewisham. The Role Model seminars enable students to experience a corporate office and to access role models from within the company. Staff who participate include graduates from across the many Reuters departments with a focus on the tech industries to encourage awareness of the STEM sector to young people.
Through their Inspirational Seminars, which also take place in schools throughout the school year, Urban Synergy are able to ensure young people gain access to a wide variety of professional role models with the aim of providing an opportunity to hear personal stories and tips for success, gain insights into different professions, and inspire the children to reach for success.
The seminar was opened by special guest John Lyon, Vice President, Data-Centre Systems at Thomson Reuters who welcomed the students and staff and Leila Thomas, Founder, Urban Synergy and Thomson Reuters Project Manager. Leila said to the students about the seminar :"Be open minded', ask questions and enjoy".
The pupils then got to experience an interactive panel discussion which was facilitated by Lesley-Anne Miller from Urban Synergy. Panelists Jordan Woodman, Finance Graduate, Hazel Mukandi, Sales Graduate and Laura Leonard, Sales Specialist shared their personal experiences as well as some great advice via 'Top Tips' for the students. In addition to talking about their day to day jobs the panel were asked to share details of any hobbies they had. Laura, who shared that she participates in amateur boxing matches was a revelation to students!
The panels 'Top Tips' for students
Hazel Mukandi, Sales Graduate, Thomson Reuters
"Ask lots of questions, ask all the questions you can and be open minded"
"Be excited, be open minded and you will be fine"
Jordan Woodman, Finance Graduate
"Take every opportunity you can"
Laura Leonard, Sales Specialist
"Always be relentless, and never give up"
"You don't lose, but you do learn"
Hannah Lyttle, Teacher at Rangefield Primary School said on coming to Canary Wharf:
"It was very exciting coming off the DLR and seeing the big buildings"
My advice to students ia "find your goal in life, and think about what you want to do, and see how to achieve that"
Following the seminar, the Rangefield students were able to give their thoughts in on the event in writing via feedback forms:
'I learnt that I need to persevere and be resilient. I should always believe that I can do any challenge. I also learnt that I should take as many opportunities as possible.'
Lewis age 11yrs
'I learnt that if someone tells you that you can't do something don't give up you try harder. Take every opportunity that life gives you and you will succeed. Also be the best you can be. Also never give up.'
Aliya age 10yrs
'I enjoyed getting to know other people and how they got their jobs also finding out what the role models wanted to be when they were little.'
Isabelle age 10yrs
'I learnt that this seminar can be the start of an illustrious career and future.'
Martin age 10yrs
'I enjoyed the friendly people because they talked to me about things I didn't know.'
Nada age 10yrs
'I enjoyed finding out about the role model lives and how they worked hard.'
Lewis age 11yrs
'I learnt you should never give up and focus on your goals also we should focus on our studies yet play hard.'
Angelina age 11yrs
Head Boy, Aaron thanked the roel mdoels for giving their time and commented,
"What I learned today was very interesting"