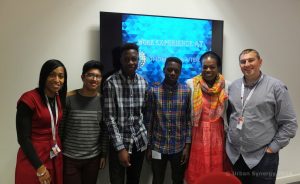 During summer 2016 Urban Synergy placed a number of young people in work experience at companies including Thomson Reuters (Media, Legal and IT and Executive IT departments) , TFL, Shell and Capital Construction.
The project, now in it's third year, gives young people mainly from Lewisham schools and the surrounding areas an opportunity of practical work experience which otherwise might not have been available to them.
The students ranged in age from 14-16 and were all excited to gain practical experience in the work environment.
Before participating in the work experience many of the students attended a 'Ready for Work Workshop' where they are prepared for the world of work with discussions including dress code, workplace etiquette, social media use and timekeeping.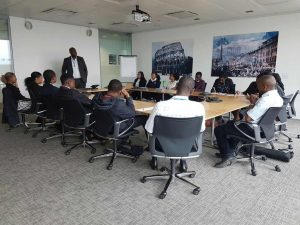 Students attend an Urban Synergy Ready for Work Workshop at Thomson Reuters with Paul Lawrence from Life Skills Consultancy
Students attending a week of work experience in the legal department at Thomson Reuters, Canary Wharf
The placements varied from 3 days to two weeks with agendas that opened up the various departments within each organisation to give the student a rounded picture of how the organisation works. Many of the students prepared and made presentations for the teams they were working with towards the end of their placements with Urban Synergy staff present.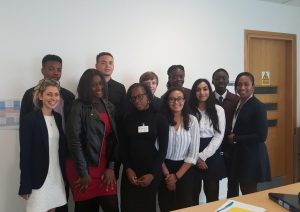 Many of the employers are looking forward to offering placements again next year. Urban Synergy are keen to secure sponsorship to enable more young people to reap the benefits of the scheme.
Urban Synergy's founder, Leila Thomas said " we believe it is vital that young people get hands on, practical work experience, especially in today's climate where experience before entering the real world of work is a rarity. We are currently discussing sponsorship opportunities to continue the programme for a fourth year in 2017."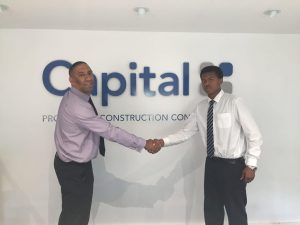 Capital Construction's Greg Wade with work experience student Khushaie. The placement gave Khushaie the exciting opportunity to shadow one of Capital's Building Surveyors.
The Work Placement was also reported on the Capital Property and Construction Consultants website.
Feedback from employers
[quote cite="Satnam Kaur, Thomson Reuters"]It was another successful year and it always pays off when we have such a lovely response from a student at the end of the scheme.[/quote] [quote cite="Greg Wade, Capital Construction"]He did very well, taking on board everything he was shown and took an active interest in learning. I really got a lot out of being able to teach him some of the basics of surveying and I hope he feels that he got some benefit out of it too. We touched on various life skills, the need for professionalism and the importance of self-respect, as well as the practical aspects of what I do in my daily role – so hopefully the three days will have left a lasting impression on him.
I'd be very happy to stay in touch with him and offer any support or guidance in the future.
Thanks again for the opportunity to provide someone with work experience, it's been very rewarding. I now promote Urban Synergy whenever possible.[/quote] [quote cite="Peter Granger, Thomson Reuters"]The mentees were all on time every day. They were eager and took instruction well, approaching the tasks with enthusiasm. They have been polite and a pleasure to have here with us.[/quote]
Student feedback
[quote cite="Tolu 15 years"]I learnt a vast amount of things and find it interesting. It showed me a different aspect of a career I could look into. I was surprised at how much I enjoyed speaking to the public and asking them questions about Donald Trump.[/quote] [quote cite="Ayotunde 15 years"]What surprised me most was the working environment seeing as I thought it would be very strict.[/quote] [quote cite="Khushaie 16 years"]I really appreciate the time and effort that Capital has put into helping me gain an understanding about how the development of property works.[/quote] [quote cite="Kakra 15 years"]I gained good contacts & found out a lot about the world of work & law. I now have a much more specific idea about the types of law/law firms I'm interested in.[/quote] [quote cite="Ezekiel"]I am having an incredible time at shell. It is very informative and helpful. Thank you again for the work experience, I really gained a lot from it. I have already thanked my host, and he also agreed for us to keep in contact with each other.[/quote] [quote cite="Eliakim 16 years"]I enjoyed the law side of Shell so maybe law might be a new career opportunity. I was surprised that Shell had different departments which I never dreamt of, for example the law firm within the company and its charity too. I was also able to get myself a career mentor by the end of the work experience.[/quote] [quote cite="Sao, 17 years"]The work experience has given me valuable insight into the inner workings of a company. [/quote]