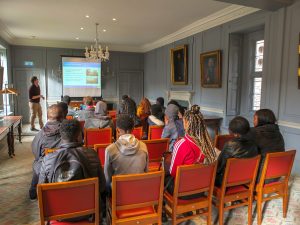 October half term was an exciting week for Urban Synergy mentees with visits to Gonville and Caius College at Cambridge University on 25th October and No10 Downing Street on the 27th October.
Mentees, mentors and Urban Synergy staff were met at Gonville and Caius, the alma mater of Professor Stephen Hawking by Tom Norwood, Schools Liaison Officer and given an introduction to life at Cambridge and universities in general.
The presentation included a study on various modes of currency, differing in age and colour as an exercise for mentees to use their analytical skills whilst working together in teams. Following this students were introduced to a current Law student who talked about her love of Gonville and Caius and life at the university and then gave a tour of the library, student facilities including bar, common room, accommodation and chapel as well as a tour of the university grounds.
The students were given some key facts about Cambridge – the degree you study does not necessarily need to point to the actual job that you may end up having as a career; Tom pointed out various well known people in TV such as Jimmy Carr, Eddie Redmayne and Tom Hiddleston had studied at Cambridge. He did however, point out that it was important to be passionate about the subject that you do decide to study.
The mentees learned that there are over 300 universities in the UK offering over 30,000 courses. 24 of these are Russell Group Universities, of which Cambridge is one.
Cambridge in particular look for mostly A and A* grade in 3 A level subjects from students from any background.
Tom also said that the university teaching faculty are specialists and actually working in the fields they teach and are often called to be 'special advisors' to governments around the world, so students are learning from the very best.
What you gain from University:
Learn to be independent
Meeting new people from different backgrounds
Skills gained from university life are transferable. Ability to write well, conduct arguments etc.
Studying at Cambridge
Small group teaching at Oxford and Cambridge. 11M books in library.
Tuition fees comparable to other universities. Subsidised accommodation and food. Generous bursaries (means tested).
World class facilities, the university won Nobel prize for physics recently.
Typically students have 3-4 hours in lectures, rest of time is studying. Students encouraged to read other material on subject, not just what is taught. Do own research.
Students are typically set 8 essays of 3,000 words a term.
Tom also reminded students that University differed from school in that you are not told what to do but expected to be motivated, study hard and attend lectures.
Our thanks to Gonville and Caius college for hosting the event, it was a very interesting and informative day for everyone involved. If you would like to find out more, follow on Twitter @CaiusCollege or visit their website Gonville and Caius College.
No 10 Downing Street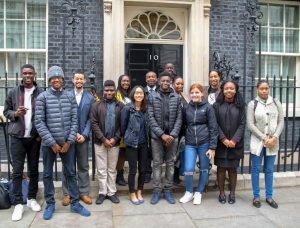 The annual visit to No 10 Downing Street was the last mentee visit before they went back to school after half term.
Accompanied by some of their mentors and Urban Synergy staff mentees were taken on a relaxed tour of the office of UK Prime Minister Teresa May.
Mentees were welcomed through the famous door and were soon guided around the building by Glen who has worked there for over 20 years. He shared interesting snippets and accounts about the building and its inhabitants as he took us through the building. The first stop was a meeting with Larry the cat who was asleep on a chair but not for long as most of the group wanted to stoke and get to know the building's beloved cat! The tour took in the Grand Staircase, where portraits of every Prime Minister line the walls in chronological order, with the most recent incumbents at the top and group photographs from past Cabinets and Imperial Conferences at the bottom.
The Cabinet Room drew many breaths as mentees recognised it from TV broadcasts and as the room where the Prime Minister presides over weekly cabinet meetings. Other highlights were the State dining Room, where dignitaries including President Obama have attended state dinners and the striking Pillared Room, a main staging area for Downing Street receptions.
Mentees also learned about the role of Events organiser Rosemarie, who talked about her job and what a typical (busy) day looks like!
Following the tour Urban Synergy staff and Mentees gathered for photo opportunities outside the shiny black door numbered '10'.
Mentees who attended both activities said:
"I totally loved it! It made me realise the vast history of the house and the amount of work that goes in behind the closed doors. It was like a tardis! I think realising the realness of the place and how significant the meetings held in rooms such as the White Room was the best part. Thank you so much for giving us the opportunity to visit the most well known house in London." Hanna, 16 yrs
"The trip to Cambridge university was very informative, interesting and motivating. The main thing I got from the trip was the motivation to work harder and aim higher and above what I am currently aiming for"
"I also enjoyed the trip to No10 very much because I got to meet and speak to individuals that work with the PM. I found it really interesting to learn about the daily business of the building and what it takes to work there. Lastly, it showed me that nothing is unobtainable; as long as you stay dedicated and keep working hard no doors will remain closed". Thank you again to Urban Synergy for the great opportunities, they both were experiences I will remember for the rest of my life." Seun, 16 yrs
"I really enjoyed the tour of No 10 Downing Street – it was a great experience! I also learned about the opportunities available at Cambridge and the different subjects you can study." Rae, 14 years
"I would first like to thank you for the opportunity I was given to visit Downing Street I found the experience to be absolutely monumental it was like stepping into the very doors of History. The whole tour was incredibly fascinating I learnt a significant amount about the British History. I owe a massive thank you to the team at Urban Synergy for inviting us I am very grateful for the experience." Cordelia, 16 yrs