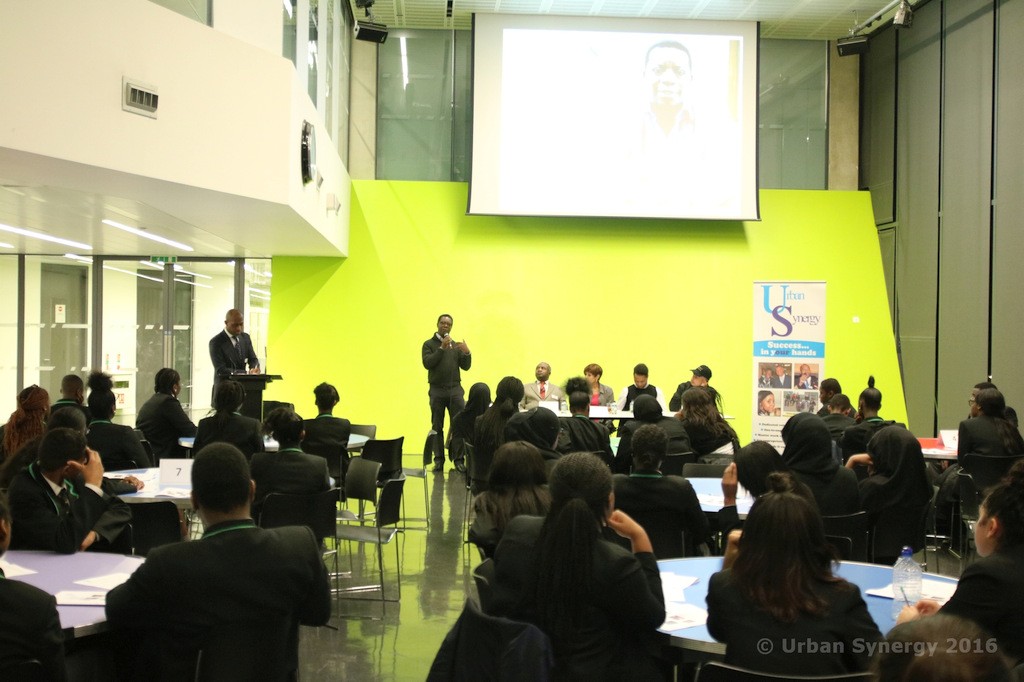 The Urban Synergy 'Top Tips to the Top' Role Model Seminar was held at Evelyn Grace Academy in Brixton on Tuesday 23 March.
It was the seminars first foray into a school outside of the borough of Lewisham. Evelyn Grace Academy's building, a stone's throw away from the busy Brixton Village is award winning and designed by Zaha Hadid, one of the leading architects in the world.
The seminar consisted of the panel session, followed by an open Q&A and magic demonstration by TV Magician, Troy Von Scheibner.
The seminar was open by Principal Devon Hanson and facilitated by Anthony Graham, Solicitor, Amosu Robinson and Urban Synergy Role Model.
Dr Charlie Easmon, Your Excellent Health
Courtenay Griffiths, QC, 25 Bedford Row Chambers
Dawn Goring MBE, 10 Downing St
Adrian Grant, Producer, Thriller Live
Troy von Scheibner, Magician and TV Personality
The panel was ably led by Anthony Graham, Solicitor, Amosu Robinshaw and the proceedings commenced with a magnificent poem written and recited by Destiny, a student at Evelyn Grace Academy to 80 of her fellow students.
Top Tips
Each of our Role Models talked about their career journeys, the highlights and the challenges they faced along the way. They had these "Top tips" to share with the students:
Charlie
"Keep learning… your learning is beyond what you learn in the classroom"
"Read widely, take the same story, see how different newspapers spin it and see which side you want to be on"
"Don't miss out on opportunities, they could lead to your success"
Courtenay
"Hard work starts from your schooling"
"Have confidence in yourself"
"Teamwork is very important, learn to trust the people you are working with"
"Education is so important"
"Where you begin does not determine where you will end up"
"Study subjects that you love so that you will excel in the subjects"
Dawn
"Keep around like minded people"
"Leave your relationships until you've done your education"
"You are your biggest asset"
"Take your time, life isn't a race, don't compare yourself to others, concentrate on yourself."
"Learn to work as a Team"
"Choose a career path that you enjoy as you will do well at it and fulfill your aspirations"
Adrian
"You are your biggest asset"
"Life is not a race, it takes time to perfect your skills"
"Enjoy life, treat each other with respect and abide by the Law"
Troy
"Enjoy life and be considerate to others"
"Don't let anyone tell you you can't do something"
"Don't wait for opportunities, go out and find opportunities"
"Work hard to get results"
Head Teacher's remarks
"The presentations were out of this world"
To the students – "I've never seen you so engaged"
Student Comments
"I have learnt that confidence is key to success, also where you start off does not determine where you end up. Seeking advice is always helpful" – Komeu, 14
"I will continue to develop my confidence in what I'm good at and work hard to achieve my dreams" – Precious, 16
"You must definitely study something you enjoy" – Fiona, 16
"I learnt that failure is not what I thought it was. Success is within." – Akram, 16
"Perseverance, dedication and passion are the keys to being successful" – Adrian, 16