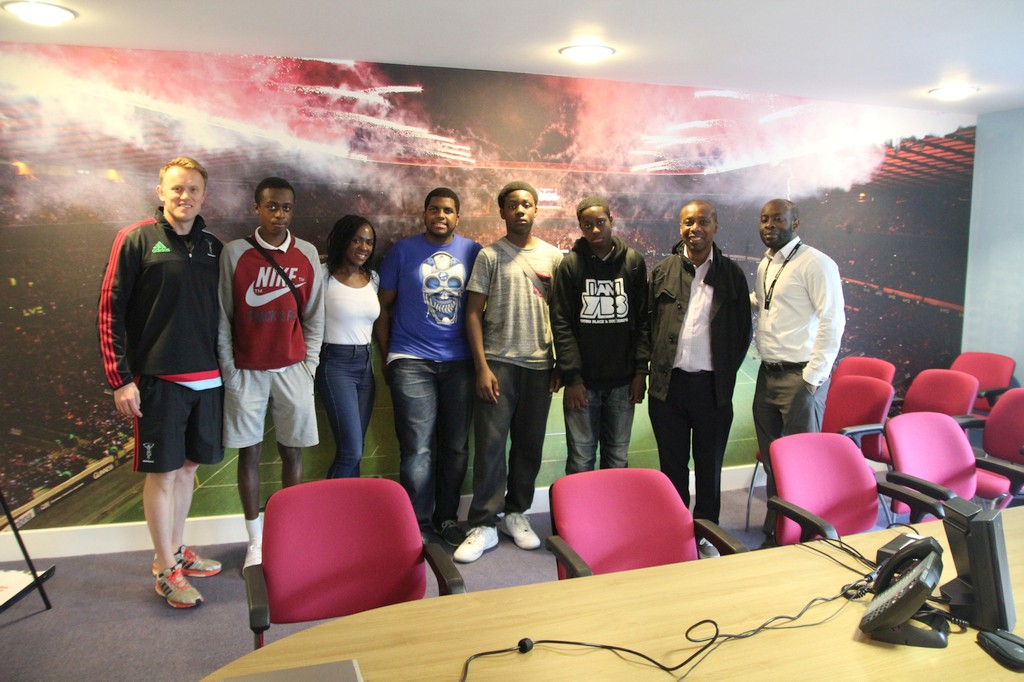 On Thursday 20th August 2015, Urban Synergy mentees and volunteers were invited to Harlequins Rugby training ground by Harlequins Foundation. We were met by Mark Soden and Ola Obaro at the training complex at Surrey Sports Park, Guildford to watch the squad go through a gruelling training session, followed by a tour of the facilities and a chance to talk with players and staff.
We learned just how high-tech the professional game has become; players are electronically tracked so their performance can be monitored and analysed. Games and training sessions are filmed to help players identify weaknesses and develop their skills through coaching. Every player is given a strict nutrition plan, an essential component of the professional athlete's training plan.
There is a very strong team ethic at Harlequins, new players are mentored by the senior and more experienced players, not just in playing rugby, but to develop a strong EQ (Emotional Intelligence) of leadership skills, and teamwork to overcome challenges.
After a quick tour of the treatment rooms, players' lounge and boardroom, we were introduced to Harlequins' Academy Coach Warren Abrahams. Originally a professional player from Cape Town, South Africa, he came to England to teach rugby to young people. He talked about the dedication required to become a professional rugby player, but also how getting a solid education at Stellenbosch University was key to his success. He said "Potential = Performance – Interference", to be the best you can, you have to eliminate the interference.
Professional front row forward Kyle Sinckler talked to the group about how rugby became a positive and influential part of his life since being introduced to the sport at age 9. After being spotted by a scout, he went to study at Epsom College where he studied hard and continued to develop his rugby career. He has played for England under 20s and also in the senior squad against New Zealand. Kyle said that self- belief is key, if you do not believe in yourself, how can you expect anyone else to? His motivation is to make his family and friends proud of his achievements, and to be the best he can be.
Finally the group were introduced to team nutritionist James. He talked about the importance of a good quality diet, not just for athletes; we all need to eat more fruit and vegetables.
We'd like to thank Harlequins Foundation for allowing us to visit, and the staff and players for taking time to talk and share their life skills with the young people. We all left with a greater understanding of the hard work and dedication required to be a professional athlete, and how leadership and teamwork skills can help everyone.
[quote]I really appreciated being taken to see the Harlequins. I thought it was a great experience learning about their diet and their dedication to the sport and their training. I would love to incorporate this into my basketball training and would like Urban Synergy to do a trip like this again. Mentee Ramayne[/quote]