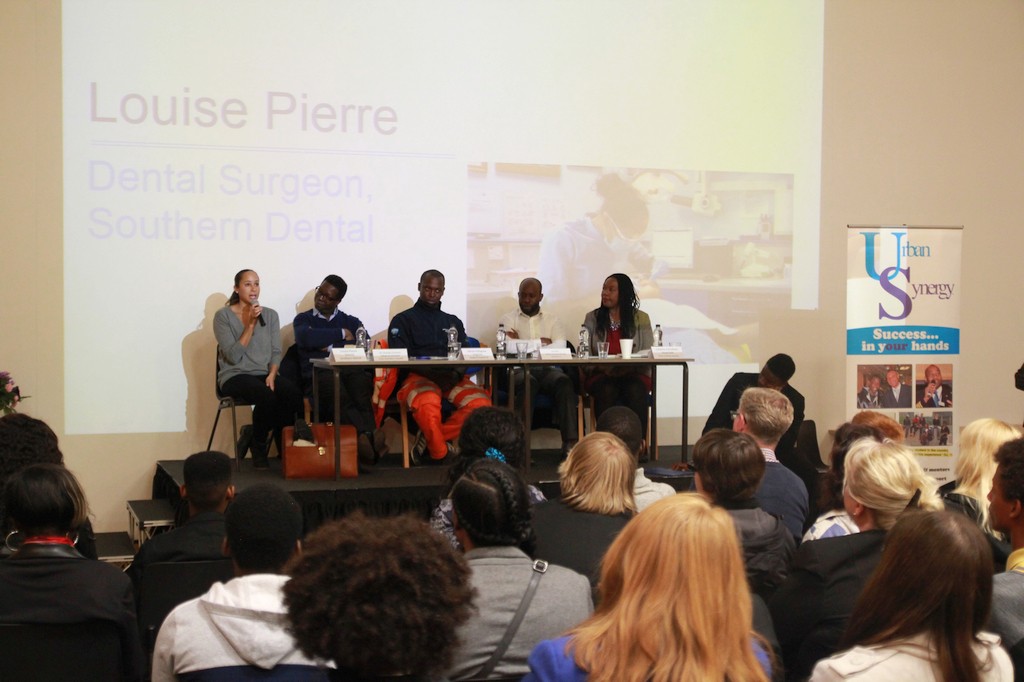 Urban Synergy held 'Top Tips to the Top' Role Model seminar at Bonus Pastor Catholic College on Tuesday 19 May.
The seminar was expertly hosted by regular Urban Synergy facilitator Sue Watson, Director of Caatalyst/Watson and Watson and Co hosted by Urban Synergy mentee Diamon.
The panel consisted of Charlie Easmon, Medical Director of Your Excellent Health, Louise Pierre Dentist, Adrian Pettigrew, Footballer turned Engineer, Ola Obaro, Product Manager at Harlequins Rugby Club and Lotwina Farodoye, Author and Entrepreneur.
In addition to the panel, the full range of role models in attendance ranged from lawyers, to directors, teachers, IT professionals, company owners and office managers.
Sue opened the seminar by saying that the students will be motivated when they leave the seminar and to make the most of what the role models have to say. She also thanked the many parents present for their support for their children and the event itself.
Lotwina Farodoye said she did not know what she wanted to do whilst at school. Her father encouraged her to study Economics, and she got a 1st class honours degree and went on to work for companies such as Kingsmill. After being made redundant, she decided to start her own business with the skills gleaned from previous jobs and set up a company to produce and distribute natural fruit bars. She advised students to be positive when faced with difficult situations. Lotwina also went on to write a book on starting a business after people asked how she set up her own business. Growing up her parents who emigrated from Zimbabwe to the UK with little English were her role models due to their hard work ethic which was instilled in her.
Charlie Easmon said he knew he wanted to be a doctor from the age of 5, he comes from a family of doctors. He traveled around the world learning about public health and then started his own company. Charlie said there will always be pitfalls in life but it is how we come back from them. He suggested reading a variety of papers to see the world from different angles. Don't limit yourselves, be bold and brave, learn from mistakes and move on. Keep asking questions until you get the answers that will satisfy you. Learn from other cultures. Skills required to be a doctor are very academic but you must also keep your other interests strong in order to be a well rounded doctor. As a company owner, marketing, developing and cashflow can prove challenging. Regarding studies, Charlie found Biology was easy but maths was not his strong point. Charlie suggested that students find out what they need to know by researching well.
Adrian Pettigrew, footballer turned Engineer shared that he transitioned to engineering after and injury forced him to retire from professional football.. He took a degree in Engineering when he left football. He had a lot of support from family and friends and said that he had the correct skill set to move into engineering. He advised that if any student wants to be a professional footballer they should go for it but focus on getting an education first.
Ola Obaro, comes from a family of doctors, but he wanted a career in sport. he is now a Product Manager at Harlequins Rugby Union. He advised the students to find roles that they really want to do. Look into it and then work backwards. He told students to work hard and that failure and setbacks are a part of life. Be true to yourself , know what you are good at and make the best of what you are good at. Don't waste time on what you are not.
Becoming a dentist was appealing to Louise Pierre as her brother was a dentist before her. Louise said the job can be quite stressful but no two days are the same. Louise advised the students that whatever you do you should give it 100%. It can be challenging when you are young but you need to stay focused. Being an all rounded person is a bonus at university, and not just gaining straight 'A's but alongside this. Louise challenged herself by doing Chemistry which was not her strong point. Growing up, her brother was her role model as he was there to talk to and offer her encouragement as someone who has already been there
The panel was followed by the speed mentoring session where the pupils were given the opportunity to be up close and personal with the role models and find out more about their careers and to share their own personal aspirations with the role models.
Teacher Patricia John-Baptiste
[quote]Once again an excellent informative evening. The professional were extremely engaging and positive role models. Thank you Urban Synergy for an inspirational and motivating event.[/quote]
Bonus Pastor Catholic College Pupil Feedback
[quote]I chose doctor Charlie as he is someone to look up to considering I want to pursue a career as a doctor.' Kennedy – Age 12 yrs
'Try to complete my GCSEs successfully and do what I like in school, in terms of the topics and subjects.' Sunmisola – Age 14 yrs
'They had such a lot to say to help us.' Sodiq – Age 12yrs
'The Doctor and Engineer was inspirational and successful.' Ciaran – Age 13 yrs
'I learnt that you should work hard at everything and always have a back-up plan.' Jada 14 yrs
'Adrian Pettigrew inspired me because he had to go through two jobs that he really loved.' Anthony Age 13 yrs
'Dawn Goring know what she wanted to do from a young age. She never gave up and went for it.' Tayma AGe 14 yrs[/quote]