Urban Synergy is holding a charity 5-a-side Football Tournament at Kidbrooke Playing Fields on June 27th 2015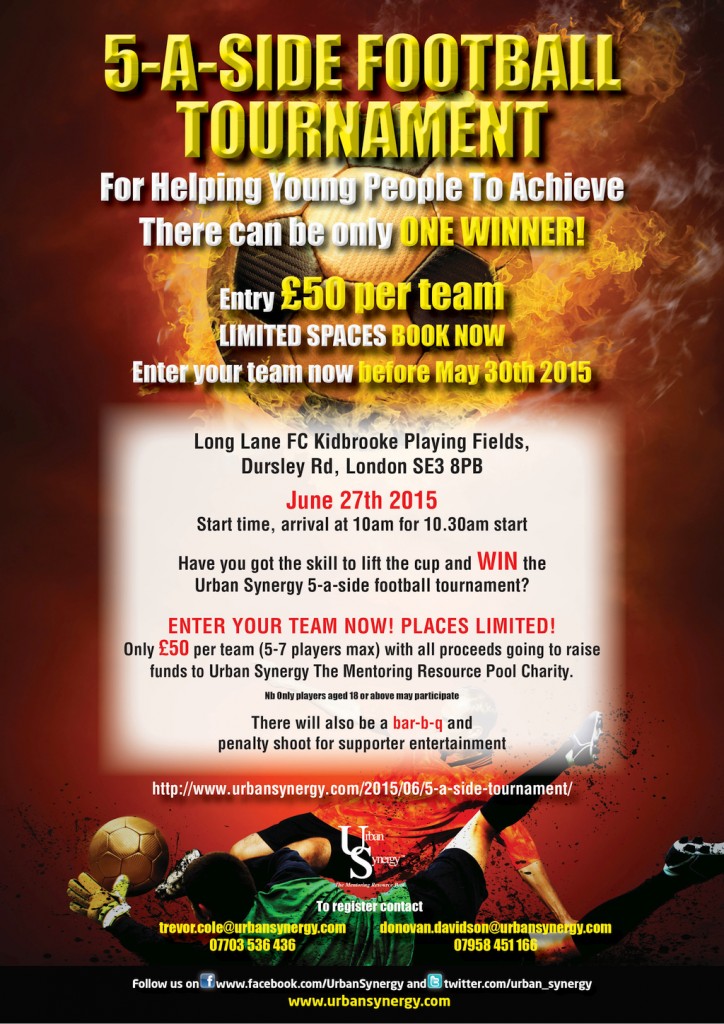 5-a-side Football Tournament
To register for the event, please fill out this form
Location, Date and Time
Long Lane FC, Kidbrooke Playing Fields, Dursley Road SE3 8PB,  27th June 2015,10am Start
Size of Tournament
The tournament will consist of 16 teams, divided into 4 round robin leagues so each team will play at least 3 matches.
The top two teams from each league will then go into a knockout phase:
Quarter Final -> Semi Final -> Final
Each match is 10 minutes long.
Number and Type of Pitches
The ground has a large 3G pitch which will accommodate 3 matches at a time.
The ground also has a grass surrounding area containing several 11 a side pitches.
Venue Facilities
The ground has parking, changing rooms and showers.
There will also be a barbecue laid on. There is also a bar where you can purchase drinks and snacks.
Who can participate?
Open to everyone over 18.
The maximum number of players per team is 8.
The cost of entry is £50, all proceeds going to Urban Synergy Charity.
Please register by 31st May 2015. Payments will be accepted at the event.