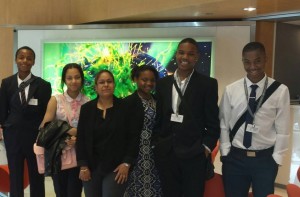 During summer 2014 Urban Synergy placed 27 young people in work experience at companies including Lloyds Bank, Thomson Reuters, Amosu Robinshaw Solicitors, BPTW Partnership (Architecture), A.A.Tikare & Associates (Dental Surgery) and YSC (Business Psychology).
This project was a success giving young people mainly from Lewisham Youth clubs an opportunity of a lifetime which otherwise might not have been available to them. Shadowing professionals in the corporate world gave some of them the opportunity to rethink their future and believe in themselves. Before participating in the work experience, some of the young people believed the corporate world was for a certain class of people but their whole perspective changed when they participated.
We now have a waiting list of young people who are interested in taking part in the next work placement experience. The waiting list was born out of word of mouth from those who took part and informed their peers of this great opportunity.
All of the young people were prepared for the workplace and made a good impression on the employers who all gave 100% positive feedback and want to repeat the programme next year.
Feedback from employers
[quote]We liked that this organization is trying to assist young people in broadening their horizons –
Anthony from Amosu Robinshaw Solicitors
I think the program is of most value to the young people concerned as it opens up their horizons. We saw how it made a difference to the boys and their attitude towards school work – such interventions are crucial. An excellent programme. – Veronica from Thomson Reuters[/quote]
Feedback from young people
[quote]I have had exposure to working environment in a large company. I can also think now about whether or not a career in the financial industry would suit me or whether I am comfortable in an office environment. I have been able to meet many new people in a short amount of time and have had the chance to work more independently, taking responsibility for my work –
Maria 16 – Thomson Reuters
It has helped me a lot as I have had an insight into the effort and workload that is required in order to be successful. I also received priceless advice from the people I was working with from the partners to the secretary. The work experience also allowed me to be professional at all times even in a hard job like criminal law. I have already changed my perspective of life since completing the work experience. I have devised a plan of how I would like to go forward in life. I have started reading more to broaden my knowledge as instructed by one of the solicitors – Jonathan 17 – Amosu Robinshaw Solicitors
It has helped me to realise how much work I need to put in as a year 11 student going on to take my GCSEs. I have learnt how to use my time keeping correctly and also I have learnt that I need to put in a lot of work to gain these positions – Ben 15, Journalism Team at Thomson Reuters[/quote]
Our thanks to the Young Mayors Office in Lewisham who funded the project.