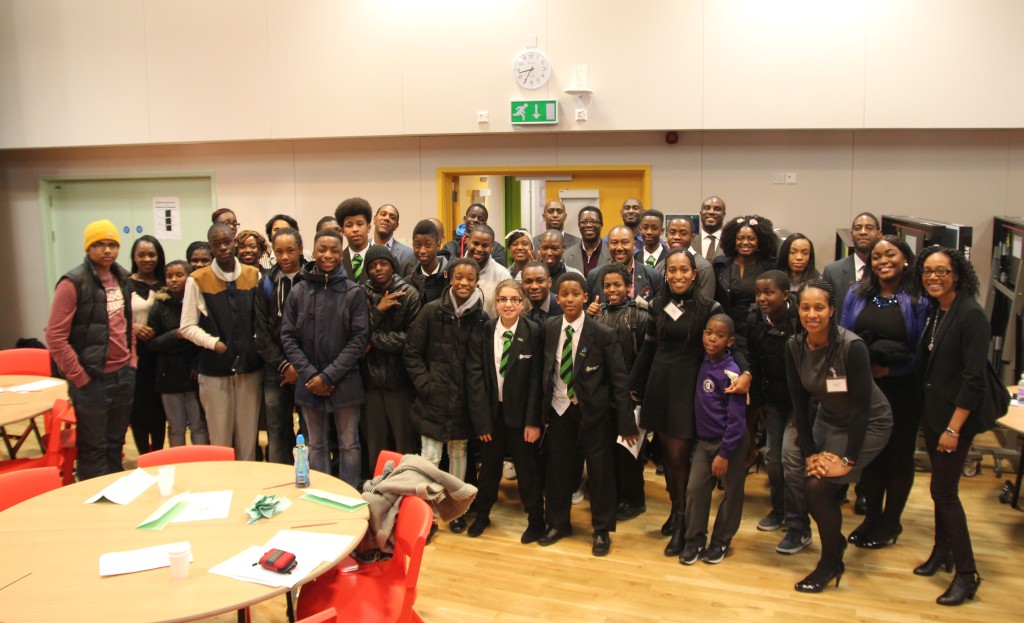 Over 20 professionals, from various walks of life including entertainment, finance, IT, medical and law , converged on Deptford Green School, to inspire an audience of over a hundred people, made up of year 9 students and their parents.
The audience came away with inspiration, top tips and some actions to take to pursue their goals.
The panel consisted of:
Dr Charlie Easmon, Your Excellent Health, Harley Street
Martin Imafidon, Partner Account Manager, Microsoft
Anthony Graham, Solicitor, Amosu Robinshaw
Toks Aruoture, Founder and Interior Designer, Punkinpatch
Naomi Gray, Fashion Stylist, Naomi Gray Styling
The event was co-hosted by Dianne Johnson, Programme Director, Urban Synergy and Kwadwo Boakye, Business Economics Student at Anglian Ruskin University and Deptford Green ex-student.
Feedback
[quote]Our Students were truly inspired by this event. Urban Synergy seminars send a powerful message to our students. There is no limit to what they can achieve if they work hard and learn from life's experiences." – Bob Ellis Executive Head Teacher, Deptford Green[/quote] [quote]Many of our young people lives are drastically altered because of peer pressure and the lack of strong and positive role models. – Leila Thomas, Urban Synergy Founder and Managing Director[/quote]
We are happy to broaden career horizons, academically inspire, motivate and provide positive influences for the next generation by hosting our 'Top Tips To The Top' Role Model Seminar in Deptford Green followed by visiting St Matthews Academy, Conisborough College and Gordonbrock Primary and many other schools in the Lewisham and surrounding areas this year.
What they learned
"We should never give up and always believe in yourself and be confident in yourself" – Toyin,13
"Never give up and keep trying to reach your goal" – Mekahill,14
"There are a lot of no's in life and your life can turn around and your career isn't determined in the results of your GCSEs" – Sammy, 14
"The job I want to do is very hard and I will need to get Computer Science for my GCSE and it is very stressful.. My job requires a lot of effort." – Steffan, 13
"You can't get your time back, and don't take your education for granted". "Keep it real by being like you are" – Ali, 14
"I need to be more serious about my GCSEs. I learned that you don't always get a yes, but you have to find a way to change it to a yes" – René, 14
"I need to do put in work. I should research more about the field I want to work in. People have had a bad start but in the end they always made sure they were on top" – Ben, 15
"You should go for your dreams and don't let anyone drag you down. There are ups and downs" – Lini, 13
"I don't need to know what I want to be at the beginning. I will be what I will be as I learn and grow older" – Amu, 13
"Giving up is not an option. Failure is part of the journey" – Amy, 14
"You should follow your dreams no matter hard it seems" – Aleksandra, 13
What actions they will take
"focus on what I am doing and never give up" – Toyin, 14
"attend extra lessons for English and Maths to improve what I get at GCSE" – Mekahill. 14
"try to attend after school subjects and just revise and read more" – Sammy, 14
"ask my Computer Science teacher what I need to learn" – Steffan, 13
"work as hard as I can in every lesson to understand what you are doing" – Basit, 13
"not let others hold me back from whatever I want to do, even if they think I can't make it" – Jordan, 14
"study more and use my time wisely" – Lini, 13
"try to believe in myself even more" – Amu, 13
"attend after school activities to improve my skills, perhaps even buying relevant text books to study beforehand." – Amy, 14
"concentrate on learning thing which will help me achieve what I want to be" – Aleksandra, 13
Top Tips
"don't be afraid to be an individual move away from negative influences"
"don't be afraid to pursue an opportunity"
"value life, value experience, engage with those who have those experiences"
"don't be afraid of no, value the yes, and turn that into more yesses"
"how you make you bed, is how you lie in it"
"start thinking about what you want to do, and get to know people who can get you there"
"work hard and never give up"
"enjoy school and take yourself seriously"
"always believe in yourself, even if nobody else does"
"keep positive people in your circle, who, when you are wrong will tell you you're in the wrong"
"adversity is important, see you can turn it into an opportunity"
"don't let your spirit be broken"
"there is a wonderful world out there, explore it, don't be afraid to leave your post code"
"recognise you have a gift inside of you"
"challenges are there to be overcome"
"take responsibility for your actions, own your own life"