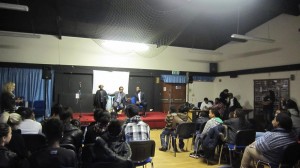 On Wednesday 15th February Groundwork youth worker team hosted 'Inspire', an event for young people, parents and members of the community at their local youth club on the Cossall Estate in Peckham.
Urban Synergy cohort leader, Charmaine Charles who volunteers at the youth club on Wednesday evenings was proud to present Urban Synergy guest speakers Garry Green, a barrister from Tooks Chambers and Michael Isola from Goldman Sachs.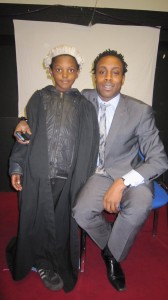 Garry captured the young audience, telling them when you can act and speak with confidence you are part way to becoming a barrister. He also added that hard work and determination are also very important elements in becoming a barrister. One of the attendees, aged 8 years old, got the opportunity to see what it feels like when Garry invited him to try on the gown and wig – not an opportunity many people of his age get and not surprisingly he found it very inspirational!
Michael Isola, an asset analyst with investment bank, Goldman Sachs also gave some useful insight. He talked about the challenges he faced and conquered growing up in the Southwark area and in his education. He gave the young people an understanding of the process he went through to study philosophy, politics and economics at Oxford University which eventually led him to join a top City bank. Michael's Oxford university background impressed the young people and according to feedback from one 14 year old attendee, he is convinced that 'normal people' from challenging backgrounds can achieve.
After the event, there was great feedback with, some of the young people in the audience commenting that they wanted to work much harder in school; the speakers made them want to concentrate more on their school work and that normal children from different backgrounds are able to achieve if they put their mind to it.
Both Garry and Michael left the young people mesmerised with the urge to achieve and we appreciate the time they gave to share their experiences at this event.