How did encountering role models, seeking mentorship, and gaining corporate work experience shape your path to applying to Howard University?
It all started from a careers in sport role model seminar in my basketball club London Thunder where I was inspired by all the role models in particular Darren Allaway who works at Goldman Sachs and studied at Stanford University USA. From there I became confident to apply for a mentor for personal development and then I gained access to a wide network of corporate work experience opportunities - this propelled me and gave me the pathway in finance and inspiration to apply to Howard. 
I included these experiences in my application to Howard university. All of these opportunities became a "A Chain reaction" Work experience helped me to find a career path into finance and meeting good people including Black excellence role models, and these empowered me.
Tell us about Howard University, how did this happen? Was it your childhood dream to study in the USA?
Having a mentor, access to the Urban Synergy network of professional role models with valuable opportunities gave me the confidence, motivation and profile to be successful in applying to Howard University.
Can you share with us how your journey with Urban Synergy began and what motivated you to join the mentoring programme?
My journey with Urban Synergy started three years ago. I found out about Urban Synergy through my basketball team, and they had a webinar talking about black excellence and things of that nature, which really intrigued me. That motivated me to join the mentorship programme, where I learned about how to develop my communication skills, improve my CV, make email cover letters, and a lot more.
What were your initial expectations when you first joined Urban Synergy, and how have they evolved throughout your time with Urban Synergy?
My first expectations of Urban Synergy were more about the skills needed for the corporate world. I also found out that Urban Synergy would give you opportunities to actually practise these skills, network, and meet people who are willing to help you with your future career.
How has the programme contributed to your own personal development, and are there any specific skills or experiences that stand out to you?
Urban Synergy really helped me during my sixth form and secondary school years, especially when looking for work experience. I had work experience with Dynamic Planner, which gave me a huge insight into what I wanted to do in the future. I was able to do a portfolio for the company too. It really helped me understand the different roles inside the company and different industries as well.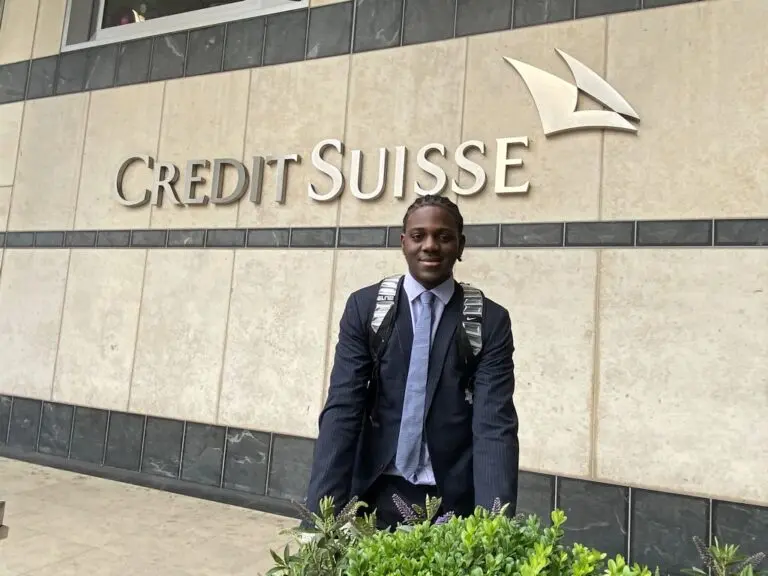 Through my work experience with Credit Suisse, I was able to work on my communication skills and also my presentation skills. During my work experience, I had to do a presentation in front of the environmental board to improve the company's carbon footprint. Speaking in front of a group of people was a big challenge because of my anxiety, but it helped me a lot.
As the US Chair for the youth council, could you tell us about your role and responsibilities, and how this leadership opportunity came about?
As the previous chair of the Urban Synergy youth board and now the US Chair of the Urban Synergy Youth Council, I am excited to contribute globally to Urban Synergy's mission, especially as I prepare to study at Howard University. I plan to network and organise events for students aiming to study abroad like myself
Being a co-chair requires a lot of leadership and communication skills. How has your involvement with Urban Synergy honed those abilities?
Through the youth council, it was important for me to communicate with the other members. Also, being able to organise events helped not only with my organisational skills but also my leadership skills.
Reflecting on your journey, are there any specific mentors or experiences that have left a big impression on you? How do you think that's influenced your goals?
I would say my work experience with Credit Suisse and also hearing, Ben Goss story from Dynamic Planner, I got to meet him, and him being a CEO really inspired me. Also, his lifestyle is something that I strive for too.
How has Urban Synergy's community and network of mentors contributed to your academic and personal pursuits, as you prepare for Howard University?
The people at Urban Synergy have been very supportive during my exam season, especially during A-levels, as it was a very tough time. They were also very supportive during Covid when I had my GCSEs. Not being able to leave your house and socialise with people was difficult, but Urban Synergy had online events which helped me stay positive with other students too. 
What advice would you have for any mentees aiming to reach the heights that you have reached?
You should work hard, be open-minded to any opportunities, and don't close off any doors because you never know where you want to go in the future. But at the same time I'd also say,make sure you have fun and do something you enjoy.
As you continue your journey with Urban Synergy and embrace these new opportunities, how do you envision giving back and inspiring the next generation of mentees?
One of my goals is to help people. What I've noticed is that there are a lot of people around me and people that I know who want to take the route I've taken but don't know how to do that. I believe with Urban Synergy's connections and opportunities, they'd be able to help those young people. I'd like to help other students in the UK have more doors open and more options to study abroad.
I would love to attend as many events as possible with Urban Synergy and speak about my story to the youth. When the time comes and I'm older, I'd love to do that and network more. Speaking to younger people and trying to understand them and the journey they want to take, I feel like I can help with that.