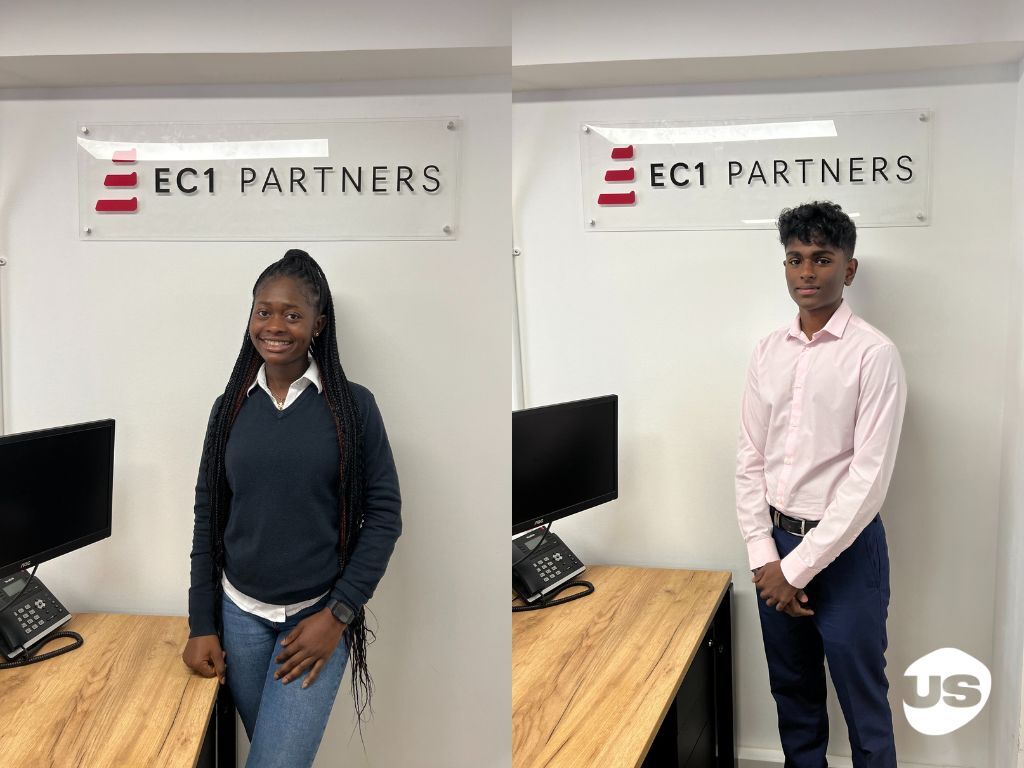 EC1 Partners is a dynamic and fast-moving recruitment firm who are part of our Urban Synergy Corporate Advisory board, and they recently opened their doors for two Mentees to complete Work Experience. 
Tharan and Victory were the successful candidates and joined the fast paced team for a week of insights into the fintech recruitment industry. 
Getting hands on experience in different industries and environments is essential for the young people we work with. It enables them to find out what they enjoy and what sparks their passions. It is key for them to make informed decisions on their further education and career next steps. 
 Tharan said, "After attending this work experience I learnt about the financial technology industry as well as learning how a recruitment firm operates- the different components needed. I also learned about the various sectors of the fintech industry such as cloud banking and regtech" and "I found sourcing candidates suprisingly challenging, as I learnt there are different factors displayed on peoples linkedln profiles that can affect the quality of the candidate for the role" 
EC1 were looking for some driven and self-motivated young people who love working with people and Tharan and Victory definitely delivered. 
It's incredibly fulfilling to hear the positive impact that our work experience program has had on Tharan and Victory. We're thrilled that they were able to gain valuable insights into the fintech industry and the workings of a recruitment firm, as well as the various sectors within fintech. 

It's also fantastic to hear that they learned important skills such as the art of networking, the importance of a strong LinkedIn profile, and the abundance of opportunities available in the fintech industry. We hope that this experience will help them make informed decisions about their education and career paths. We're committed to continuing to provide opportunities for young people to gain hands-on experience and learn new skills, and we look forward to seeing where their futures take them.
The students worked closely with Sam, Sammy the Global Head of Marketing and Daniel the Digital database manager to really understand the in's and out of a recruitment company. They gained a knowledge of the back office, Marketing, Digital Data, HR, and accounts teams roles and worked as trainee 'Researchers'.
Victory said: "I now understood the importance of putting oneself up for any opportunity and conversing with people for you never know who could help you out. I also learnt the importance of having a good LinkedIn for marketing yourself." and "I was surprised by how much opportunities are in the FinTech industry but are not known by many."
We look forward to our next work experience opportunity with EC1 Partners. If you'd like to offer a work experience placement please Contact Us.