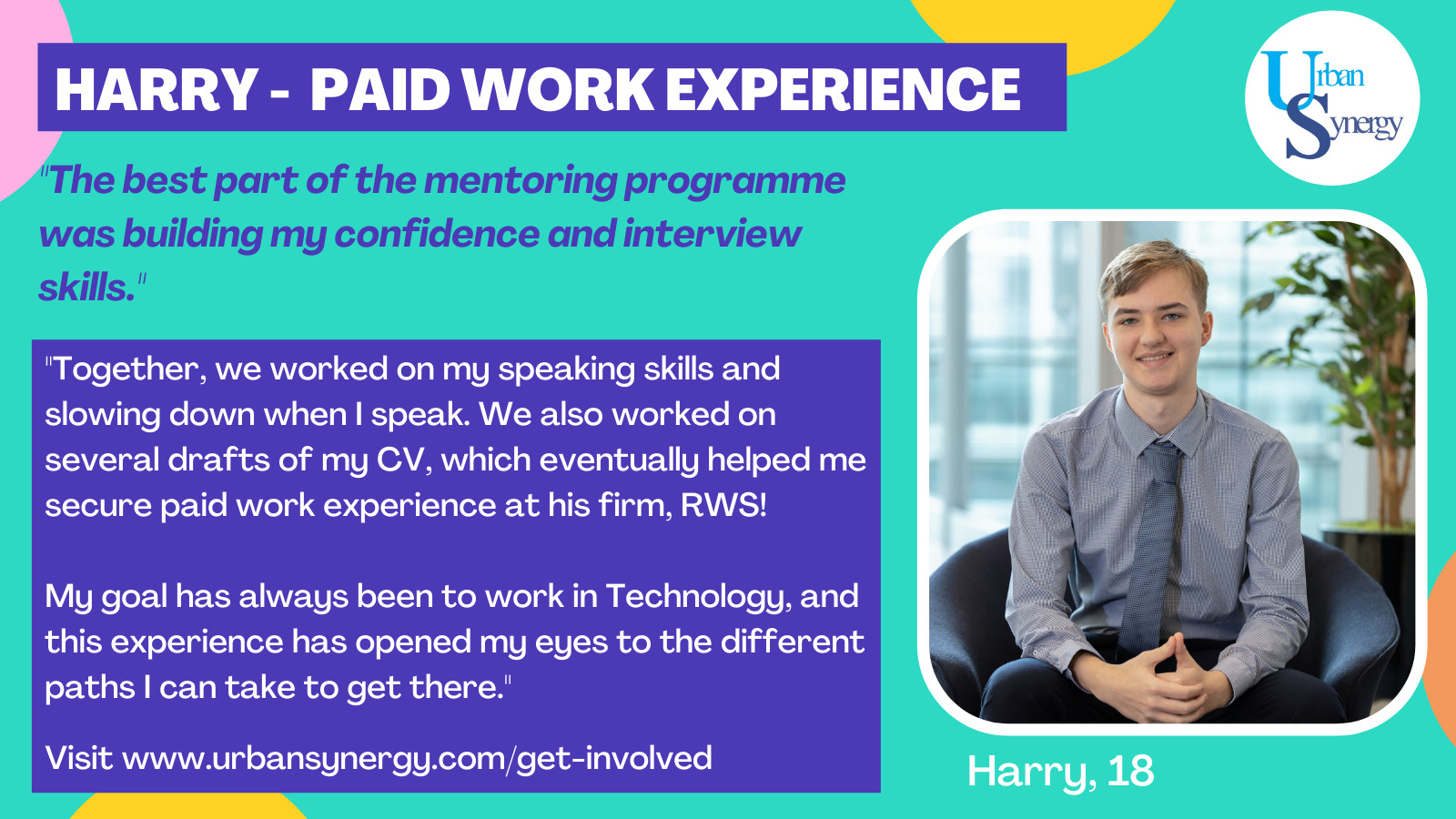 Harry first heard about Urban Synergy in Year 11 at a Role Model Seminar in his school. Then in Year 12, he decided to join Urban Synergy's e-mentoring programme after realising he wanted some career guidance.
Through mentoring, Harry built his CV and gained paid work experience thanks to his mentor at RWS! We recently sat down with Harry to learn more about his e-mentoring experience.
Tell us about your experience as part of the Urban Synergy e-mentoring programme.
"The best part of the mentoring programme was building my confidence and interview skills through 1-to-1 sessions with a professional.
Richard was a great mentor! We had a lot of similar interests, like football and music taste, which meant we got on really well. He even went out of his way to help me by organising extra meetings to help with my interview techniques.
Together we worked on my speaking skills and slowing down when I speak. We also worked on several drafts of my CV, which eventually helped me secure paid work experience at his firm, RWS!"
That's fantastic! Tell us more about your work experience with RWS. What was it like?
"I shadowed a lot of professionals from different departments. I supported the IT team by setting up new stations and monitors for people returning to the office after lockdown. I also helped resolve tickets, such as websites that were being blocked.
One of the highlights was being able to contribute to team meetings. I got to talk about the things I was learning; everyone was welcoming and offered advice on what I could do next.
Travelling to the branch in Chalfont St Peter from Lewisham was around a 2 hr journey and meant that I got to take the underground and national rail for the first time in my life! It was nerve-racking on the first day, but I got used to the journey after a while, and my music helped me through it."
How did you feel at the end of your work experience compared to the beginning?
"I feel more confident in my communication skills and my teamwork abilities. Speaking and collaborating with professionals at RWS who helped me learn something new every day.
It gave me a broader picture of the technology industry and the vast roles available within a translation company like RWS.
My goal has always been to work in Technology, and this experience has opened my eyes to the different paths I can take to get there. I think I would choose to do an apprenticeship or entry-level programme over going to university."
Supporting Over 450 Young People Through Urban Synergy
RWS began supporting the work we do at Urban Synergy back in 2020. Since then, RWS has directly helped 492 students through e-mentoring, career inspiring role model seminars, and work experience opportunities.
These programmes can be life-changing for young people! Young people develop their professional and personal skills from getting the underground for the first time to experiencing a mock interview. They get doors opened to them that they didn't know existed.
Here's what some of the mentors at RWS had to say about their experience of being an e-mentor:
"Thanks for the opportunity to take part in the programme - it was a rewarding experience for me, and I hope a useful one for my mentee." - Andy Jarosz
"Well-matched mentee. The programme is well organised." - Maureen Lalaymia-Phillips"I could see the commitment and improved communication from my mentee over the course of the programme." - Stuart Sklair