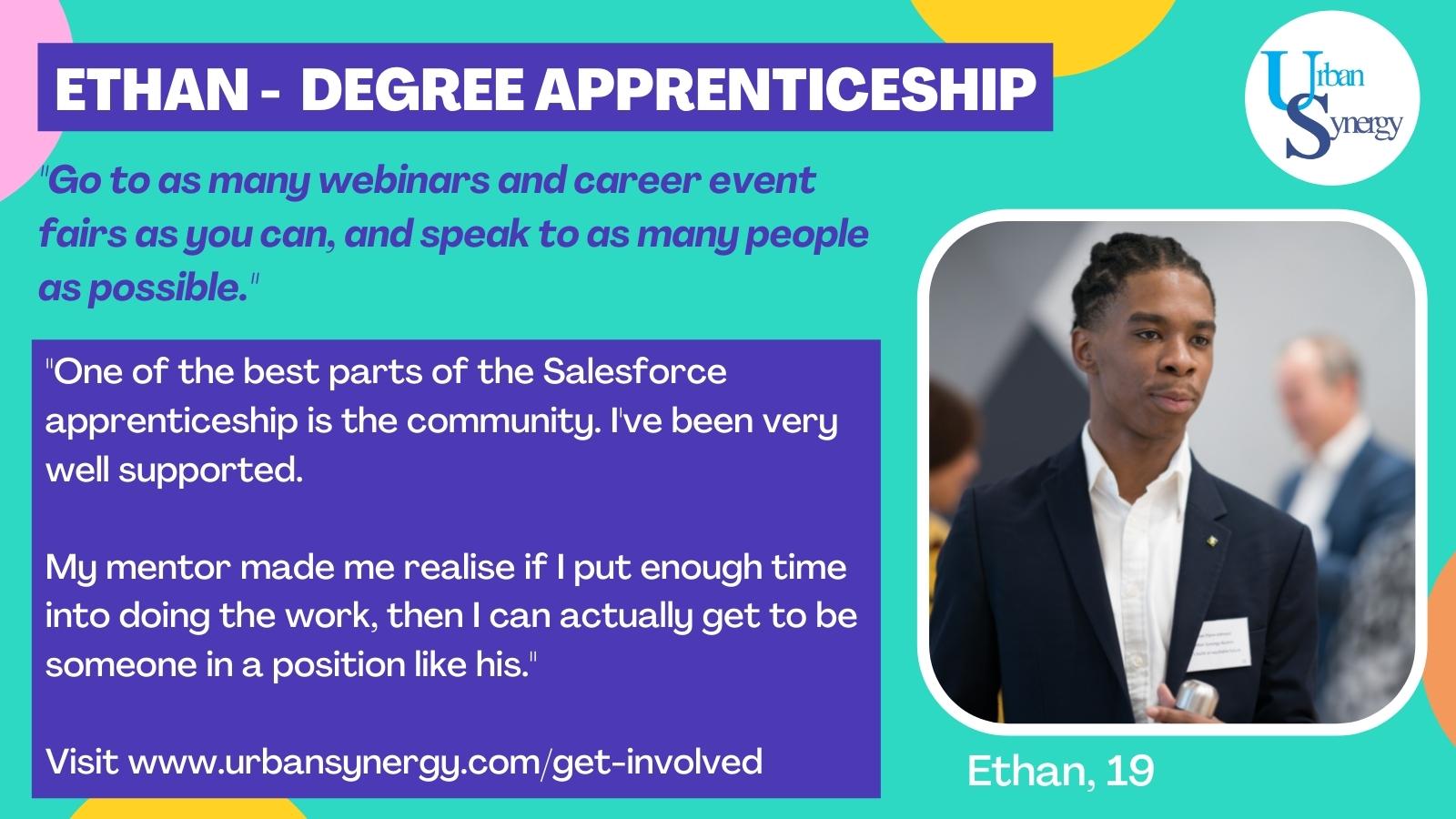 Ethan joined the Urban Synergy e-Mentoring programme at the beginning of 2021 looking for direction and support with his career paths. Through Urban Synergy, Ethan secured a work experience placement at Salesforce, the leading CRM technology company, where he has made a great start on his apprenticeship.
Before starting the Salesforce apprenticeship, Ethan completed a 4-week paid Business Development, Support and Research Internship at Moody's, a global integrated risk assessment firm. He then went on to secure a place on a Degree Apprenticeship with Salesforce which started September 2021.
How are you getting on with your Salesforce degree apprenticeship, and what made you decide to do an apprenticeship rather than going to University?
"I knew University wasn't really for me because it would be similar to school where I was just coasting through. I enjoy working and getting stuck in, that's how I learn best, and so an apprenticeship made sense to me.
For the first 6-weeks of the Salesforce Degree Apprenticeship program, I did what is called a launch camp at ADA College where I up-skilled in things like coding, which I'd never done before. I've completed all of my first-year technical coding modules now, so the rest of them are more business-focused, which is what I'm really interested in.
Right now, I'm also studying for a Salesforce administrator exam, which I'm very keen and excited to learn more about."
You're 4 months in now, what have been some of the highlights of your apprenticeship so far?
"I recently shadowed a call with the UK Head of Tableau, where I learned more about the internal structure and how the business works from a management perspective. I even got to provide input and my own perspective which felt great!
One of the best parts of the Salesforce apprenticeship is the community. I've been very well supported at Salesforce. They have a number of equality groups and encourage everyone to get involved.
The office is amazing! I used to walk past places like Liverpool Street, with high-rise buildings that never really had anything to do with me. Now I'm actually going there; I'm getting to go inside the buildings and be a part of it."
What are your goals for the future?
"Since I've been in Salesforce, I've realised that what I want from a job is to do a role that's purposeful to me and be in an environment where I get to meet and talk with lots of different people."
Can you share some advice for future mentee's?
"Get a mentor, finding Ronan through the Urban Synergy e-Mentoring Programme was really positive for my career journey.
"Go to as many webinars and career event fairs as you can, and speak to as many people as possible. Make sure there's something for them to remember you by, and ask for their details or to connect on LinkedIn.
Reach out to them after and thank them for their time. It's important to build a network of like-minded people; you can create your own information network of people who can support you or you can learn from and be inspired by."