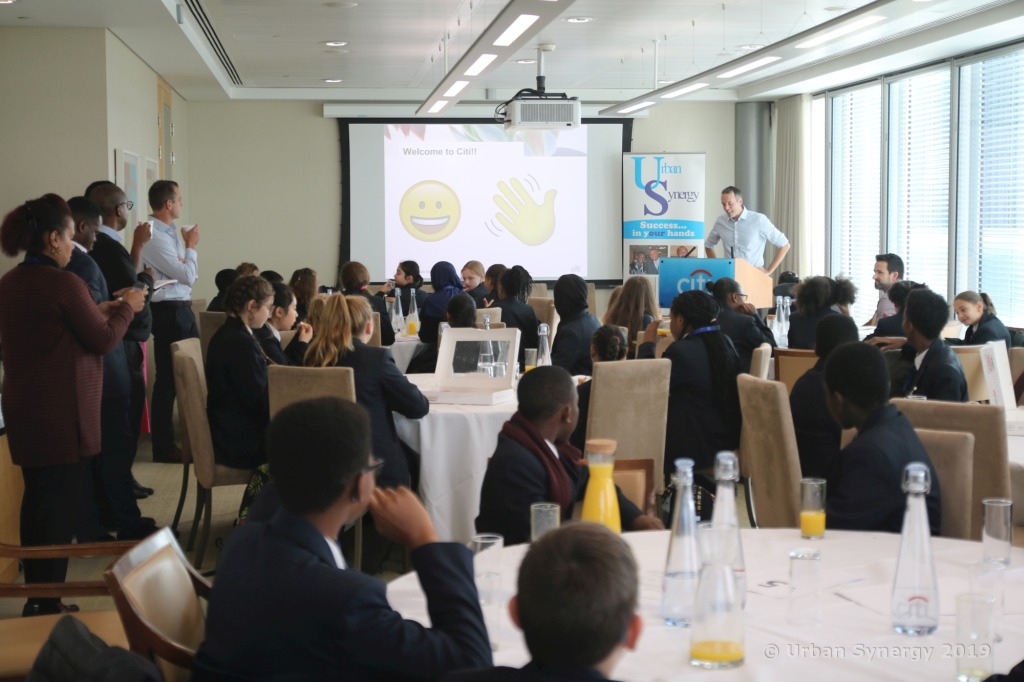 On Friday 18th of October, we were invited into Citi Bank for their first Role Model Seminar with 38 students from Haberdashers' Aske's Knights Academy. It was a fun packed event enabling the young people to gain an insight into the running of an investment bank and all the different job roles needed to keep the company running.
We had an opening from Lucas Byng, EMEA Legal Diversity Chair and Joanna Anafu Citi Roots Co-chair who talked the children through what an investment bank does, the variety of jobs available there, as well as talking many questions from the enthusiastic group.
This was followed by the panel made up of:
Tola Adeleke, Build Management Specialist, Treasury Trade Solutions
Sharon Blackman, Director, Legal
Maha Faroogui, AVP Program Management, Senior Analyst, Global Consumer Banking
Krista Deilemeyer, Director Global Head of Sales, Global Custody
Carl Husselmann, Director CifiFX Quant Team
They shared so many top tips as well as their career journeys; Tola encouraged the children saying "Don't grow up too fast" calling on them to enjoy their time at school and said "You learn every single day, you keep on being challenged" even when you have left education.
Sharon Blackman told the children "Whatever advice you're given, you have to take it and evaluate it for yourself" and "Don't give up, if you have your eye on something, identify what you have to do to move forward".
"Dig in deep and work hard" She spoke of her challenges and how she never gave up.
Maha Faroogui said "If you show you are enthusiastic and willing to learn people will take a chance on you" and also encouraged the young people by saying "Don't be afraid to ask questions".
Krista Deilemeyer talked about working in different countries and how it can be scary saying "Don't be afraid of change, if you are, just fake it" confidence can help you achieve.
Carl Husselmann talked about the diversity with working in a bank and said "Don't let the choices around careers stress you out too much." As "You can do a different jobs within a particular function" and across the bank.
They young people were treated to lunch and even a trip to the 36th floor to see views all across London.
They really enjoyed the event giving this feedback:
"You are doing a great job helping kids finding out what they want to do."
"Thank you for giving us amazing advice and spending time with us"
"Just because you don't always succed at one thing, it doesn't mean you don't have other choices"
"The best school trip I've ever been on"
"You should never give up and always smile and believe in your dreams"
Rafael closed the event and reminded the young people "Everything you do, do with a smile on your face" and "Take advantage of the opportunities and contacts you make." We can't wait for the next seminar!