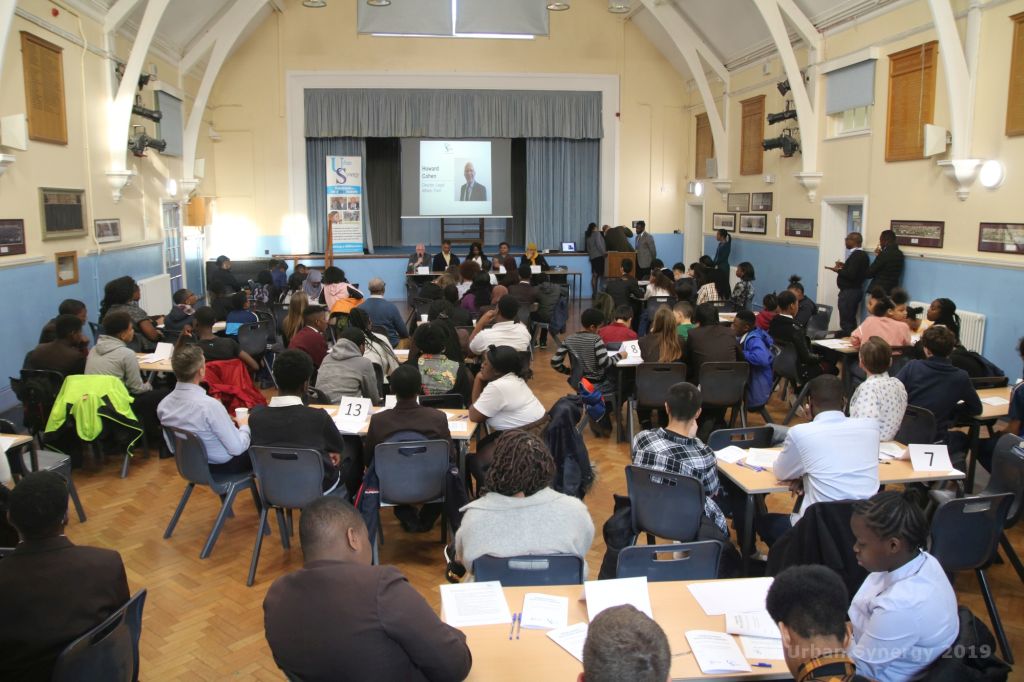 From Magician to Football Director, the message is the same... always be nice!
On April 30th, Addey and Stanhope School in Deptford welcomed us back to host an inspirational role model seminar, with a panel discussion and speed mentoring session.
Our panel consisted of:
Howard Cohen, Director, Legal Affairs, Ford,
Ben Goss, Chief Executive Officer, Dynamic Planner
Shana Dacres, Senior Security Architect Capgemini
Nity Raj, Director, Brentford FC and FC Midtjylland
Troy von Scheibner, TV Magician Entertainer, E4
Each of them brought valuable career stories and advice to the young people, with Howard Cohen telling young people how he gained essential work experience during his studies. Then moved around different areas of law after gaining his law degree, he said "Always keep your options open".
Ben Goss, who grew up in Lewisham, is now a CEO of his own company, but he talked about how he used to clean the local fire station when he was starting out. He said "Don't set your sights too low, be ambitious with yourselves" and "Be nice" you never know who you are talking to. Being nice to people is free and may lead to a job connection one day.
Addey and Stanhope have a strong careers education program and were very happy with the role models and their advice for the children. Shana Dacres, who was nominated for Role Model of the year in 2018 at the Women in IT Excellence Awards, talked about there always being opportunities to learn, she said "Never think you need to know everything, there are always questions you can ask… Google is your friend!"
Nity Raj, talked about challenges and said "You must have high expectations of yourselves"
"You have to keep going, life is unfair so you have to be resilient" and "Fairness eventually arrives" He talked about his challenges and how he overcame them with hard work and determination and by being nice to everyone on his journey. He talked about knowing what success looks like for you and said "If you work hard and you are helpful, you will succeed".
Troy von Scheibner, talked about working in retail and completing a degree in Creative Marketing but never giving up on his dream of magic, he said "Be passionate about what you do". His big break came when he was working in a restaurant and he was asked to stay late and entertain another group. He met a TV producer that day but had no idea who he was. He advised the young people "Be nice it will take you a long way" for Troy this is true, it led to his own TV series.
This beneficial advice from the mentors and the following speed mentoring session, was reflected in the pupil feedback. With one student thanking the role models on the night, he said he learned to "Always have a passion, something to get you out of bed", "Always believe in yourself" and "Always put the best version of yourself out there, if you are the best, no one can knock you down"
The students ranged from 11 to 16 years old and gave really positive feedback, including:
'Always have a plan B, happiness is also important when looking for a job. I will study and work hard, the role models really gave me a boost.'
'I need to be resilient, hardworking and always have a plan B. I will get a degree in science and maths and go to university. I enjoyed learning about new and interesting jobs and enjoyed the role model conversations.'
'I learned what you do today will have an impact on you tomorrow. I enjoyed speaking to individual role models.'
'I enjoyed hearing how to overcome future struggles and learning not to give up if something doesn't work.'
'Kindness is key, don't shy away from opportunities. Work hard and don't panic about the unknown.'