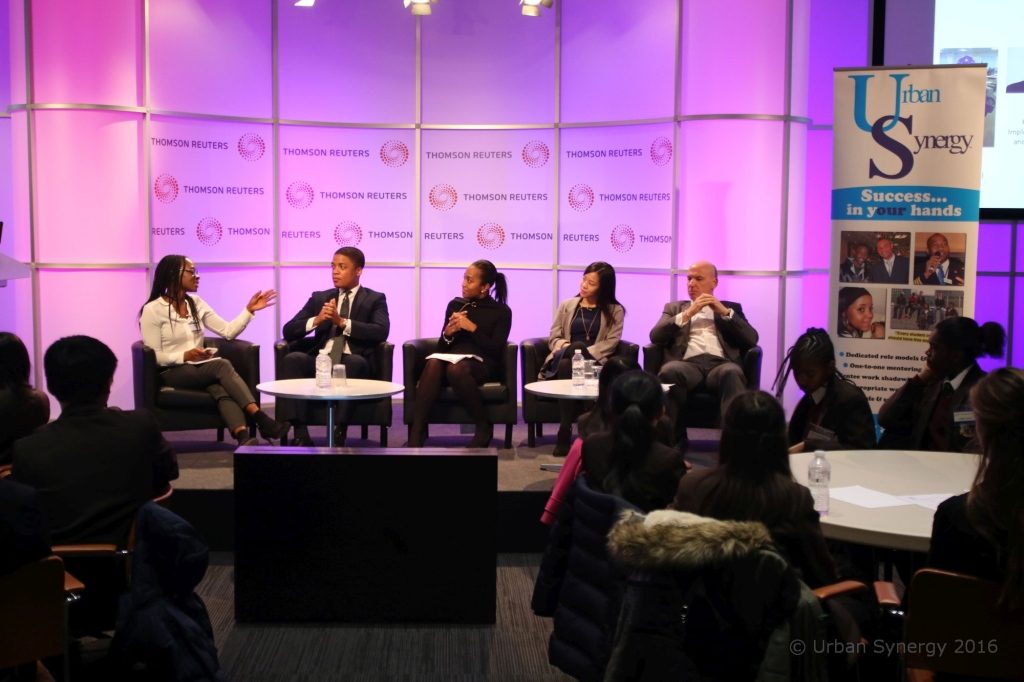 On Tuesday 13th December, seventy seven pupils (Years 7-10 – aged 11 to 15) from Addey and Stanhope School, Deptford attended an Inspirational Role Model Seminar at Thomson Reuters, Canary Wharf.
Over the last 15 months, Thomson Reuters have been partnering with Urban Synergy (the award-winning, early intervention mentoring charity) to deliver a series of Inspirational Seminars for school children from the London Borough of Lewisham. The Role Model seminars, which also take place in schools throughout the school year see students enjoying the experience of visiting a corporate office and accessing role models which include graduates from across the many Reuters departments with a focus on the tech industries to encourage awareness of the STEM sector to young people.
Thomson Reuters have hosted five Inspirational Seminars over the last 15 months for over 500 primary & secondary school children. These events have been supported by over 100 volunteer role models from across Reuters' business.
David Craig, Thomson Reuters Finance President and Urban Synergy Ambassador opened the seminar welcoming the students and staff and sharing a summary of his career journey.
"Pick something you love doing"
"Be curious – ask lots of questions"
"Meet and network with as many people as you can"
The pupils then got to experience an interactive panel discussion which was kindly facilitated by Lesley-Anne Miller from Urban Synergy. Panelists Geoffrey Diangana, Product Manager, Leila Thomas, Implementation Project Manager & Urban Synergy Founder, Simone Kwok, Commercial Strategy Analyst, and Andy Loe, Head of Implementation & Support (an ex-Addey & Stanhope pupil) – shared their personal experiences as well as some great advice – don't be afraid to fail, get out of your comfort zone, stay focused and use all of the resources at your disposal.
Next came the main part of the seminar – 'speed mentoring' round table discussions where over 20 Reuters volunteers took part. This provided a more informal environment for students to meet with the Role Models and learn about their experiences; rotating the tables every 5-6 mins to ensure that the students got to meet with a wide and varied group of professionals.
In closing, Jake Armstrong a Teacher and a Student representative from Addey & Stanhope gave a closing talk, before everyone assembled on stage for the signature group photograph.
Feedback from Students
Following the seminar, students gave their feedback on the impact of the early careers advice they received from the role models:
"I will work hard and devote myself to my work" – Josef, 12
"I learnt that there are many career opportunities open to us regardless what we do for university etc., and that we all have talents and that we all have talents and that we should try different things. Also I received many top tips today such as working hard, trying new stuff…
"I will stop procrastinating and make sure to take my opportunities now so I don't regret later on" – Kevin, 14
"I will take the role models advice and create an action plan – a list of small things to do to become successful. – Hiyam, 12
"I will not be afraid of taking risks and creating opportunities for myself." – Ellie, 14
"I will try to succeed in maths/physics and computer science as it is the future" – Aruna, 13
"I will try my hardest in class and push myself past the boundaries. I will not concentrate on just one subject, I need to do more and to do more than one subject and to do more subject, I need to do more and to do subjects that will help me in my life." – Mike, 12
Leila Thomas, Urban Synergy Founder and Thomson Reuters Project Manager said:
"Urban Synergy would like to thank the Thomson Reuters role models for participating in the seminar and helping to make it such an amazing success!"