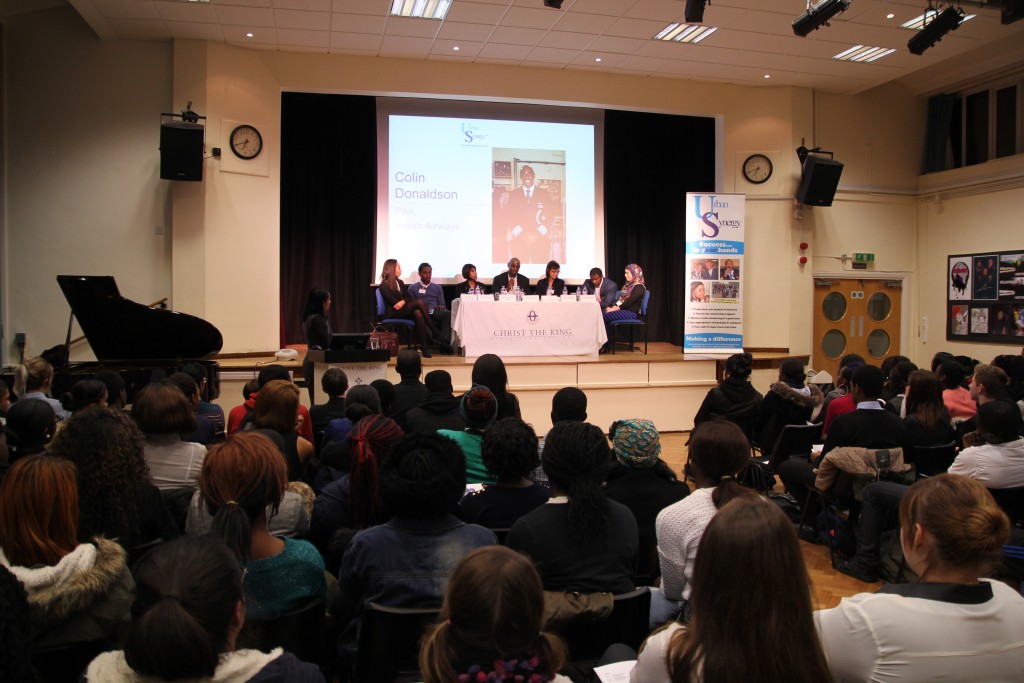 On Thursday the 21st of November, 2013, Christ the King Sixth Form College joined with UK charity Urban Synergy to host the annual "Top Tips To The Top Role Model Seminar". The cross-site event took place at the Lewisham site, and introduced students on the Advanced Graduate Programme to a host of inspirational and accomplished role models. Once again, the evening proved to be an enjoyable, rewarding and educational experience.
Urban Synergy is an award winning early intervention mentoring charity that helps over 1,000 young people between 11-18 years of age. The mentoring programmes and inspirational seminars organised by the charity provide support, guidance and encouragement for young people, and motivate them to achieve their best.
This year Christ the King was fortunate enough to welcome the following guest speakers to the panel:
Garry Green, Barrister at 2 Bedford Row, Chambers of William Clegg QC
Colin Donaldson, British Airways pilot
Dawn Goring, Office Manager at 10 Downing Street
Margaret Casely-Hayford, Director of Legal Services and Company Secretary for the John Lewis Partnership
Jan Younghusband, Commissioning Editor for Music and Events at the BBC
Trevor Williams, Chief Economist at Lloyds Banking Group
Yasmene Shah, Freelance Medical Writer and Copywriter
The evening opened with an introductory session, in which the role models discussed their personal journeys and outlined the steps they have taken to get to where they are today. Dawn Goring, MBE, emphasised the importance of learning from older generations and building on communication skills. First and foremost, she explained, "it is essential that you believe in yourself" and that you "stay focussed and accomplish a career you enjoy." Colin Donaldson, a British Airways pilot, advised the students not to give up or let fear stand in the way of their aspirations, and explained that as a young person you must face all of the challenges that threaten to stop you along the way and to keep broadening your skills to improve career prospects.
Jan Younghusband, Commissioning Editor for Music and Events at the BBC, spoke of the rejection she experienced at a young age, and reassured the students that it is perfectly acceptable to be unsure of the professional path you wish to take. She encouraged the students to "never underestimate a single experience" and emphasised how beneficial it can be to take opportunities "be open to everything and to try new things". Trevor Williams, Chief Economist at Lloyds Bank, outlined the main roles and responsibilities of his position, and highlighted the value of individuality, networking and focus. He reminded students that it is useful to know where your individual strengths lie, and explained that the real challenge is working out which advice is best suited to you.
These values were echoed by Yasmene Shah, a medical writer whose personal experiences in higher education inspired and impressed the students. Her initial rejections from university medicine courses only increased her strength and determination, and she went on to complete a neuroscience degree, attain a PhD, and establish her own freelance writing business. Similarly to Yasmene, Margaret Casely-Hayford assured the audience that rejection is an integral part of success. "If you find yourself in situations where you are rejected, don't show the hurt" she said, "learn from the experience, turn negatives into positives and expand your knowledge network and support systems". Garry Green, barrister at 2 Bedford Row, urged the students to be passionate and to believe in what they do. He advised the students that it is of the utmost importance to "know yourself, value yourself, and recognise your identity", and explained that "nothing should stop you and nothing should stand in your way".
The role model seminar was then followed by an insightful and beneficial Q&A session, in which students addressed personal questions to members of the panel. Various topics were covered, some of which included advice on a relative entering the RAF, guidance on how to launch a career in the creative arts and tips on the most effective ways to stand out as a Law applicant.
Immediately after the Q&A, professionals from Legal, Finance, Engineering, Technology, Science, Maths, Editorial, Sports and Arts took part in the speed mentoring session, in which mentors and the role model panellists conducted a string of five minute meetings with small groups of students. The students took full advantage of this opportunity. This method was incredibly effective, and the students used the meetings to extend their knowledge of a diverse range of career paths, and to question each of the mentors directly.
Reflecting on the event, Upper Sixth student Oreoluwa Agbeya said:
[quote]Although I knew what I wanted to do in the future, attending the Urban Synergy event has not only encouraged me to keep on chasing my dreams when any challenges come my way, but also to build on them and set new targets for myself[/quote]
Fellow Upper sixth students Olabowale Oladipupo, Sarah Onile, Adetoun Vintura and Adewole Fadina explained that:
[quote]Garry Green's story was really inspiring and he reminded us that our past in no way defines our future. He explained to us how important it is to never underestimate yourself. Yasmene's passion for Science and for her job shone through. She overcame the power of rejection fifteen times and was able to build on this and achieve her dream. She encouraged us not to let rejection hold us back.[/quote]
Charmaine Charles, Cohort leader & CICs Secretary of Urban Synergy also commented on the event:
[quote]This evening has been both enjoyable and inspiring, and really shows how beneficial events of this kind can be for young people. The advice that the speakers offered to the students was invaluable and their accounts were strong, independent and very true to life. The young people saw a part of themselves in the role models.[/quote]
Dr Overbury, principal of Christ the King Sixth Form College, reflected on the benefits of the programme:
[quote]Meet the Professionals is a unique seminar and one that provides enormous opportunities for our students. Not only do they have the opportunity to learn first-hand about working in the professions, they also learn about the underpinning values that motivate the guest mentors who volunteer their personal time to inspire and support young people. The event is very powerful in instilling a sense of self-belief in our young people and the professionals act as role models who our students can aspire to emulate.[/quote]
Christ the King would like to take this opportunity to thank all of the professionals who took time out of their schedules to visit the students and for providing such in-depth and useful advice. The College would also like to extend its sincerest thanks to Urban Synergy for the continuous hard work that the charity does for young people in and around the local area.
Vanessa, aged 16yrs – Christ the King:
'I learnt to work hard and keep moving. The seminar was invaluable and amazing – I plan to work as hard as I can and apply to Cambridge.'
Shannon, aged 16yrs – Christ the King
'The seminar was very helpful and informative and helped me to think more wisely about my future and the choices that I will make in life. To choose a career that I enjoy rather than something that I don't like.'
Anna, aged 17yrs – Christ the King
'The seminar was powerful enough to motivate me'
Adetoun, aged 17yrs – Christ the King
'I learnt that I should never give up. No matter the circumstances that you are in, always have a positive attitude. The seminar was exceptional, it taught me a lot about how to strive and work to achieve your dream.'
Elisha, aged 16yrs – Christ the King
'Margaret Casely-Hayford told us to build on the negative and turn it into a positive, I thought it was a very strong, inspirational thing to take in.'
Ayomide, aged 16yrs – Christ the King
'Martin Imafidon inspired me because he lives in the same area as me and for him to rise to the challenges and end up where he is, proves to me that there is hope.'
Lucy, aged 17yrs – Christ the King
'The seminar is a great opportunity, it is my second time and I have learnt something new! I am grateful to take away more knowledge.'
Simone, aged 17yrs – Christ the King
'Yasmene Shah inspired me, she had a passion for science and she stuck with it – in the past I have let go of my passion.'
Tyra, aged 16yrs – Christ the King
'I learnt that in order to be successful you must work hard at whatever you are doing even if it is not in the field that you want to be in – because you never know where it may take you.'