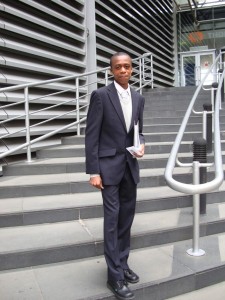 In the past year, two Urban Synergy mentees from St Matthew Academy completed a weeklong work-experience at Thomson Reuters in London Docklands. Both mentees spent their time working within the IT department where they were able to experience and work firsthand with a global IT support team. The placement took place at the vast Thomson Reuters complex, which houses its global IT and communications infrastructure, including satellite dishes, blade servers and server virtualisation, all technologies found in large modern datacentres.
Year 10 student James commented "I found the use of IT at the company beneficial, as it helped with my studies in school". The boys covered the technologies in class at school, seeing them in use at the workplace added depth to their knowledge, and informed them of their commercial relevance. Both mentees were impressed by the professionalism of the employees and were made to feel very comfortable in a somewhat daunting office environment. Leo* commented; "There were lots of jokes, but they still got the work done". Leo also visited the trading floor at Thomson Reuters, and was introduced to the world of stocks and shares. He was understandably amazed by the amounts of money involved.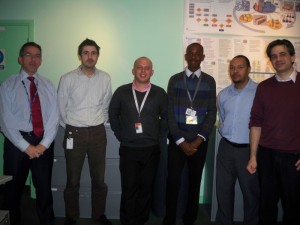 Feedback from Baron Nneke, whose team looked after our mentees, was extremely positive. The whole team were impressed by the enthusiasm of the two students and asked if they could stay longer!
Urban Synergy is committed to collaborating with its unique range of contacts and volunteers to provide interesting, challenging and fulfilling work experience placements for our mentees.
Our thanks to Baron Nneke, Sab Gioia and their colleagues at Thomson Reuters for providing the placement opportunities and taking such good care our mentees.