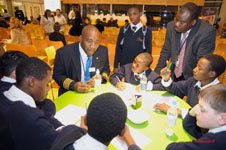 "To all the Urban synergy team from St Matthew Academy. The event that you organised for our school community tonight was simply awesome. To see some of our most challenging students walking away with business cards and meeting such incredible people has left me speechless.
The people that you have in your team is staggering and the heart and passion you all have simply glows and that was the greatest night in our schools existence… "  Martin Nirsimloo, Vice Principal St Matthew Academy
"The Inspiration Evening has simply been inspiring! It was a great
opportunity for me to see people with such tremendous careers and learn the
obstacles they have overcame to be in such a position. My preparation for
the future is gradually constructing itself within my mind."
"Well done Leila, a very inspirational evening which should give hope to many  off our young people who may have become disenchanted. Events like yours should have a positive impact on the lives to inspire them to make to most of the opportunities they have and become the best they can be.
It certainly had the desired affect on my son, who is more optimistic about his future and now has a clearer understanding of where his wants to be and my mentee who found it very informative.
Keep up the good work."
"I was well impressed by this event and think schools/pupils will definitely benefit from role models visiting schools and sharing their experiences with kids, especially those at the cross roads.  The 'right' message will begin to get through to the majority of our younger generation by this approach.
Also super impressed that 99% of the panelists turned up on time and they were able to relate to the youngsters at their level …especially Tim Campbell – i thought he was rather animated and brilliant !
Well Done Leila and your team ! "