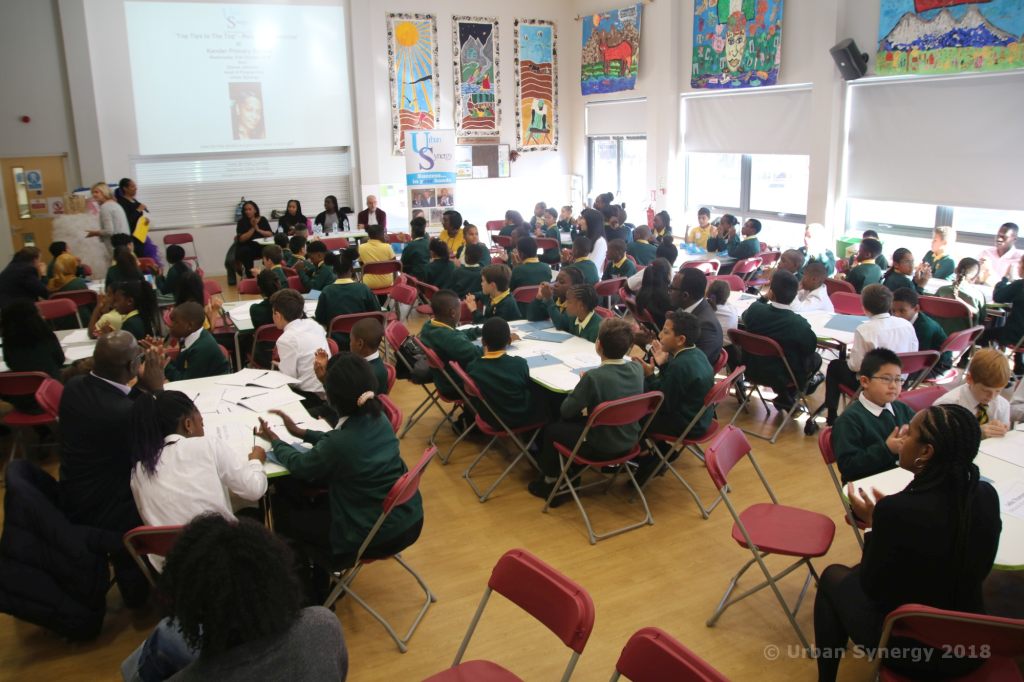 Urban Synergy delivered another Role Model Seminar at Kender Primary School in New Cross on Wednesday 31st October. It was their first time at the school and 105 children attended.
Our panel included;
Charlene Michael-Imobioh: Advanced Legal Editor, Thomson Reuters
Sarah Ann Filson: Infectious Diseases & Microbiology Registrar, Kings College Hospital
Bill Armstrong: Scriptwriter/Actor - Freelance/BBC
Mary Martin: Fashion Designer - Mary Martin London
Mary Martin showed the children some of her beautiful dress designs that she brought with her and also shared some pictures of some of her dresses being worn by celebrities including at the BRIT awards. Mary talked about growing up in Wales in foster homes and following her interest in fashion and being self-taught, at the same time going back to university to increase her knowledge of the industry and to work with textiles. Mary's advice was 'follow your dreams, believe in what you want and go for what you want.'
Charlene Michael-Imobioh talked about qualifying as a Barrister and described what a Legal Editor does and also about her other career (in her spare time) as a professional singer, singing at venues like Jazz Cafe and releasing CDs with songs that she has written. Charlene's advice to the students was 'if you don't know what you want to do yet, that's ok. Keep exploring. Get as much information as you possibly can. Don't place any limitations on yourself and you can achieve whatever you want to do in life.'
Sarah Ann Filson described her job as a Registrar at Kings College hospital and also the path to her current role which included working at Thomson Reuters as a Scientific Editor on a pharmaceutical database. Sarah told the audience 'I really wanted to do something that made a difference. Be happy, if you don't enjoy what you do on a day to day basis you won't be happy.' Sarah also advised that 'it's ok if you don't know what you want to do.'
Bill Armstrong has acted in various roles in the theatre also in dramas and films and talked about writing scripts for dramas on television such as Doctors and some episodes of another drama called 'The Indian Doctor.' Bill talked about the difficulties in his industry as a Scriptwriter and also that you may experience many rejections but to remain positive and keep going. Bill told the audience 'do something that makes you happy. The thing you have to do is to find your own voice, everybody has a story in them - getting the story out is something else altogether. Bill also recommended that the children 'read, read lots, read fiction. Practice, do a little every day and don't give up when it gets hard.'
Thank you to Kender Primary for having us.
Ms Brown, Assistant Headteacher said 'It's been really inspiring.'
One of the students thanked all of the role models who attended from various industries i.e: Trader, Data Scientist/Statistician, Head of trade & transactions, Analyst by saying 'We are really happy for what you have done for us today.'
Keith Barr, Headteacher said to the children 'I hope you now have some hopes and ideas as to how to move forward.'
Kender school later tweeted about the Role Model Seminar 'Just simply one of the best things we've done EVER!! Thank you so much for helping us to raise the aspirations of our lovely children. They deserve it.'
Some feedback from the children is featured below;
Christabel aged 9yrs: 'You should never give up on something and it's okay to not know what you want to be straight away. I will pass exams and strive for things I want to do.'
Kyrese aged 10 yrs: 'I should start working hard now so I can succeed in the future. I will listen and try my best in everything I do so I get more choices when I'm older.'
Samson aged 9 yrs: 'I learned that you can be anything you want to be if you just put your mind to it. There's no such thing as a bad job it it fulfils your dream. I will be an inventor, so I can create things for the next generation.'
Lily aged 10 yrs: 'I will believe in myself and be confident and I won't set a limit for myself.'
Muhamad aged 9 yrs: 'I learned that when you have a dream to chase nothing can stop you and that you have to work really, really hard to achieve those dreams. I will work hard and never give up - also to keep my head held high.'
Shun aged 10 yrs: 'It is okay to change your mind about your future job. I will stay resilient and confident because you need to aim high to achieve what you want.'
Haneef aged 10 yrs: 'I enjoyed listening to the Role Models because they told me very important things like never giving up and being resilient. I will stay focused in class and not get distracted in class. I will always listen to my teacher and follow the school rules.'
Yetunde aged 11 yrs: 'I will go to college and university and do my masters - I also want to help people. I enjoyed listening to the Role Models and learning about their careers.'
Camila aged 11 yrs: 'I think they inspired me a hundred percent.'
Emmanuel aged 10 yrs: 'I learned that to be successful in the future you have to try hard and let education come first in order to have a bright future, in whatever you're willing to do.'