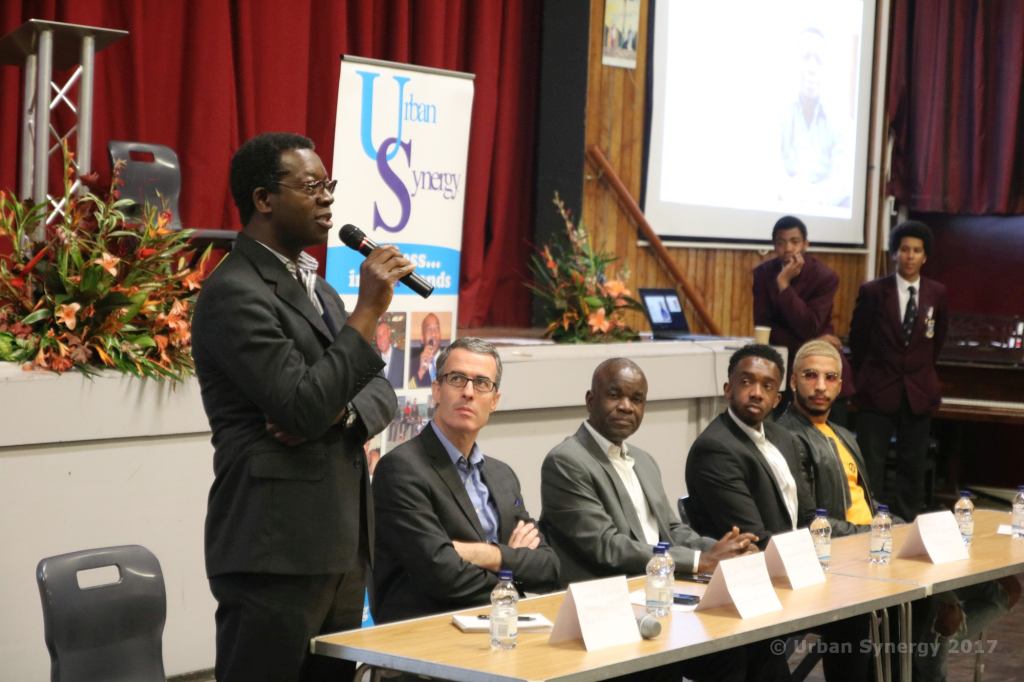 On Wednesday 11 October, Urban Synergy held a 'Top Tips to the Top' Role Model Seminars at St Joseph's College in Upper Norwood.
The inspirational seminar, a first for the students of St Joseph's consisted of a panel session with five Role Models and was followed by an open Q&A and speed mentoring.
The seminar was opened by Headteacher, David Garrido who then handed over to facilitator, Dianne Johnson of Urban Synergy to introduce Urban Synergy and the waiting panel speakers and other Role Models in attendance.
The panellists, were Charlie Easmon, Your Excellent Health, William Schomberg, Chief UK Economics Correspondent, Reuters, TV Magician and Entertainer, Troy Von Scheibner, Chingalawa Chitambala, Manufacturing Engineer, Ford Motor Company and Matthew Lee, SAP Consultant, Capgemini who shared with the students details of their career journeys and details of how they overcame any challenges along the way.
Following the panel session was an open Q&A where students put further questions to the panel about their jobs and other areas of interest.
This was followed by the exhilarating 'speed mentoring' session which gave the students the opportunity to meet each of the other role models present on rotation and gain valuable insights and take-aways to their wide variety of professions including Security, Technology, Policy, Journalism and Entrepreneurship.
The panel gave the following quotes/Top Tips to the students:
Charlie Easmon, Medical Director, Your Excellent Health Service
"The important thing is to respond to what life throws at you"
"Work on your ambition and don't get stuck in comparison"
"Find things that excite you"
"Read as widely as you can"
William Schomberg, Chief UK Economics Correspondent, Thomson Reuters
"If there are things you like doing, see if you can channel it into a career you want to do"
"Get involved do stuff... do your own videos, write your own blog"
"Be prepared to not succeed at first"
Chingalawa Chitambala, Manufacturing Engineer, Ford Motor Company
"Don't let anyone determine your future"
"If you are determined you will succeed, believe in yourself and keep going"
"Always prepare as an engineer, I'm always thinking ahead"
"Don't someone else be in the way of achieving your dream"
Matthew Lee, SAP Consultant, Capgemini
"The main thing to do in life is to get over your failures"
"Stay determined and learn from your failures, learn from your mistakes"
"Be flexible about what you want to do in the future"
Troy von Scheibner, TV Magician, Entertainer, E4
"Really use social media to your advantage, you can make anything happen with social media"
"If you don't put the time in you won't reap the rewards in the end"