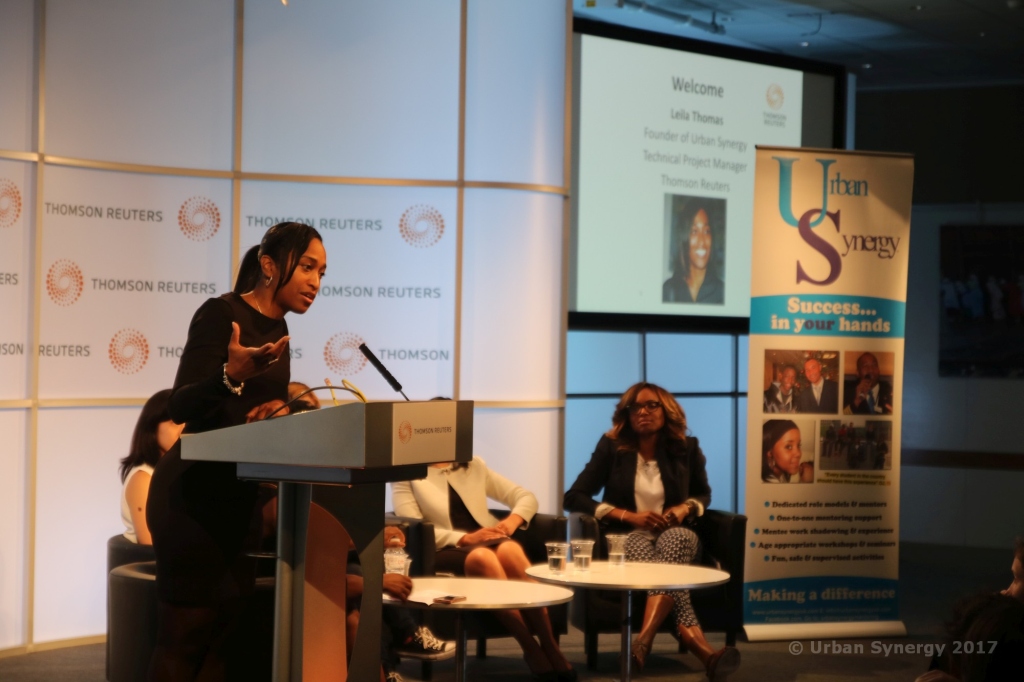 On Monday 3 July, up to 80 year 7 pupils from all girls' Prendergast Hilly Fields College, Brockley attended a STEM focused inspirational Role Model Seminar at Thomson Reuters, Canary Wharf.
The seminar was arranged to provide details of careers in the tech industries from an all female panel to the female students audience. Also in attendance were an array of other male and female role model staff from various departments within Reuters who shared careers advice in the ensuing 'speed mentoring session'.
Thomson Reuters have been partnering with Urban Synergy (the award-winning, early intervention mentoring charity) to deliver a series of Inspirational Seminars for school children from the London Borough of Lewisham. The Role Model seminars enable students to enjoy the experience of visiting a corporate office and to access role models which include graduates from across the many Reuters departments with a focus on the tech industries to encourage awareness of the STEM sector to young people.
Through their Inspirational Seminars, which also take place in schools throughout the school year, young people gain access to a wide variety of professional role models with the aim of providing an opportunity to hear personal stories and tips for success, gain insights into different professions, and inspiring the children to reach for success.
The seminar was opened by special guest Alex Cesar, Head of Risk Technology, Thomson Reuters who welcomed the students and staff. Alex also joined the role models to deliver the speed mentoring session and stayed well beyond her time as she felt the session was so beneficial and simply enjoyed the energy of the students!
The pupils then got to experience an interactive panel discussion which was facilitated by Lesley-Anne Miller from Urban Synergy. Panelists Myriam Hamed Torres (Software Development Manager), Simone Kwok (Commercial Strategy Analyst), Stacy Otokpa (Delivery Program Manager) and Tharindi Hapuarachchi (Technical Partnerships Manager) shared their personal experiences as well as some great advice via 'Top Tips' for the students in terms of their career choices as follows:
Myriam Hamed Torres
"You are the only one able to give yourself limits"
"Focus helps, have an idea, try it out, also understand what is around the idea"
Simone Kwok
"Put yourself outside your comfort zone"
"Don't be afraid to ask questions"
"Take advantage of opportunities"
Stacy Otokpa
"Don't worry too much about what you want to do"
Tharindi Hapuarachchi
"Think about things that would change if you had designed it"
"Just try it, you never know if you would like it until you try it"
"Never stop learning"
Next came the main part of the seminar – 'speed mentoring' round table discussions where up to 20 Reuters volunteers took part. This provided a more informal and buzzing environment for students to meet with the Role Models and learn about their experiences and exchange information including their hobbies and interests! The role models rotated the tables every 5-6 mins to ensure that the students got to meet with a wide and varied group of professionals.
What Urban Synergy do for Lewisham Schools is incredible. After the role model seminar students were inspired and felt a sense of encouragement and focus for their studies. These kinds of experiences are invaluable to students. We can't thank Urban Synergy enough for the excellent work they are doing and really look forward to working with them going forwardFrancis Roberts, Prendergast Hilly Fields
The seminars are a great way for students to be introduced to the corporate world and to meet with tangible and accessible role models. Urban Synergy would once again like to thank the Thomson Reuters role models for participating in the seminar and helping to make it such an amazing success!Leila Thomas, Urban Synergy Founder and Thomson Reuters Project Manager
Feedback from Students
Following the seminar, students gave their feedback on the impact of the early careers advice they received from the role models:
"I enjoyed the fact that everyone was very helpful and answered all my inquisitive questions. I am also happy because everyone gave up their important time for us"
Ivana age 12yrs
"I learnt that even if you aren't interested in maths or engineering you can mix the things you love with technology."
Teresa age 12yrs
"Neil R inspired me because he was funny and gave me good tips and ideas. He is also cool and friendly and I like his drawings and confidence. He has made me believe I can go forth with my dreams . Ps. If I create a shoe/trainer shop – he will definitely get a discount. "
Naima age 12yrs
"All of the role models inspired me because they were so friendly and they inspired me to do my best and never give up"
Rachel age 11yrs
"Thank you for spending your time with us"
Hattie, 12 yrs
Feedback from Thomson Reuters Role Models
"I am sure I speak on behalf of everyone, it is a pleasure to be involved in this sort of thing. Thanks for organising it and getting me involved." – Neil
"Just wanted to add a big Thank You from me as well! Always happy to be a part of initiatives like this, and it was great to hear from the girls who had such a range of career aspirations." – Tharindi
"So glad to be part of this. I have registered my interest to support the school seminars too" – Stacy